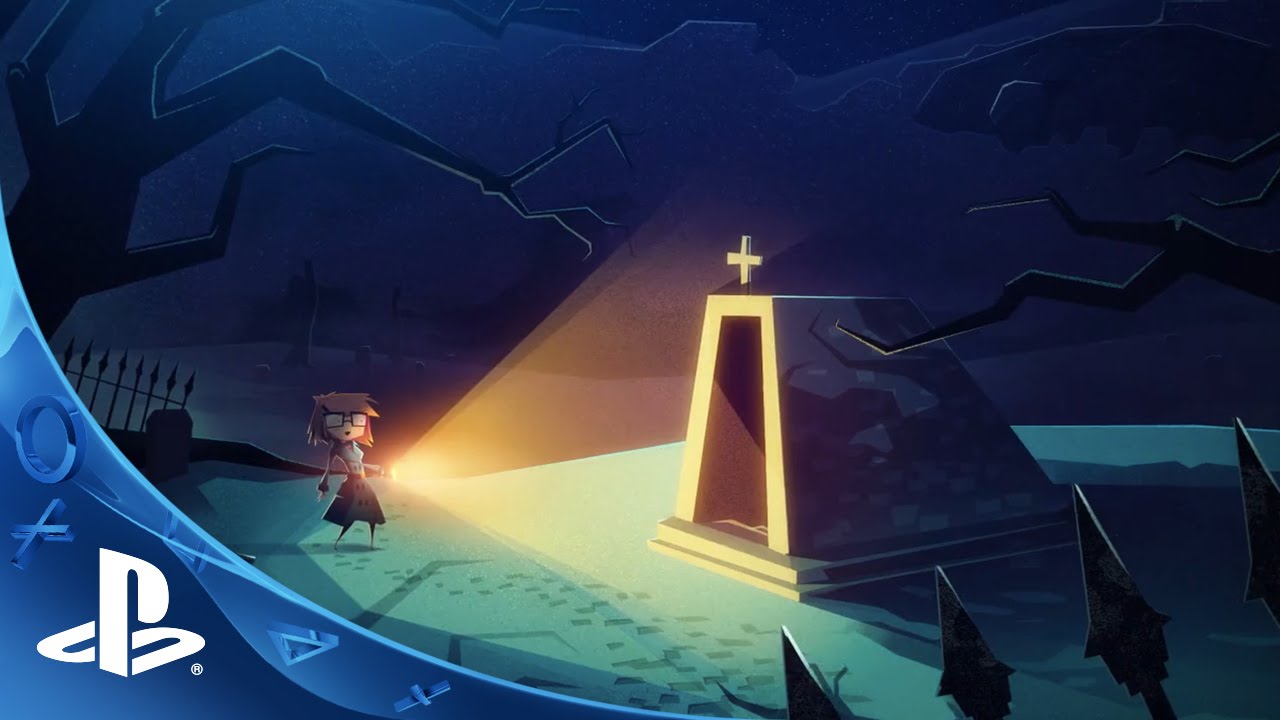 Our tiny team has some giant news! Jenny LeClue – Detectivú will be launching on PS4 next year!
Now stop reading and watch the teaser trailer, seriously! We've put a ton of love into crafting a compelling universe. You'll know right away if our cute and creepy adventure is right for you!
You're still here, great! So let's uncover what Jenny LeClue is, what makes it so special, and why you might want to play it.
Jenny LeClue is a story-focused exploration adventure game with memorable characters, a unique aesthetic, and an epic, tangled mystery.
You play as Jenny, a brilliant young detective living in Arthurton. Nothing exciting happens in her small town and she longs for real adventure. She gets more than she bargains for when her mother is accused of murder. Jenny takes on the case of a lifetime and begins an unexpected, dangerous journey to uncover the truth; she soon discovers that nothing in Arthurton is what it seems. Unseen forces will stop at nothing to keep her from the truth. And she will have to use her skills of deduction to find the real killer.
Who can she trust? How will she outwit the ever watchful Sheriff? Why has the lake started glowing at night? And why does everyone keep treating her like a kid?
This is a coming of age tale. Sometimes funny, sometimes scary, always mysterious. It's a story about finding our strengths, accepting our weaknesses, and the blurred lines between right and wrong.
So what makes Jenny LeClue unique?
Jenny LeClue weaves a story-within-a-story where the players influence the outcome. Jenny's world exists in a series of adventure books that author Arthur K. Finklestein has created. The author acts as narrator and guide. Together, you, Jenny, and the author all influence each other. Players will make choices in their individual game, and some of those choices will permanently affect the way we write later chapters. So we all own a part in creating Jenny's story!
Jenny LeClue is a strong female protagonist, surrounded by a diverse cast of characters. She's a brilliant young detective, sharp eyed, intuitive and a ruthless pursuer of the truth. As Jenny, you will rely on your keen detective's intuition during conversations. Search suspects for revealing clues, proving their guilt or innocence and opening new dialogue options.
Stylistically, we've focused on creating a sleek and gorgeous hand drawn style with atmospheric charm. The art reflects Jenny's mid-century world. She won't be relying on her smartphone to look up answers on Wikipedia!
Arthurton is a rich, living world, that rewards players' curiosity with insight, secrets, and humor. You'll explore the abandoned mines and the forgotten graveyard. You'll skip stones by the lake, and break into the museum to uncover dark truths.
We envision Jenny LeClue as a trilogy that rewards exploration and curiosity at every turn. And after a successful Kickstarter, we've been crafting Jenny LeClue for more than a year. Our core team of three comes from a storytelling, design, and animation background. We're crafting a narrative thick with atmosphere and emotion, inspired by our love for mystery, adventure, and the weird.
As you can tell, we're super excited to bring the game to PS4! It's such a vibrant platform for indie games and we're excited to be a part of it! We're making cool interactions using the unique features of PS4. We hope to talk more about the game design, story, and art direction in future posts.
If you are attending Playstation Experience, stop by our booth for exclusive swag, witty banter, and to play Jenny LeClue!
What else would you like to know about Jenny LeClue and our team? We'd love to hear any questions you have.