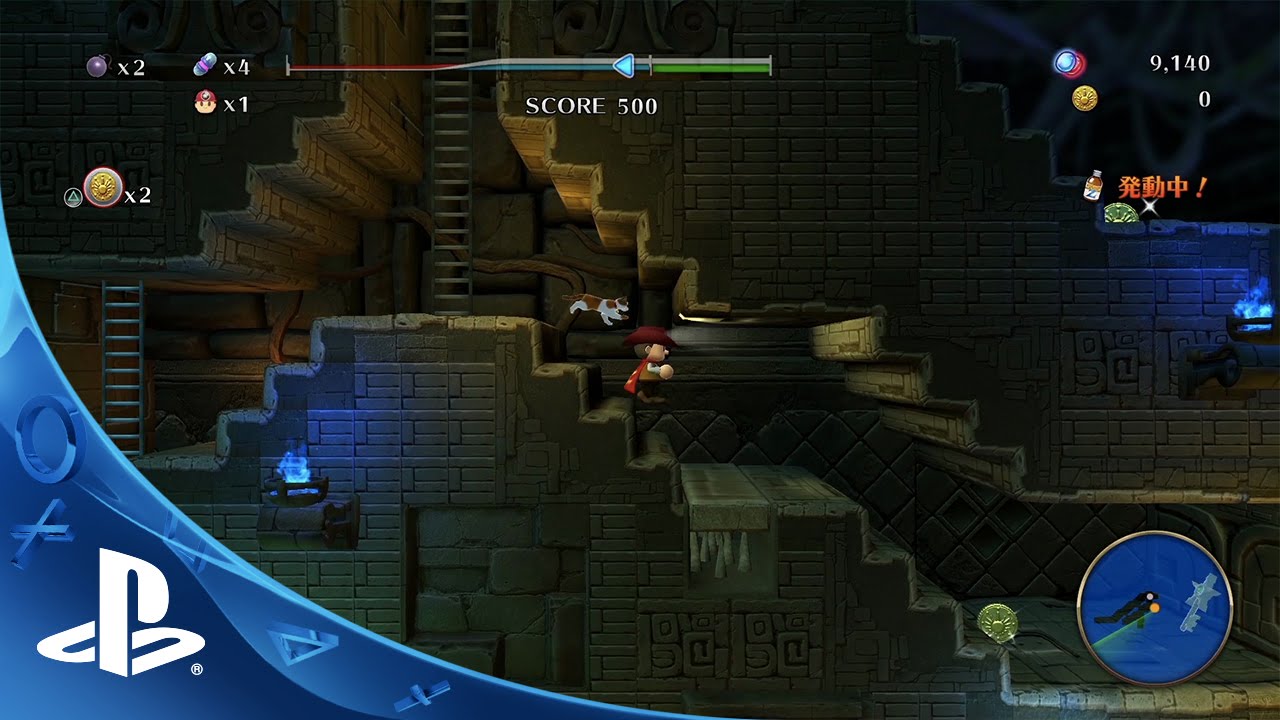 We are extremely delighted to announce and launch Spelunker World in North America today for free! More than thirty years ago, an 8-bit game Spelunker emerged — where the main character braved the depths of a deep and dark cave encountering bats and obstacles in the search for treasure. After the critical success of "Minna de Spelunker Z" in Japan, we are proud to announce that Spelunker World is available exclusively for PS4 starting today.
Let's begin by checking out the trailer and digging into the story!
There was once a Spelunker who dared to brave the caverns of the world despite his frail body. After discovering the location of a cave which held legendary treasure, he equipped himself for whatever might lie ahead and journeyed within. Alas, he never returned…
Ten years have passed…
Now, you are an amateur Spelunker! Follow in the footsteps of your father who disappeared 10 years ago as you head out on your first real spelunking adventure. Find your father and the legendary treasure!
If you check at least 3 out of the 6 boxes below, this game is for you!
❏ You like teamwork and consider yourself a team player. In "Group Expedition," up to 6 players can explore caves together online.
❏ You like dogs.
❏ You like cats.
❏ You like treasures! Collect sparkly treasure or Moon Gems. (The game is full of them. You will collect Moon Gems which allow you to get more awesome stuff!)
❏ You love Customization! You can obtain equipment and pets by collecting all the Litho-stone fragments! Pets each have their own special abilities that can aid Spelunkers. Equipment will increase the Spelunker's abilities when worn. Put on powerful equipment and bring along a pet for a great advantage in your adventures!
❏ You like Square Enix games (there are in-game events where you get costumes and in-game items from Lara Croft Temple of Osiris and other Square Enix Heroes)
Here's a look at our collaboration with Lara Croft!
Cute, huh? And here is our collaboration with Just Cause using Rico Rodriguez's signature wingsuit and grapple in Spelunker World!
Jump over dangerous pitfalls! Use bombs to blow up boulders that block the way! Use flares to keep bats and their guano at a distance! Blow away spooky ghosts with your portable fan! Head deep into a cave to find the mysteries that lie in its depths. A variety of traps, creatures, and even wicked ghosts within the caves will stand in your way — but the goal is to explore mysterious caves and find the legendary treasure waiting in the deepest depths.
Spelunker World is giving out ten cakes as a North American launch bonus! All players who boot up Spelunker World will receive ten cakes from 11/11 12:00 until 12/2 23:59 (Pacific). With this special bonus, all players can experience Doggie Digging x 10 + Chance Bonus!
Let the adventures begin — happy spelunking!