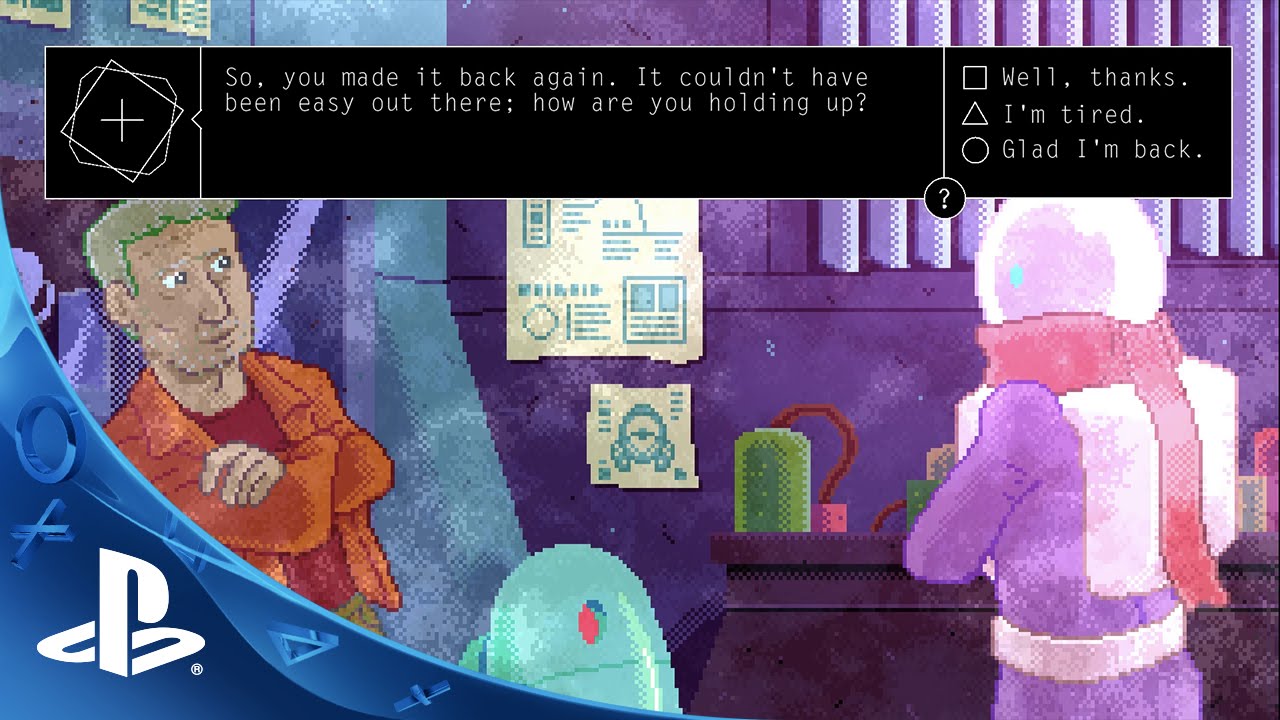 Hello again! I've spoken in-depth about the concept behind Alone With You before right here on the PlayStation.Blog, but today I want to show you some more concrete information on gameplay with this new trailer, and tell you when you can finally play this special new game.
Here's a quick recap if this is all news to you: Alone With You is a single-player, sci-fi adventure game for PS4 and PS Vita, and it has a pretty unique romance element. It's the follow-up to my previous game, Home, which is a horror game devoted entirely to letting you tell your own twisted story through its narrative-based adventure mechanics (it's available right now cross buy on PS4 and Vita as well).
If Home was a monologue that you, the player, got to deliver, then Alone With You is a dialogue between you and the game — you'll be constantly interacting with, and relying on, your AI companion as you embark on missions to get items and info you need to escape a doomed terraforming colony deep in space.
Watch the brand-new gameplay trailer and you'll spot a few things — another of sound designer Ivor Stines' groovy in-game tunes, and the mood-setting new level art by background artist Gavin McCarthy. You'll also see what you'll be doing throughout the game's 12+ missions: exploring ruined environments of your failed colony, interacting with the world to solve puzzles and discover information, and scanning important items that your AI needs.
You'll trek through beautiful, varied areas — which include a series of communication towers, the dilapidated Colony B, the workspaces and staff quarters of the facility's agricultural operation, and the various components of the planet's mining and processing centres. As you do so, you'll be in constant communication with the AI, who acts as your lifeline and your tour guide. It'll give you info on all the things and places you find, but it'll also speak to you — asking you questions and responding to your answers. And if you've ever played Home, you'll know: sometimes even the smallest decision can have unexpected consequences.
But the AI isn't the only other character you'll have contact with. There are four people you'll become intimately familiar with: Winnie Laurier, the colony's comms expert; Pierre Tong, its genius director; Leslie Bharadwaj, the Agro-Domes chief, and Jean Lumumba, the facility's resource manager.
There's a catch, though: they're all dead.
Through the magic of the colony's holo-sim chamber, you'll visit these four key people posthumously as you complete your missions. By speaking with them, you'll learn more about the colony before the disaster, and about their personal lives — how deeply, of course, depends on you.
Alone With You's romance element is, as you might expect, a little different. You don't manage stats, and you don't need to grind extracurricular activities to try to make time with your favorite people. As you play, you'll get to know all four of these important colonists — but at times, you'll also choose to spend some extra processing cycles with whoever most catches your fancy.
And as with Home, this is a story that you control — what you do within the various missions affects these "dates" and vice versa. Alone With You is a game that listens to you as much as you listen to it.
So when can you finally get your hands on Alone With You? Spring 2016 — a little later than I'd originally planned, but it's the perfect time for a brand new story of love and adventure. But you can get your hands on the game sooner than that — if you're attending PlayStation Experience in San Francisco in December, you'll be able to play a special demo and see what romance is like at the end of the world, all for yourself.