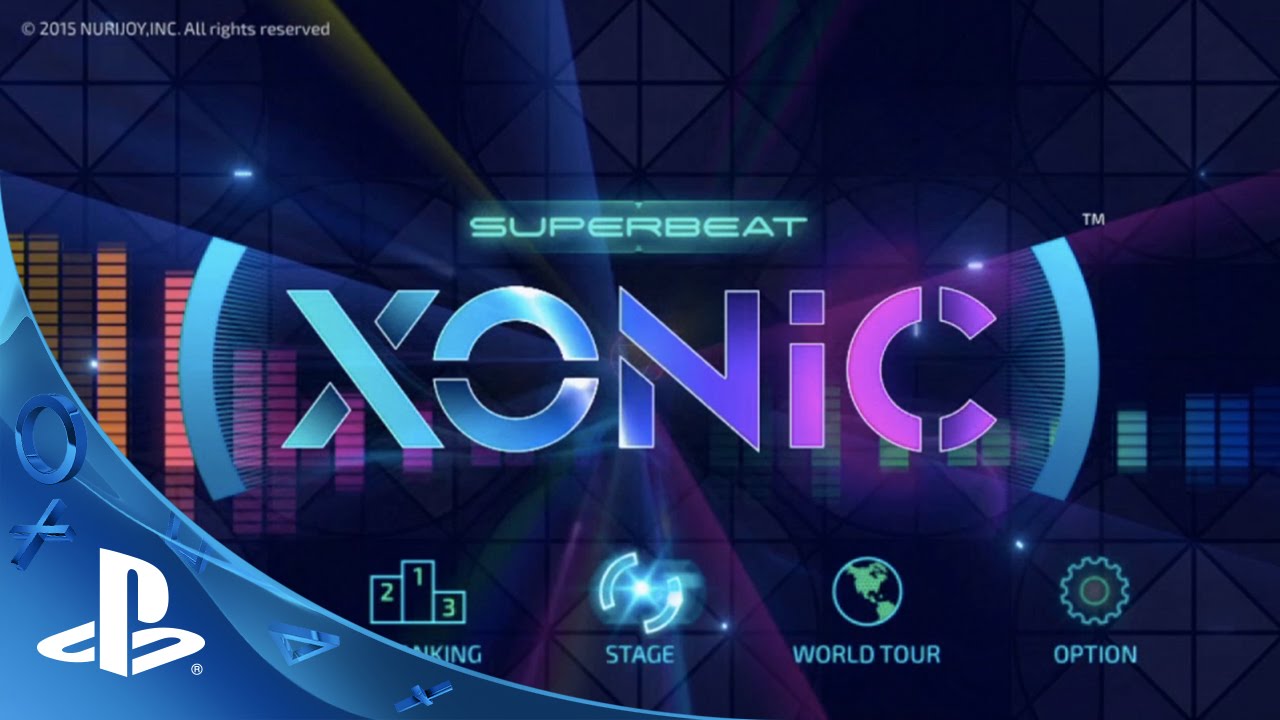 Hello everyone on PlayStation.Blog! My name's Nao, and I'm here to talk about a new rhythm game from developers PM Studios and Nurijoy that will be co-published by PM Studios and acttil: Superbeat: Xonic for PS Vita!
The team at PM Studios is the creative force behind DJ Max Fever which was released for PSP back in 2008. Now, they're back and better than ever with a brand new music game full of original tunes and fun, intuitive gameplay.
First things first, I'm incredibly excited to officially announce that Superbeat: Xonic will launch on November 10th via digital and retail. The wait won't be very long! I'm also happy and humbled to announce that Superbeat: Xonic will feature tracks from ARC System Works' BlazBlue, Guilty Gear, and Magical Beat as part of its stellar line up of DLC. Even more groovy DLC tracks will be available on launch day as well, so make sure your Vita is charged up and ready to rock.
There are 3 difficulty modes (4TRAX, 6TRAX, and 6TRAX FX). Each mode is shown in the trailer above, so you can see how it gets more difficult and complicated as you progress through each mode. However, the challenge doesn't end there! From the game's settings, you can choose difficulty levels (Hard, Normal, and Easy) within these modes, so if you're a seasoned rhythm game player, you can beef up the difficulty levels before the game even starts.
Also, you can change the speed of the music. This title will let you go as crazy as you want with its challenges.
Okay, before I let you all go, I'd like to share my list of 7 super cool things about Superbeat: Xonic.
You can connect to PSN to view your DJ Ranking! You can see how you're performing compared to other players in both local and worldwide ranking systems. You think you have rhythm in you? This is where you can show off against other rhythm gamers around the globe!
There are so many music genres to choose from! Superbeat: Xonic is equipped with tracks that range from Rock to Pop, Techno to R&B. You can always switch up the music you play and keep things feeling fresh. Also, each song has its own difficulty gauge, so you can practice with easier songs first, or give it your all and attempt to pass the more challenging songs from the get go!
Did I mention that all the original songs and music are incredibly awesome? I was hooked to all the catchy original songs even from my first playtest. I can listen to these songs even when I'm not playing. They get stuck in your head!
The three modes give a great learning curve to newcomers to the rhythm game genre. If you're a seasoned music game player, you can tweak settings to make the game consistently challenging and fun, so no worries there. For those who are not-so-familiar-with-music-games, don't fret! There will be a beginner mode (4TRAX), and you'll be able to modify the music speed.
Tons of music patterns are available in Superbeat: Xonic. There are more than 200 different play patterns this game will throw at you. There will always be more difficult songs you can choose in each mode, and they will always have more complicated patterns to challenge your hand-eye coordination.
Like I mentioned in the beginning of the blog, there will be DLC available for Superbeat: Xonic I'll get more details about this when we have more information! Superbeat: Xonic will be equipped with more than 45 songs to begin with.
You can take Superbeat: Xonic anywhere you go! The tracks average about 2 minutes in length, so you can pick up and play wherever you are in your day. Maybe you can rest your cell phone a bit, and make your PS Vita work hard for you for a little while! If you just want to indulge, you can play it via PlayStation TV as well!
I hope you're all excited for this new music game, which is out on November 10th. Thank you very much for taking the time to read my post.
Have a great day, everyone!