What defines a human mind? What defines an artificial one? And what horrors emerge when you push them both to the breaking point? This week, sci-fi horror game Soma launches on PS4. Don't close your eyes…
Fueled by real-world science and abstract philosophies, Soma drops players into a twisted labyrinth of unspeakable horrors, broken thoughts, and creatures of unnatural origin. For gamers that want the latest in first-person horror storytelling, look no further.
And for those that scare easily (present company included), try the innovative platforming challenges in Extreme Exorcism, or the old-school dungeon-crawling in Heroes of Loot. For a full look at this week's lineup, read on. And enjoy the Drop!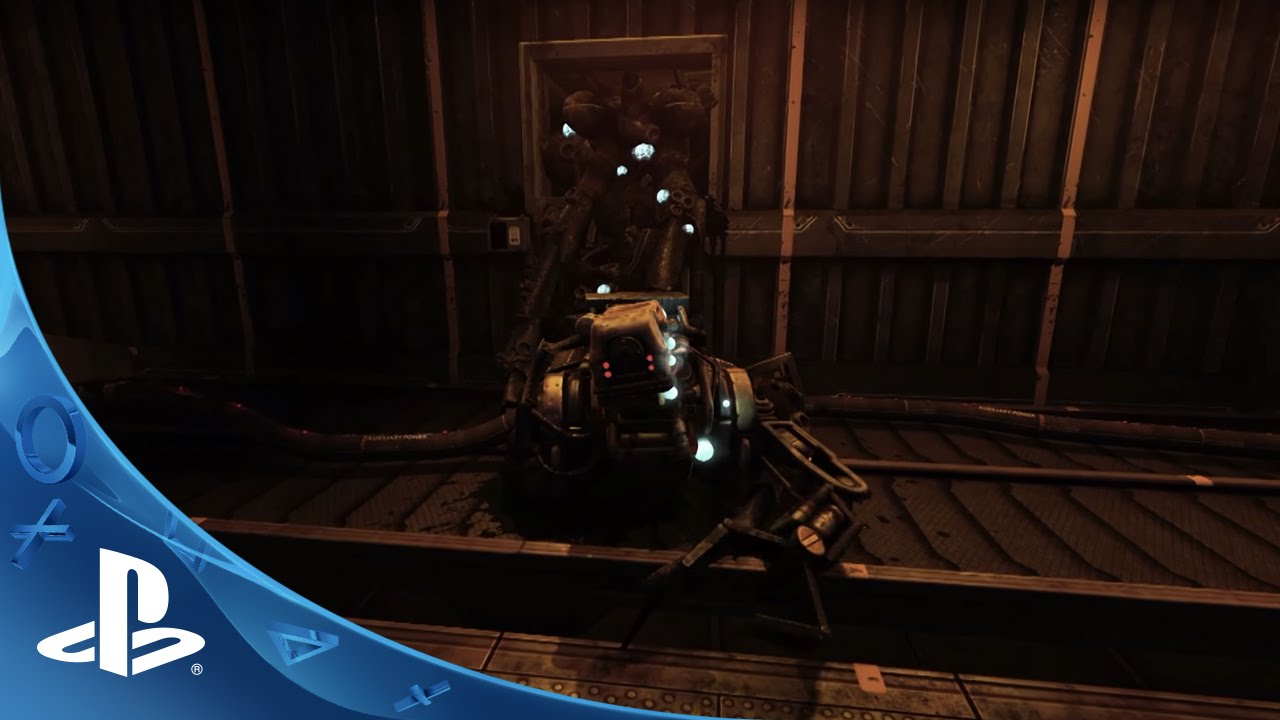 New Releases: September 22nd, 2015
Afro Samurai 2: Revenge of Kuma Volume 1
PS4 — Digital

Embark on a journey of redemption. The action packed saga of Afro Samurai continues but this time follows the path of Kuma, one of Afro's closest childhood friends.
Arcade Archives Mr. Goemon
PS4 — Digital
Mr. Goemon is an action game released in 1986. Players attempt to reach the goal at the end of each level while avoiding enemy capture with various items and weapons.
Battle Trivia Knockout
PS4 — Digital
Battle head-to-head in this fast-paced trivia action game and knock out the competition! Over 1,000 new questions are both presented on screen and spoken by the Trivia Sensei.
Blood Bowl II
PS4 — Digital, Retail

Blood Bowl II smashes Warhammer and American football together, in an explosive cocktail of turn-based strategy, humor and brutality, adapted from Games Workshop's famous board game.
EA Sports FIFA 16
PS4, PS3 — Digital, Retail

FIFA 16 innovates across the entire pitch to deliver a balanced, authentic, and exciting football experience that lets you play your way, and compete at a higher level. And with all new ways to play!
Extreme Exorcism
PS4, PS3 — Digital (Cross Buy, Out 9/23)

Take on the role of Mae Barrons, an Extreme Exorcist with extreme measures. Her supernatural skills are called upon when everything and everyone else has failed to rid a haunted house of its ghostly presence.
Heroes of Loot
PS Vita — Digital

Heroes of Loot combines the action of twin-stick shooters with the dungeon crawling of rogue-likes. You'll find yourself in the middle of hordes of ghosts, skulls, cyclops, critters and much more…
Laserlife
PS4 — Digital

Laserlife is an interactive biography about a dead astronaut floating through deep space who is discovered by future intelligences who have no concept of humankind.
LEGO Jurassic World (Demo)
PS4, PS3 — Digital (Out 9/21)
LEGO Jurassic World is the first video game to let players experience all four Jurassic films in humorous LEGO form. The thrilling adventure recreates unforgettable scenes and action sequences from the films.
Mahjong Carnival
PS Vita — Digital (Out 9/21)
The Countess likes to travel the world in search of remarkable and collectible masks. You are her esteemed guest of honor. Join her on a lively quest to clear the tiles and reveal exquisite finds.
Penarium ( + Trial)
PS4 — Digital

Penarium is set in a sinister circus arena, where contestants, much like Gladiators of old, are forced to entertain a sadistic crowd.
Pumped BMX+
PS4 — Digital

Pumped BMX + sees players ride their way through increasingly challenging levels while pulling off crazy and impressive trick combinations.
Puzzle Star Sweep
PSone Classic — Digital

Defeat opponents around the island to become the master of Stardust. Rotate colored blocks and align their stars to clear the field before it overflows.
Racing
PSone Classic — Digital

Test your skills and beat the competition across thrilling circuits. Race through the streets, unlock new vehicles, and become the ultimate driver.
Rally Copters
PS4, PS Vita — Digital (Cross Buy)

Triumph against gravity and time in a test of determination by maneuvering through 27 perilous courses. Track your progress, discover tricks, and find shortcuts to help you glide through levels and unlock faster and more agile helicopters.
Skylanders Superchargers
PS4, PS3 — Retail (Out 9/21)
Skylands is in peril! Kaos has unleashed his most evil weapon yet — the Doomstation of Ultimate Doomstruction. With all of Skylands on the verge of collapse, a special team called the SuperChargers has been assembled.
SOMA
PS4 — Digital

Strange events, and stranger horrors, will challenge your understanding of the human mind, the concept of AI, and all the reality that stirs between. A sci-fi horror experience fueled by science and philosophy.
Coming to PS Music
Disclosure – Caracal
Fetty Wap – Fetty Wap
New Order – Music Complete
Coming to PS Video
San Andreas
Insidious: Chapter 3
Gotham | Season 2
The information above is subject to change without notice.