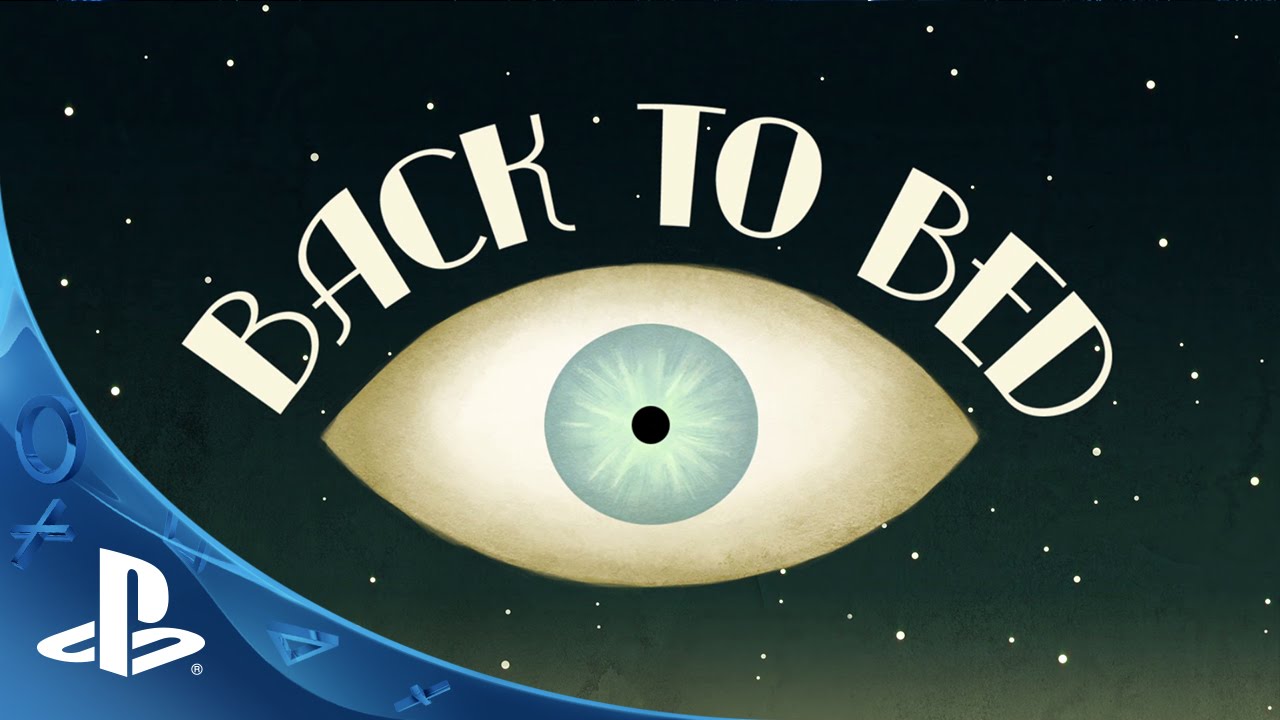 Dreams do come true.
Starting tomorrow, August 25th, Back to Bed — Indie Prize Europe's nominee for Best Console Game and winner of the Dutch Game Awards' Guts and Glory award — is walking its way onto your PS4, PS3, and PS Vita.
In our last post, we introduced you to Bob, the sleepwalker, Subob, his man-faced dog guardian, and the surrealist dream puzzle world from the minds of Bedtime Digital Games.
Back to Bed is a whimsical and challenging puzzle game with not-of-this-world environments that blur the lines between fantasy and reality. As Subob, you must defy gravity, avoid enemies and treacherous encounters, and use unlikely objects like fish bridges and giant-size apples to guide Bob back to the safety of his bed.
With 30+ levels and two modes — Play and Nightmare — Back to Bed will force you to think quickly on your feet and more than a few steps ahead. If you are looking for a real challenge, we invite you to try Nightmare mode which adds additional tasks, like collecting keys to unlock Bob's bedroom door, to increase each level's difficulty.
To get an insider's perspective on Back to Bed's journey from a student project to a big time console game, we reached out to Klaus Pedersen and Jonas Byrresen from Bedtime Digital Games to tell their story. We hope you enjoy it.
LOOT: How did you come up with the idea for Back to Bed?
Bedtime Digital Games: The core idea for Back to Bed was originally inspired by old Disney cartoons where characters like Donald Duck and Goofy sleepwalk around dangerous areas, such as construction sites and over rooftops, and miraculously come out unscathed due to sheer dumb luck. In those cartoons, the environment constantly adapts and the sleepwalker is somehow saved in the nick of time and always returns home safely.
LOOT: What inspired you to create such a whimsical and unique game?
Bedtime Digital Games: At first, the game was more realistic — just a cityscape with a few strange elements. But over time, it evolved into a dreamlike, whimsical world that only could be found in the mind of Bob the Sleepwalker. This created the idea that what we see is half-dream and half-real, and that everything is not what it seems.
To create this world, our Art Director looked very much into classic surreal art that often creates strange surreal landscapes where the rules of physics are bent to create something new. Great inspirations here were artists like Salvador Dali, Magritte, and Escher for his illusions. The result is a game world that is inspired by the real world, but is something else that is half dream.
LOOT: How did Back to Bed — originally a student project at DADIU — turn into a full-blown console game?
Bedtime Digital Games: When we completed Back to Bed as a student project, it was only as a PC web build and contained about a dozen levels. It was a very good start to what was clearly a strange yet funny universe with a great core mechanic. Once our peers played the game, they began telling us we had to continue with development. We took that to heart and began to see our dreams turn into reality.
We started to spend weekends and some vacation working on the game. Our initial goal was just to get a game out there with our name on it, as a way to maybe start a career in game development — but it turned into much more than that.
We decided to take a chance with an investor and start our own company, with Back to Bed as the first product. We made a smaller team from the old student group and then just crunched on making more levels, different worlds, Nightmare play mode, and new audio. The culmination of all this work is the console version, where we feel the game really shines, looks great and controls like we want. For us, Back to Bed is truly at home on PlayStation.
LOOT: As a student and game development studio just starting out, what challenges did you face and overcome?
Bedtime Digital Games: One of the big changes that we had to make, that is very unique to DADIU student games, was to scale down the team size. As a student team, we had around 15 people (more or less) connected to and working on the game. A team that size was not something our budget could handle and not all members were ready to make the big jump to starting their own indie studio. Luckily, some of the core members took the plunge with us to found Bedtime Digital Games and we were able to give credit to those who helped create the core game.
The other major challenge: suddenly you are no longer a student team, but now a full-fledged game development studio, whether you were ready or not. We quickly learned that the passion and desire to make great games is not always enough to be successful. You also have to make sure that your company is a solid business. This is done by first and foremost creating a solid and fun product, but also making sure players know your game and that your studio exists. You have to also love talking about your studio and games.
LOOT: Any other cool and interesting things about the game or the development that you would like to share with the PlayStation audience?
Bedtime Digital Games: Being able achieve our dream of getting Back to Bed on PlayStation is such a rush. The feeling that this strange world and story that we have created and polished is something people actually want to play in and explore is incredible. We constantly hear individual interpretations of our simple, yet surreal story, from our fans. They tell us how they perceive this dream world and the deeper meaning it has to them, beyond being a fun game, to get lost it. This inspires us to be inventive and drives us create more games!
---
Back to Bed will be available tomorrow on August 25th. The cross buy console exclusive, with cross save support and Trophies, will launch with an exclusive dynamic PS4 theme, along with special discount pricing for PlayStation Plus members.
And remember: the clock turns Bobwise.