What if you were given the power to influence the lives of eight characters ensnared by a horrible fate? Such is the crux of Until Dawn on PS4, a branching horror story by Supermassive Games. It celebrates classic teenage horror tropes, but places their survival — or their demise — under your control.
Until Dawn follows a group of friends who are drawn back to a remote cabin a year after terrible tragedy claimed the lives of two girls. With an exquisite attention to detail and facial capture performances, Until Dawn tells its branching story with striking realism, placing key choices in your hands. How will your ending unfold?
But that's only the beginning of this massive lineup for the week. Mega Man Legacy Collection drops on PS4, alongside the stealth wunderkind Dishonored: Definitive Edition. Did I mention you can also take control of bread this week? Yes, I Am Bread is also coming to PS4. Totally toast!
For a full list of games coming to PlayStation this week, read on. And enjoy the Drop!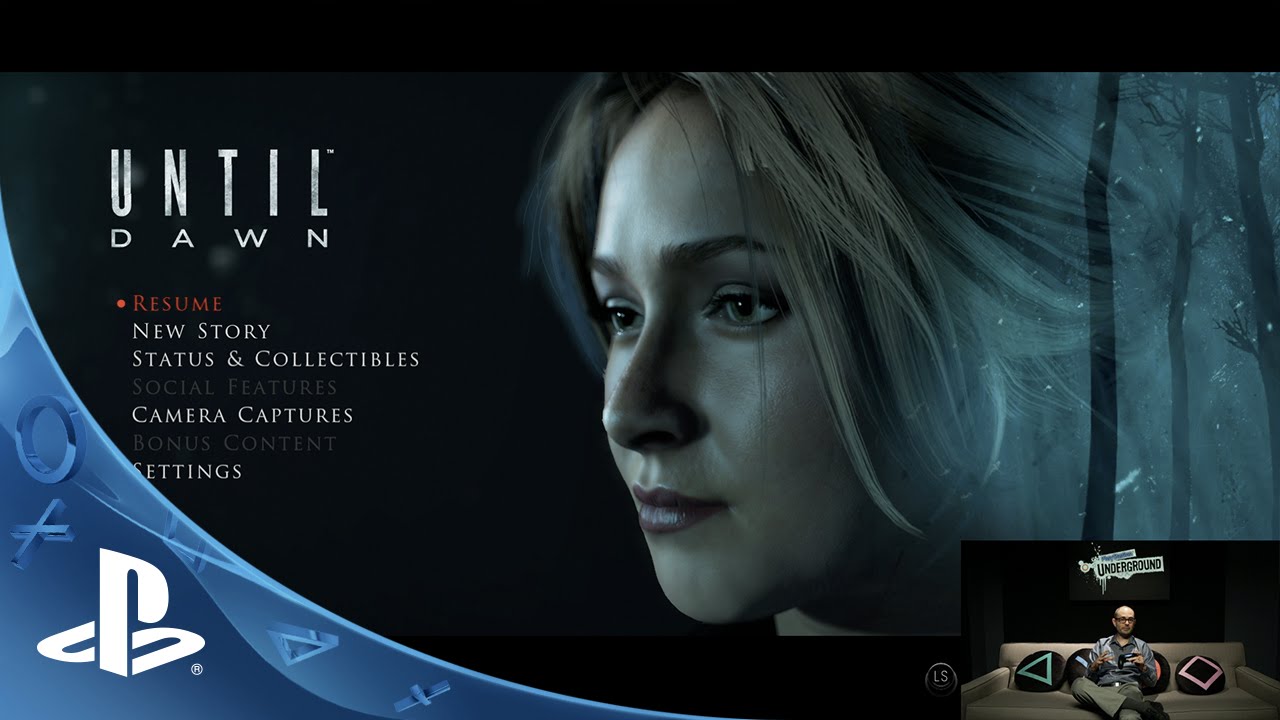 New Releases: August 25th, 2015
Amnesia: Memories
PS Vita — Digital

In this visual novel, you'll play as the Heroine whose life depends on hiding your recent loss of memory while you navigate complex relationships with five men. Choose your romantic path from the start to piece together that which was forgotten.
Back to Bed
PS4, PS3, PS Vita — Digital

Back to Bed is a whimsical and challenging puzzle game with not-of-this-world environments that blur the lines between fantasy and reality. As Subob, you must defy gravity, avoid enemies and treacherous encounters, and use unlikely objects like fish bridges and giant-size apples to guide Bob back to the safety of his bed.
Calvino Noir
PS4 — Digital

The beautiful history of noir cinema is a big inspiration for Calvino Noir — that's where this indie team has drawn ideas for the look and story of the game. The classic film noir plot and characters are there, but in their own format, which is more closely inspired by films such as Bladerunner, and games such as Deus Ex.
Capsule Force
PS4 — Digital

It is the year 1999. It is the future. After years of intergalactic battles, technology gave birth to advanced, galaxy-capturing capsules — tools that Earth's World Leaders readily supplied to their intergalactic forces. But many of these forces have gone rogue and are now fighting amongst themselves for these powerful orbs.
Dishonored: Definitive Edition
PS4 — Digital, Retail
Arkane Studios' Dishonored, winner of over 100 Game of the Year awards, and all of its additional content come to the next generation in Dishonored Definitive Edition. With Dishonored's flexible combat system, creatively eliminate your targets as you combine the supernatural abilities, weapons, and unusual gadgets at your disposal.
Dying Light Demo
PS4 — Digital (Out 8/26)
Dying Light is a first-person, action survival game set in a vast open world. Roam a city devastated by a mysterious epidemic, scavenging for supplies and crafting weapons to help defeat the hordes of flesh-hungry enemies the plague has created. Good Night, Good Luck.
I Am Bread
PS4 — Digital

In I am Bread, your goal is to become toast. That's it. This is where the general world knowledge stuff comes in — as a player we assume you generally know what is required to turn bread into toast, which is a toaster, or more simple than that; heat. So your goal in each level is to seek out or create a heat source by any means necessary in order to toast yourself.
Madden NFL 16
PS4, PS3 — Digital, Retail
Be the playmaker in Madden NFL 16 with all-new controls that allow you to dominate in the battle for air supremacy.
Mega Man Legacy Collection
PS4 — Digital

"Featuring Mega Man 1~6, reverently reborn through the Eclipse Engine, which takes the games' 8-bit source elements and converts them into crisp HD goodness."
Nova-111
PS4 — Digital

"NOVA-111 is a sci-fi, turn-based adventure game with an innovative twist of real-time action! Fighting aliens in space for science!"
One Piece: Pirate Warriors 3
PS4, PS3, PS Vita — Digital, PS4 at Retail

Enjoy the original story of One Piece from Fuschia village, where everything has started, to the kingdom of Dressrosa, a mysterious island dominated by the evil Donquixote Doflamingo. Will your resolution be strong enough to defeat the most dangerous foes, including Doflamingo, Hordy Jones, Ceasar Clown and many more?
Shutshimi
PS4, PS Vita — Digital (Cross Buy)

Shutshimi is a Cute 'Em Up about the story of The Fishy defending its home waters against an army of mysterious invaders. Squids, pelicans, reverse-mermen, bears, and more are overrunning the sea and it's up to you to stop them!
Steins;Gate
PS3, PS Vita — Digital
Experience the award-winning time travel visual novel! When teenage scientists discover the ability to send messages into the past, they inadvertently set off a chain of events that alters their future. With memorable characters, outstanding art design, and a heart-wrenching narrative, SteinsGate is a critically acclaimed visual novel that can be experienced time and time again.
Tina's Toy Factory
PS4 — Digital
Tina's Toy Factory is a classic match 3 puzzle game with the addition of local multiplayer. You break open crates by matching 3 in a row which releases toy parts. You then combine the toy parts to make complete toys.
Until Dawn
PS4 — Digital, Retail

Experience fear like you never have before through the power of PS4. Every decision you make in your terrifying search for answers could mean the difference between life and death, but for who? Make your choices and carve out your own unique story.
VVVVVV
PS4, PS Vita — Digital
Help Captain Viridian flip to find five crew members, 20 hard-to-reach Trinkets and save a dimension on the brink of destruction. It's a space opera in the most unique scale with a style that only VVVVVV can bring to you.
Coming to PS Music
The Weeknd – Beauty Behind the Madness
Young Thug – Hy!£UN35
Devil Wears Prada – Space EP
Coming to PS Video
Furious 7 (Extended Edition)
Doctor Who | Season 9
Entourage
The information above is subject to change without notice.