It's time! Minutes ago, Treyarch and Activision officially kicked off Call of Duty Black Ops 3 Multiplayer Beta on PS4. Seeing that this is officially a Really Big Deal, we wanted to create a definitive resource for PS4 gamers looking to jump in. See below for crucial details cultivated by the fine folks at Treyarch and Activision.
Beta Content
---
How big is the Beta file?
The Beta is packed with a lot of content, weighing it at approximately 12.5 GB. Download times will vary based on location, server traffic, and connection speed.
Will any Campaign or Zombies content be available in the Beta?
No, the Black Ops 3 Beta is specifically focused on competitive multiplayer.
What maps will be included in the Black Ops 3 Beta?
Hunted: This big game hunting lodge is situated beneath a waterfall in the lush mountains of Ethiopia, where rugged terrain opens up to long sightlines and a stealthy underwater pathway.
Combine: Set in the remote Egyptian Sahara, this vertical farming and sustainability research facility plays fast and frenetic with tight interiors, an open middle and a dangerous flank path.
Evac: An abandoned emergency evacuation zone atop an overgrown rooftop in the middle of Singapore's flooded quarantine zone.
What game modes will be supported in the Beta?
The Black Ops 3 Beta will include the following game modes:
Team Deathmatch
Hardpoint
Demolition
Domination
Kill Confirmed
Capture the Flag
Search and Destroy
What are Specialists, and how do they impact competitive play?
Specialists are elite soldiers being introduced in Black Ops 3, each with their own distinctive personality, look, voice, weapons, and abilities. Each Specialist's weapon or ability can be earned multiple times during a match and deliver critical tactical opportunities, whether it be via a boost in agility, a powerful explosive bow, or more.
What Specialists will be included in the Beta?
During the span of the beta and as you progress, you'll have a chance to try any of the five Specialists already announced, as well as two brand-new characters: Battery and Spectre. On Day One, players will begin to have access to:
Battery: Battery operates ahead of the front lines. Her War Machine fires salvos of bouncing grenades, while her Kinetic Armor can deflect enemy bullets when active… though she remains vulnerable to headshots and non-bullet damage.
Ruin: A reckless infantry soldier who prefers to surprise his enemies. He rushes into battle with his Overdrive ability, and can deliver a devastating shockwave with his Gravity Spikes.
Outrider: A hunter-tracker who stalks her prey from afar before moving in for the kill. Use her Vision Pulse ability to reveal the location of nearby enemies or her Sparrow compound bow with its deadly explosive bolts.
Prophet: Prefers to disrupt opponents' tactics before moving in for the kill. His Tempest is a charge-shot weapon that delivers chain electricity to all nearby enemies. He can confuse enemies with his Glitch ability, which flashes him back to a previous position.
Seraph: Known for extreme focus and discipline in combat. Her high-caliber Annihilator revolver fires powerful rounds with increased bullet penetration taking out enemies with one shot. She's also able to earn Scorestreaks more quickly using her Combat Focus ability, which triggers a brief bonus multiplier.
Nomad: Prefers to turn the environment against his enemies. Case in point: His H.I.V.E. weapon, which deploys trap pods filled with deadly nano-drones. When near death, Nomad can recover using his Rejack ability.
Will I be able to use Create-A-Class in the Beta?
Yes, you'll be able to customize your equipment loadouts across multiple classes in the Beta.
How does the Weapon Paintshop work?
Available in the Beta, this new feature enables players to create custom graphics with up to 64 layers. Each side of the weapon can be completely unique.
As the Beta progresses, will Treyarch roll in any new features, modes, or the like?
Certain surprises may or may not be in store. Let's just say that you'll want to play the Beta through its entire run from August 19th to August 23rd.
What will be the Level cap in the Black Ops 3 beta?
The Beta will kick off with a cap of Level 28, and will expand over the course of the Beta.
Beta Gameplay
---
What unique gameplay features distinguish Black Ops 3's competitive multiplayer from other Call of Duty titles?
Black Ops III features an all-new movement system that empowers players to fluidly move through the environment with finesse, using controlled thrust jumps, power slides, and fast mantling capabilities in a multitude of combinations. With the "guns-up" philosophy, players maintain full control of their weapon at all times and have 360-degrees of motion through all maneuvers.
Treyarch is also introducing an all-new Specialist system that will debut nine elite Specialists to choose from in multiplayer – each with their own look, personality, voice and battle-hardened weapons and abilities. Each weapon and ability is designed to make your Specialist a unique force to be reckoned with. The Beta will feature eight of the nine Specialists that will be found in the final game.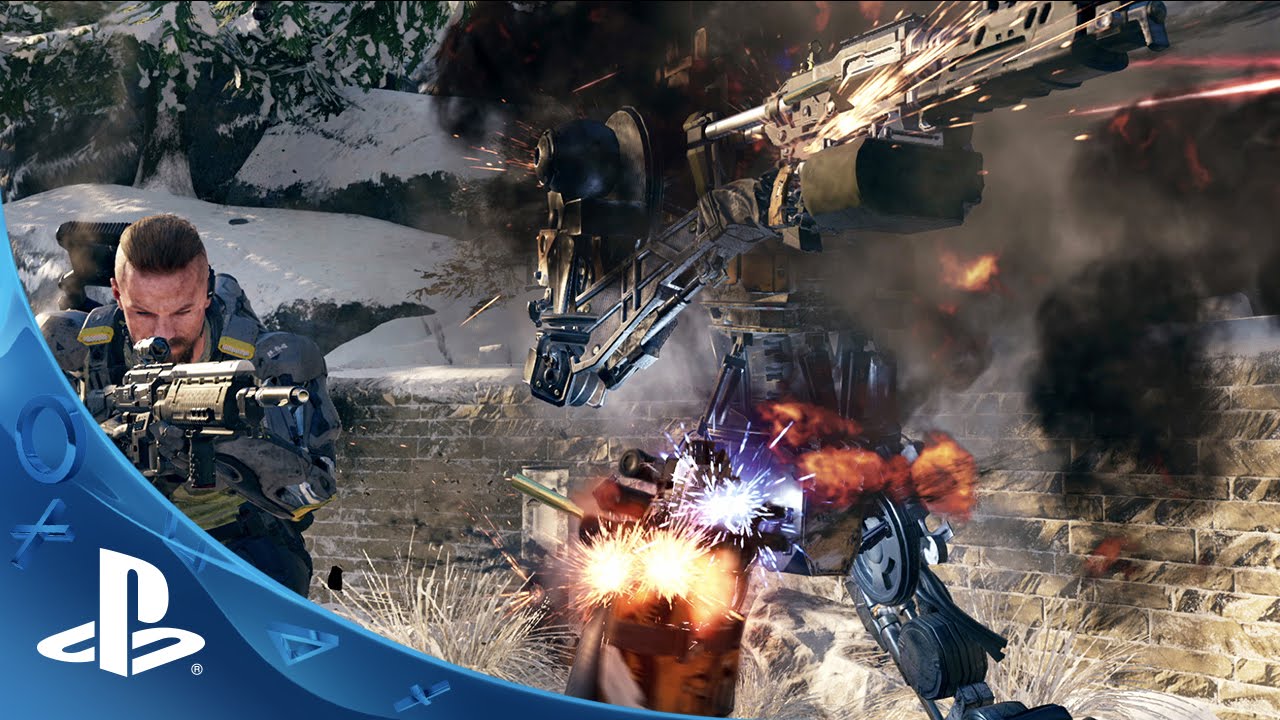 What more can you say regarding Black Ops 3's "Combat Movement"?
Combat Movements are chainable movement styles that empower Black Ops 3 players to maneuver around their environment in dynamic ways. These abilities draw from the power meter on the HUD. A brief list of examples include:
Thrust Jumps: Press and hold X to add additional verticality to your jump. If you press and hold for a short duration, you'll gain extra air but won't fully deplete your power meter; if you press and hold for a longer beat, you'll gain maximum verticality but fully drain your power meter. You can also feather the X button for a bit of extra distance.
Power Slide: While running (press R3), you can press the Circle button to slide into or out of combat at a high velocity.
Wall Run: Jump onto a wall at an angle to initiate a Wall Run. Your gun is always ready to fire at a moment's notice.
Combat Movements are often more effective when chained together in creative ways that reflect your combat situation, meaning you can go from a Thrust Jump to a Power Slide to a Wall Run in order to adjust to incoming threats or targets.
What resolution and framerate will the Black Ops 3 Beta support on PS4?
The Black Ops 3 Beta on PS4 will support a native resolution of 1080p and a target framerate of 60 frames per second.
Accessing the Beta
---
How do I participate in the Call of Duty: Black Ops 3 Beta on PS4?
To lock in your immediate access, you must have a beta access code. The easiest way to get a beta access code is to pre-order Call of Duty: Black Ops 3 on PS4, or pre-purchase the game through the PlayStation Store.
Each retailer will have a limited supply of Call of Duty: Black Ops 3 Beta codes, and will be available while quantities last. You can pre-order online and find information about participating retailers by visiting CallofDuty.com/BlackOps3/Buy.
How long will be the Beta be active on PS4?
The Call of Duty: Black Ops 3 Beta will run from Wednesday, August 19th through Sunday, August 23rd. Look for more information to be released throughout the week.
Will my progress from the Beta carry over to retail?
No, progress will not carry over from the Beta. Treyarch's focus is making the final game the best and most stable experience it can be and they will be working on balancing and other fixes leading up to launch.
Where do I redeem my Call of Duty: Black Ops 3 Beta code?
Head over to CallofDuty.com/BlackOps3Beta and follow the instructions on the page to reserve your spot in the Call of Duty: Black Ops 3 Beta.
You will be required to log in with a Call of Duty account and enter your Call of Duty: Black Ops 3 Beta code. If you do not have a Call of Duty account, you can create a free one. After creating your free account, you will be sent an account verification email to the address you provide.
What's the difference between my Beta code that I received and my Beta token?
Your pre-order Beta code reserved your spot for the Beta and is redeemed at CallofDuty.com/BlackOps3Beta. Once you have registered, a Beta token will be emailed to you on a rolling basis beginning on August 19th. This Beta token will allow you to download the Beta from the platform you have designated in the registration process.
I've pre-purchased my copy of Call of Duty: Black Ops 3 through the PlayStation Store. Where can I locate my code?
You don't need one! Code redemption is not necessary for pre-purchases through PlayStation Store. You are automatically validated to participate in the Call of Duty: Black Ops 3 Beta. When the Beta opens on August 19th, you will be able to download it immediately.
I've pre-ordered my copy of Call of Duty: Black Ops 3 through a participating retailer. Where can I locate my Call of Duty: Black Ops 3 Beta code?
In most cases, the Call of Duty: Black Ops 3 Beta code will be printed on the retail receipt or sent to you via email in an online receipt. If you did not receive a beta code, can't locate your code, or your code is illegible, please contact your retailer to recover it.
I entered my Call of Duty: Black Ops 3 Beta code, but it didn't work. What should I do?
Please verify that you are entering the correct code. If you are receiving an error message stating that the code you entered is invalid or that your code has already been redeemed, please contact Activision support.
Is the Beta available worldwide?
Availability of the Black Ops 3 Beta will vary by territory.
How can I give feedback and report bugs to make Black Ops 3 better?
We will be posting a survey link on callofduty.com once the Beta starts. We welcome feedback and encourage everyone to share. The more feedback, the better.
Will the servers ever go down for maintenance?
Because this is a Beta, periodic maintenance may be necessary throughout the gameplay period. Please follow @Treyarch on Twitter for updates.