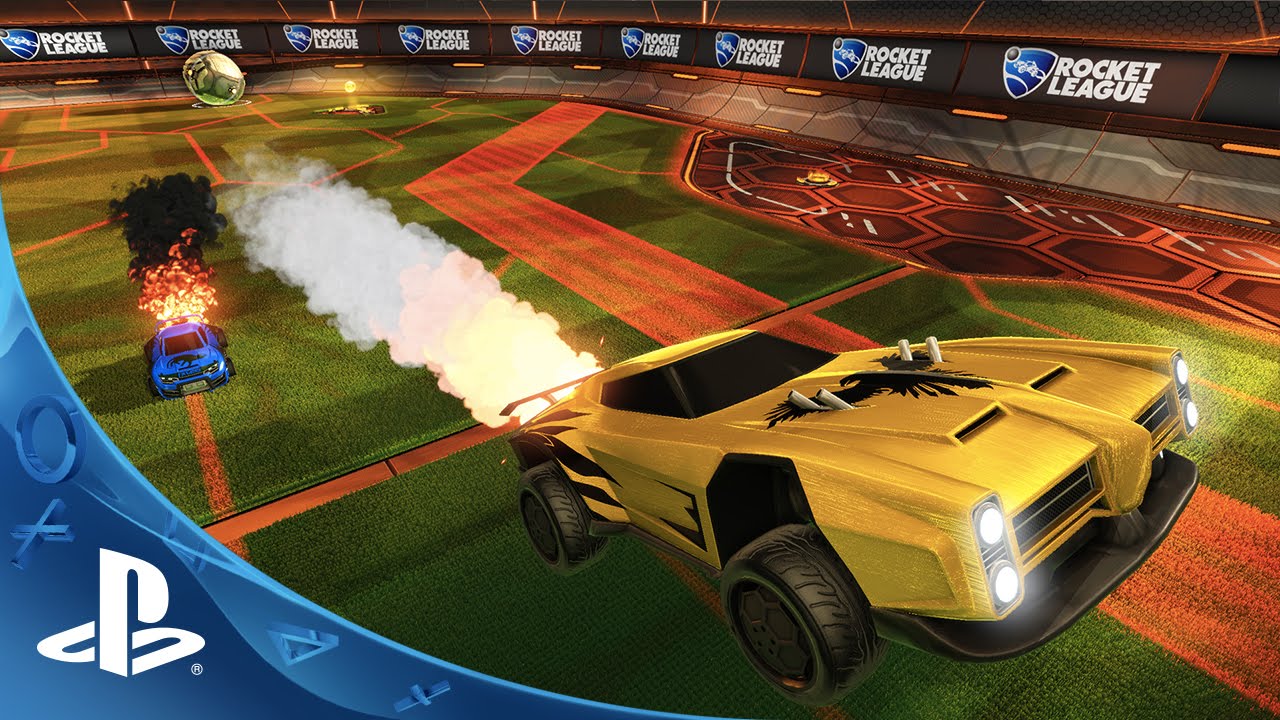 Thank you! Thank you very much!
We're extremely excited about the success of Rocket League since its launch in PlayStation Plus on July 7th — we couldn't have done it without you! For those of you who haven't played Rocket League, it's still available for free on PlayStation Plus until August 4th so join in on the fun!
We thought we'd bring you a complete rundown of what to expect in our upcoming "Supersonic Fury" DLC Pack.
As we mentioned in our launch post earlier this month, the Supersonic Fury DLC Pack includes two brand new Battle-Cars: the over-the-top American muscle car Dominus, and the souped-up Japanese street racer Takumi. Both of these vehicles offer six different Decals for Garage customization (12 total) and are only available for play in the DLC.
Besides the new Battle-Cars, the DLC Pack also includes two all-new Rocket Boosts ("Nitrous" and "Burnout"), two new Wheel sets (the soccer ball-themed "Cristiano" and the very-cool "Spinner" set), five all-new Paint Types ("Brushed Metal," "Carbon Fiber," "Metallic Pearl," "Pearlescent," and "Wood"), and a handful of new Trophies. This entire collection will be available in early August for $3.99.
In addition to the Supersonic Fury DLC, we will also release a free game update that offers an assortment of new content, including our first new map, Utopia Coliseum, and more than 70 new country flags. The long-awaited "Spectator Mode" will be in there too, allowing viewers to watch live games in real-time from any angle in the arena. Spectator controls are very similar to that of our existing "Replay Viewer's," so start practicing now and get ready for the drop!
Further enhancements, like updated Goal explosions and Demolitions, are planned for the free update as well, along with the brand new song, "Firework," from the critically-acclaimed electronica group, Hollywood Principle.
It is our sincere hope that this mix of paid DLC and free add-on content is what Rocket League fans have been waiting for, and it's just the beginning of what is plenty more to come. Thanks once again for your continued support and we'll see you again very, very soon.