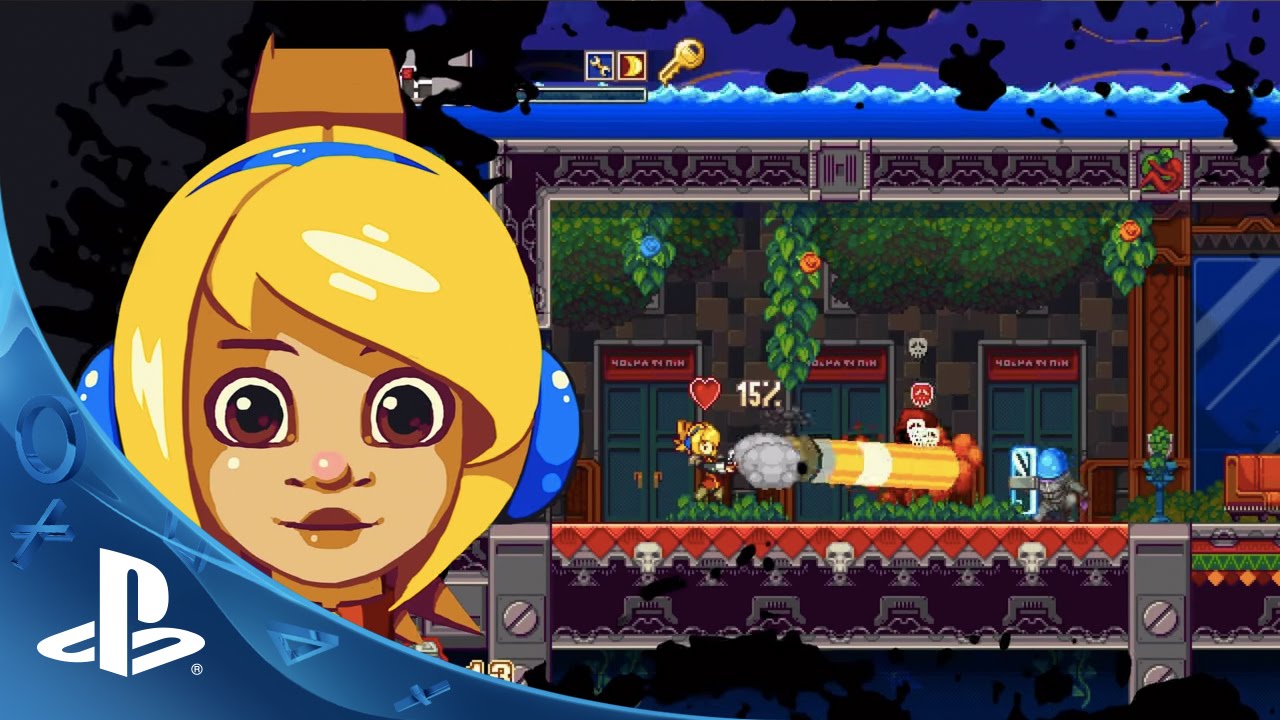 Hello! My name is Joakim Sandberg, also known as Konjak, and I am making Iconoclasts for PS4 and PS Vita. It's been in development since 2010, and been in planning stages long before that! For the last five years, I've worked on the game all by myself, and now Bifrost Entertainment is helping me finish it up.
Iconoclasts is an action-platformer with a heavy emphasis on puzzling level design. Not only do you beat up enemies, you beat your head against the puzzles, too. You solve your problems by screwing them up with your giant wrench, or simply blowing your way through with your modified stun-gun.
The adventure spans a vast, mysterious world to explore. There are secrets to be found, power-ups to earn, and a host of interesting characters trying to deal with the world in their own ways.
You follow the young, naive, and helpful mechanic Robin and her companions as they try to escape the soldiers of the religious authority One Concern — but it's not just a simple story of good fighting evil to save the world. It's about people caring for people, but having no real idea how to do it right.
As has been the case for my other projects, the game will offer a lot of action and, most importantly, bosses! I've always had a great fondness for them, both as a kind of test of what you've learned, or a trial-by-fire. They're the exciting performance exams at the end of a gameplay semester.
But the action isn't my entire ambition!
Since I was very young, I've wanted to make a game that mixes a bit of Metroid Fusion and Monster World IV; an action-filled adventure with a strong narrative, and also a bunch of world-building and discovery. I always loved the mix of charm and emotion in Final Fantasy IX and wanted a sprinkling of that feeling in the game's characters, as well.
I've combined those main influences and used them to express my own genuine, personal thoughts and questions about sharing a world with other people, and dealing with their expectations.
I have a deep love for game mechanics, and polishing them down to the most dynamic ideas. No clutter, only the ideas that have the most uses, and combine them to expand your capabilities. I feel that has more potential for satisfying flow, and more player freedom to explore and understand the abilities you might've had all along. Couple that with a fast and athletic character, and we're set!
Iconoclasts has taken a lot of time, both from my life, and those who have waited for it since I first revealed it in 2011. If you're one of those people, and you're still here, thank you! That's why I'm still making it, no matter that it's grown so much bigger and harder to complete than I ever expected.
Now it's time to finish this story. I've come to love the game, the story, and its characters, and now I am confident I will achieve what I set out to do with Iconoclasts. Hopefully before we all drive flying cars.