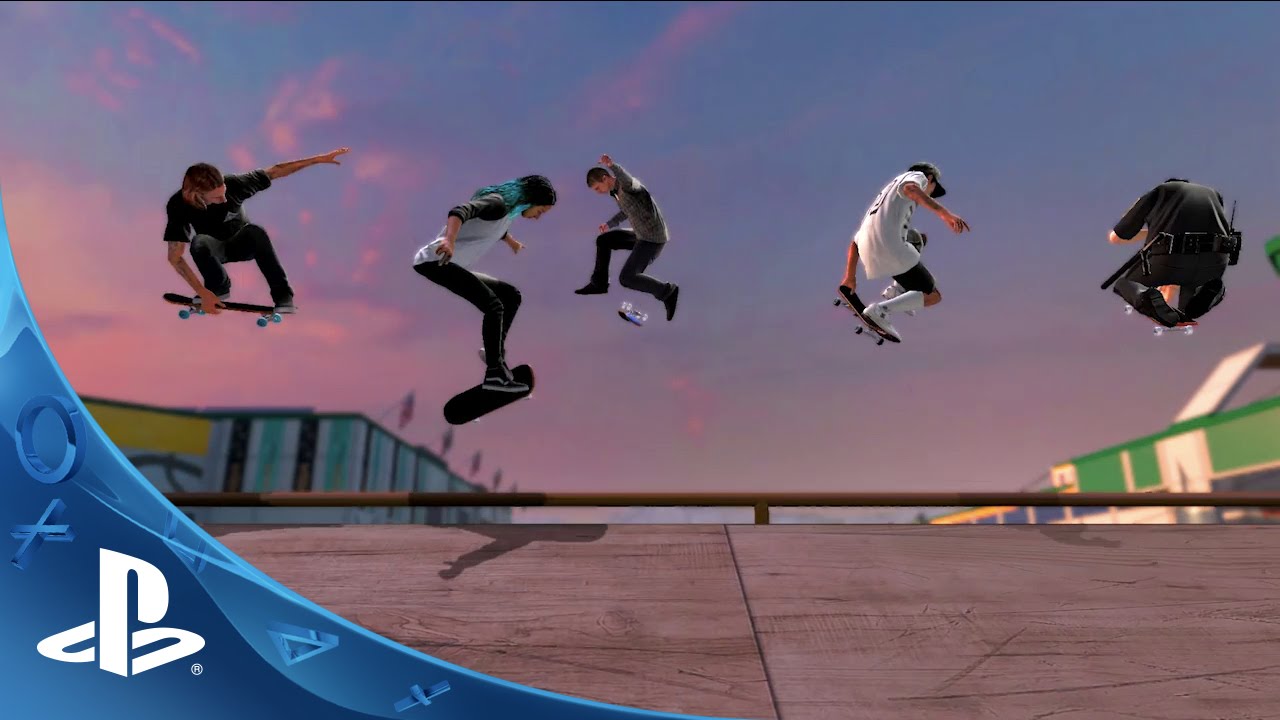 Hey PlayStation fans! I'm in a great mood so I'm going to throw out a bunch of stuff to share today.
Right off the bat, check out our first full gameplay trailer. This should give you an idea about the game's energy; the footage contains pros and some of our hidden characters, sick tricks and combos, and a bunch of online multiplayer action. And the song we used in the video, Plague Vendor's "Black Sap Scriptures," is in the game and I think it's a good example of the music Tony Hawk is curating for THPS5. They even popped over to play the game at the studio!
Speaking of online multiplayer, I wanted to share some new details. Connecting with other players is totally different than previous THPS games, and it's unique compared to current crop of skating titles. The Freeskate levels serve as lobbies for up to 20 players. They act as hubs where players can hang out and skate between different missions and online matches.
The sessions themselves are hosted by dedicated servers, so you can drop in and out of populated Freeskate sessions at any time. When you are ready, you can jump into a mission with your party or challenge the entire park in one of the competitive multiplayer modes. This is done from the Sessions menu, a multipurpose tool for queuing up missions or modes, managing your party, and checking to see who's in the park. When your mission or match is finished, you can either retry/rematch or seamlessly jump back into the Freeskate where you can hang out while deciding what to do next.
This means that Tony Hawk's Pro Skater 5 is designed to get you online quickly and easily. As a reminder: the online features are only in the PS4 version. The PS3 version has no online play (this is why the price is $20 less).
Also, PS4 and PS3 owners will be happy to hear Tony Hawk's Pro Skater 5 has PlayStation-exclusive content. There will be three character heads from Sony's games: Ratchet, Sweet Tooth, and Sackboy.
UPDATE: This PlayStation-exclusive content is included only in digital copies of the game purchased on PlayStation Store, not in physical copies bought at a brick-and-mortar retailer. I hope this makes things clear. Apologies for any confusion!
I'd be remiss if I didn't mention some nuts and bolts things about the game. The pre-order exclusives from GameStop, Best Buy and Amazon are all live, so be sure to eye those and pick your poison. There are differences between what is offered for the PS4 and PS3 versions, so be mindful of that. It will be available for PS4 on September 29, 2015 for $59.99, and the PS3 version will show up before the holidays for $39.99.
We'll have the game playable to the public at various places in North America and Europe over the summer and fall, so be sure to follow @TonyHawkGames on Instagram, Twitter, and Facebook to get the deets.
Thanks for taking some time to let me talk about our baby, Tony Hawk's Pro Skater 5!