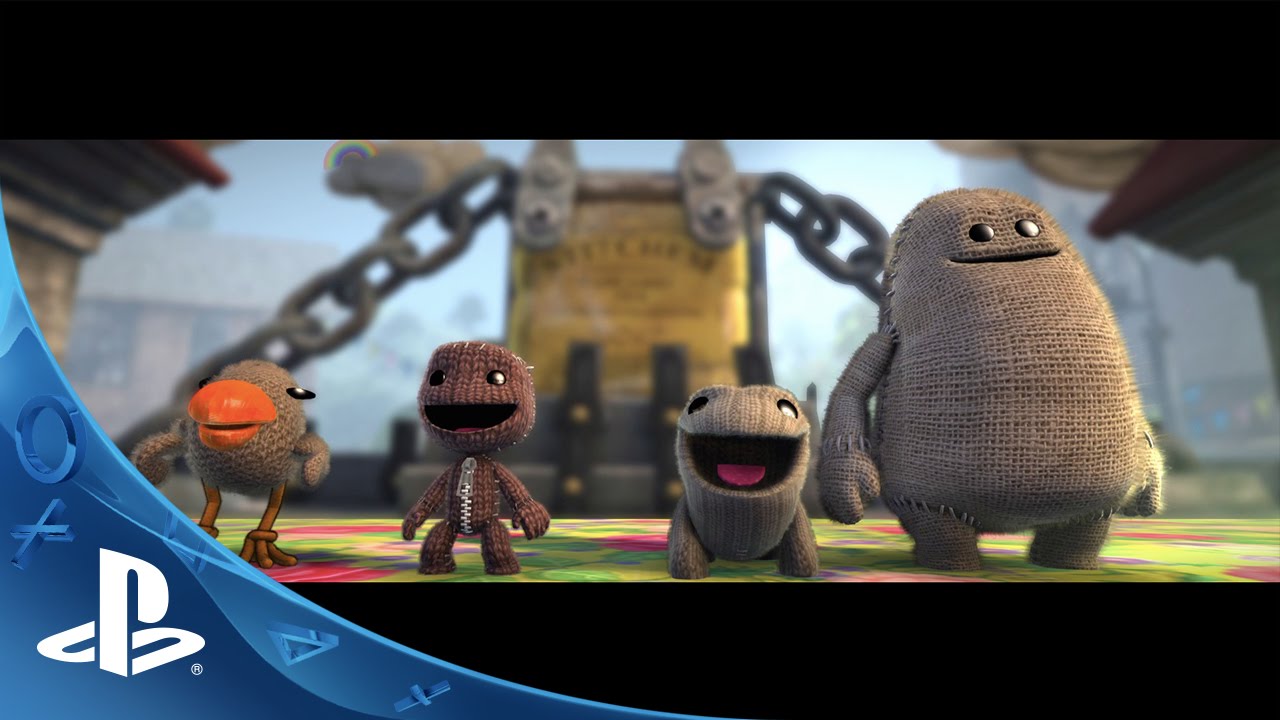 LittleBigPlanet 3: The Journey Home launches today on PS4 and PS3, and we re-join our courageous champions of Bunkum right where we left them; just after they stepped into Newton's Dimensional Doorway and were being zipped back home to Craftworld.
The Journey Home Premium Adventure Pack is the ultimate adventurer's pack for Sackboy and friends, contains a brand new story and all sorts of new tools, goodies, and thingamajigs to collect during their journey home.
A New Story for Sackboy, You, and Your Friends
A Brand New Adventure
Play the next chapter of LittleBigPlanet 3 with a series of brand new levels featuring familiar locations from LittleBigPlanet and LittleBigPlanet 2; totally re-imagined for LittleBigPlanet 3 like you have never seen before!
Exciting Single Player and Co-op Gameplay
Are you a lone traveller or do you prefer to journey with a full party of lifelong friends and companions? The Journey Home comes packed with a range of levels that will challenge both playstyles and our new co-op levels will especially be putting your group's skills with all of our characters to the test!
Old Friends, Familiar Faces
During your travels, you will get to meet back up with The King, Da Vinci, and even Clive! That's not all, though! There are even more Creator Curators to discover; search hard enough and you may even run into one of your old favorites at Sackboy's big homecoming party!
New Trophies and Pins
Collect 6 Trophies and 17 Pins as mementos of your achievements during The Journey Home. It just wouldn't be a proper journey without some souvenirs of your trip!
New Goodies and Collectables to Find
4 New Costumes
Our intrepid travellers will all be able to find new costumes on their journey to help them fit right in amongst Sackboy's old friends on Craftworld.
New Power-Up and New Tool: The Springinator and Spring Sensor
Hop, spring, and jump with this brand new power-up for OddSock. Add new gameplay by using this sensor to detect when OddSock springs from objects.
Three New Interactive Music Tracks
Return to the themes of LittleBigPlanet and LittleBigPlanet 2 with a trio of new Interactive Music Tracks to fit these favorite themes.
Three New Backgrounds
Three new backgrounds based off of past LittleBigPlanet themes that will give you a new view of these memorable themes in LittleBigPlanet 3.
6 Materials, 7 Objects, 45 Decorations and 120 Stickers
A veritable palette of brand new assets that pay homage to past LittleBigPlanet titles.
The next chapter of LittleBigPlanet 3 launches on July 10th and you can pick up your very own return ticket to Craftworld by purchasing LittleBigPlanet 3: The Journey Home for $5.99.
LittleBigPlanet 3 Permanent Price Reduction
Last but by no means least; we are pleased to announce that LittleBigPlanet 3 is receiving a permanent price reduction on both PS4 and PS3 and can now be picked up both physically and digitally for just $39.99!
To-date we have released nine Game Updates bringing improvements and new features based on community feedback. LittleBigPlanet 3: The Journey Home is our first major expansion that includes a brand new adventure and a range of creative assets for everybody.
Now is a fantastic time to be diving right in with our community and we can't wait for you to join us!