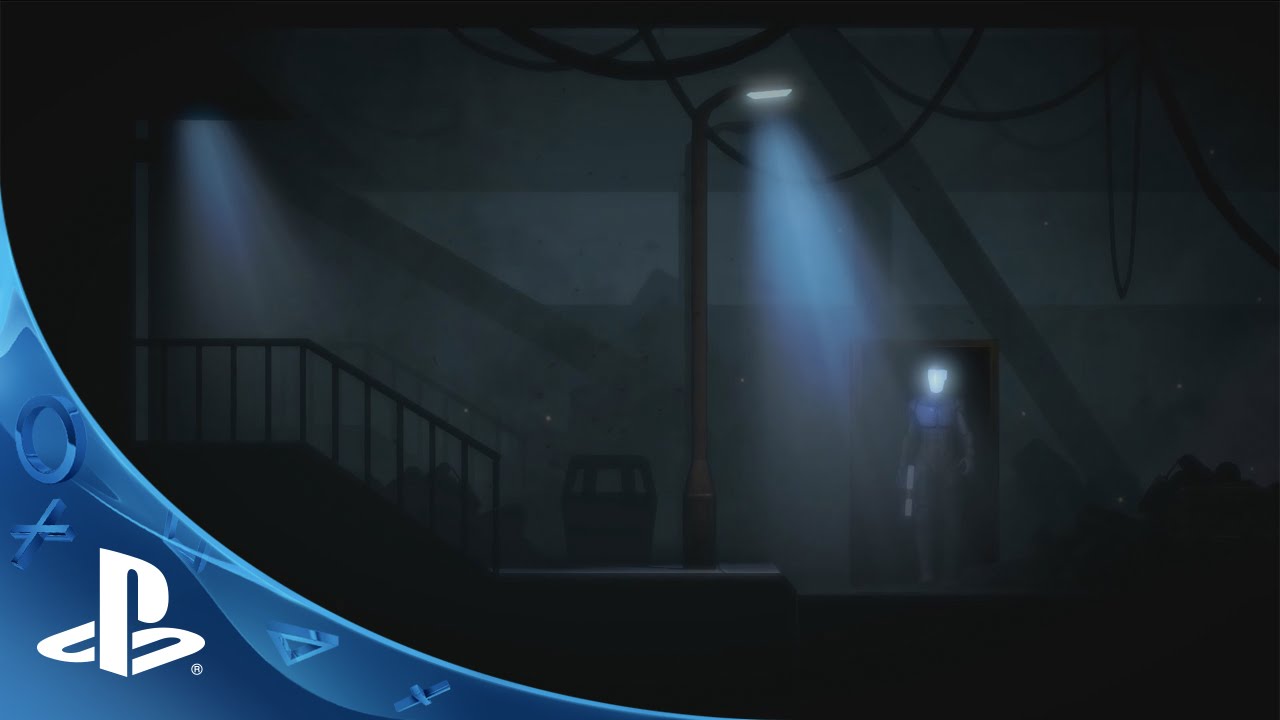 Hello PlayStation community — this is John Warner, lead developer at Over The Moon Games. Two years ago I started creating a game based around a core idea — what if you played as an artificial intelligence on-board a futuristic combat suit, but the human inside the suit was injured and unable to move? What would you do?
In The Fall, the answer is simple: take control of the suit and drag the lifeless, unconscious human inside of it towards medical help. Two years later, The Fall is complete. I'm glad to announce that it's every bit as weird as I had hoped it would be, and I'm happier still to announce that The Fall will *ahem* descend onto PS4 in just a few short weeks, on July 14th.
If you like games that allow you to explore, we think you'll enjoy The Fall. We took that solid sense of exploration that some games do so well, and layered gameplay on top, so it's only by understanding the world around you that you'll solve The Fall's many unusual puzzles. It's not all searching and story though; our AI protagonist is built for action, so get ready for some fun gunplay as A.R.I.D (our hero) shoots her way through an army of corrupt, faulty robots.
​
​
But wait — I come bearing news! We wanted to add something special to mark our release on the PS4. So far, The Fall has been received well by critics. It is, of course, an incredible honour to make something that connects with anyone on any level, so we thought that we should celebrate by adding a developer commentary, to open up our process a little bit, and share with fans our thoughts about the game: how we made it and why we made the choices that we did.
When The Fall launches this July 14th, it'll include this new developer commentary for your listening enjoyment. At Over The Moon, we have a lot of fun discussing ideas and sharing them with players, so our hope was to load The Fall with as many thought-provoking elements as possible. We want to know if you think we met our goal, and if The Fall provoked any thoughts from you.
​
So what were our goals then? For the most part, The Fall was an experiment with story-gameplay integration. As ARID is given challenges that are outside of her operating parameters, players must also think outside the box, by breaking rules and finding loopholes. For example, ARID must protect her pilot, but what happens if she needs to briefly put him in danger to ultimately progress?
The Fall encourages players to find loopholes in ARID's rules, and as she develops as a character, players follow her every step of the way. At least, that's the goal. Ultimately, you're the one to decide if we met our mark, and you can let me know this July 14th, when The Fall *ahem* lands (I know, I'm terrible) on PS4.