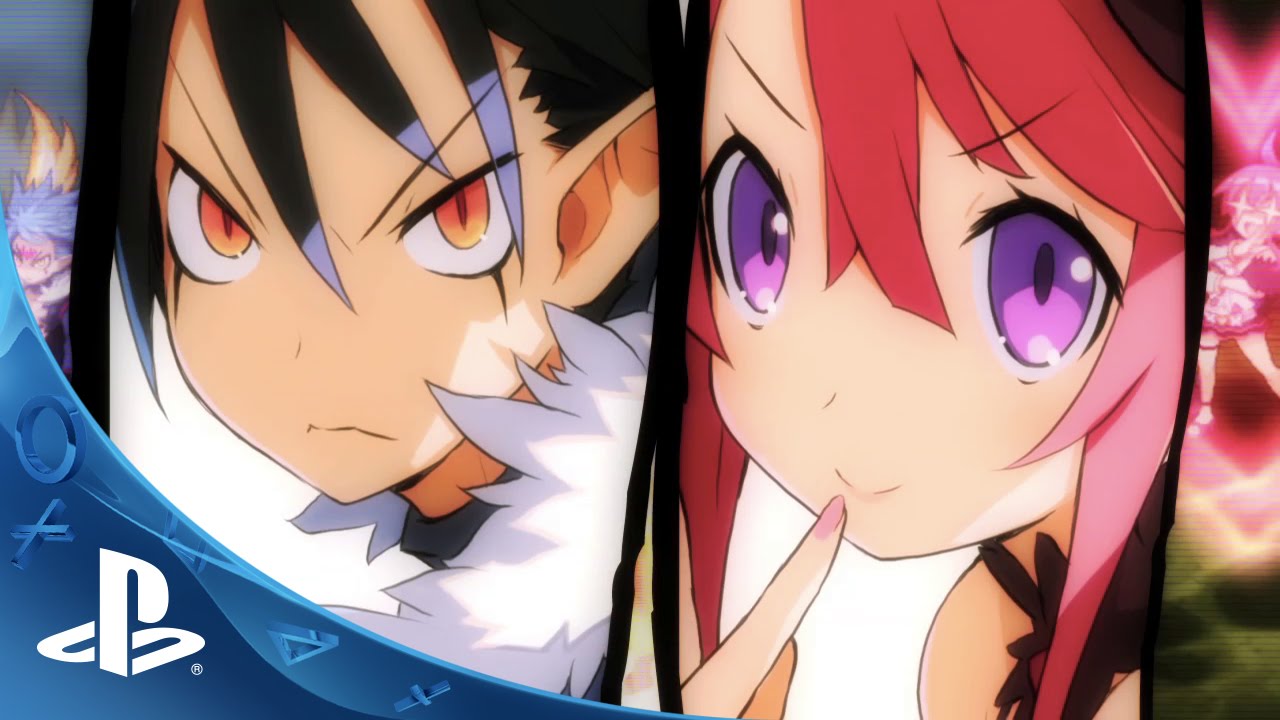 Hey, dood! It's been a hot and sweaty six months duking it out in the Netherworlds since we announced Disgaea 5, but I managed to find my way back with some awesome news! NIS America is unleashing Disgaea 5: Alliance of Vengeance exclusively for PS4 on October 6th! This ridiculously over-the-top strategy RPG will be available in stores and on PlayStation Store.
For those poor souls who have never spent time in the Netherworlds, Disgaea is a turn-based strategy RPG where players use a grid-based system to arrange their characters and perform special attacks, or team up to rain down literally millions of points of damage upon the enemy.
The series is known for its unique cast of characters, which are always beautifully illustrated by Takehito Harada, and its over-the-top and hilarious stories and dialogue written by Sohei Niikawa. Disgaea 5 doesn't disappoint in the jokes or art department, but it does take things in a new, darker direction. With a story centered on taking revenge on a powerful new Demon Emperor named Void Dark, this title follows our dark, self-assured hero, Killia, and his Overlord allies on their dark and dangerous path to vengeance.
With the move to the more powerful PS4, Disgaea 5 is jam-packed with more content than ever before — and all of it looks slick as a whistle! Previous games in the series featured main storylines of 25-30 hours. Disgaea 5 has upped the ante with as much as 45 hours of content for just the main storyline, and hundreds of hours of extra content. Each second of this epic journey is rendered in crisp, HD resolution on PS4 with up to 100 enemies on a level, brand new sprites, tilesets, and ability effects.
And did somebody say ability effects? The plethora of skills each entry in this title has brought to the table has been nothing to scoff at, but Disgaea 5 isn't content with "enough" and brings entirely new battle systems into the fray to deliver even more impressive animation and particle effects. Building on the Team Attacks seen earlier in the series, Disgaea 5 will introduce you to new Alliance Attacks which combine the strengths of specific members of the game's main cast of characters when they have built up a strong enough bond with one another.
And as everyone knows, when you feel strongly about someone, you hate to see them harmed. Well, welcome to another brand new hallmark of Disgaea 5, the Revenge System. Watching your buddies take a beating will slowly build up your characters' Revenge Gauge, and when it bursts they'll enter Revenge Mode. This mode enhances a character's base stats, and allows them to use new abilities called Overloads if they're Overlords.
Voila! That's a veritable smorgasbord of new content. I think that's enough mouth-watering details for now, but rest assured, there's even more juicy Disgaea 5 info to come! Make sure you check out our newly updated website for a closer look at the value of this vengeful tale before it hits stores on October 6th.
The Launch Edition will be available at North American retailers, which includes the full game, reversible cover, 32-page art book, and original soundtrack — all packed neatly into a gorgeous collector's box!