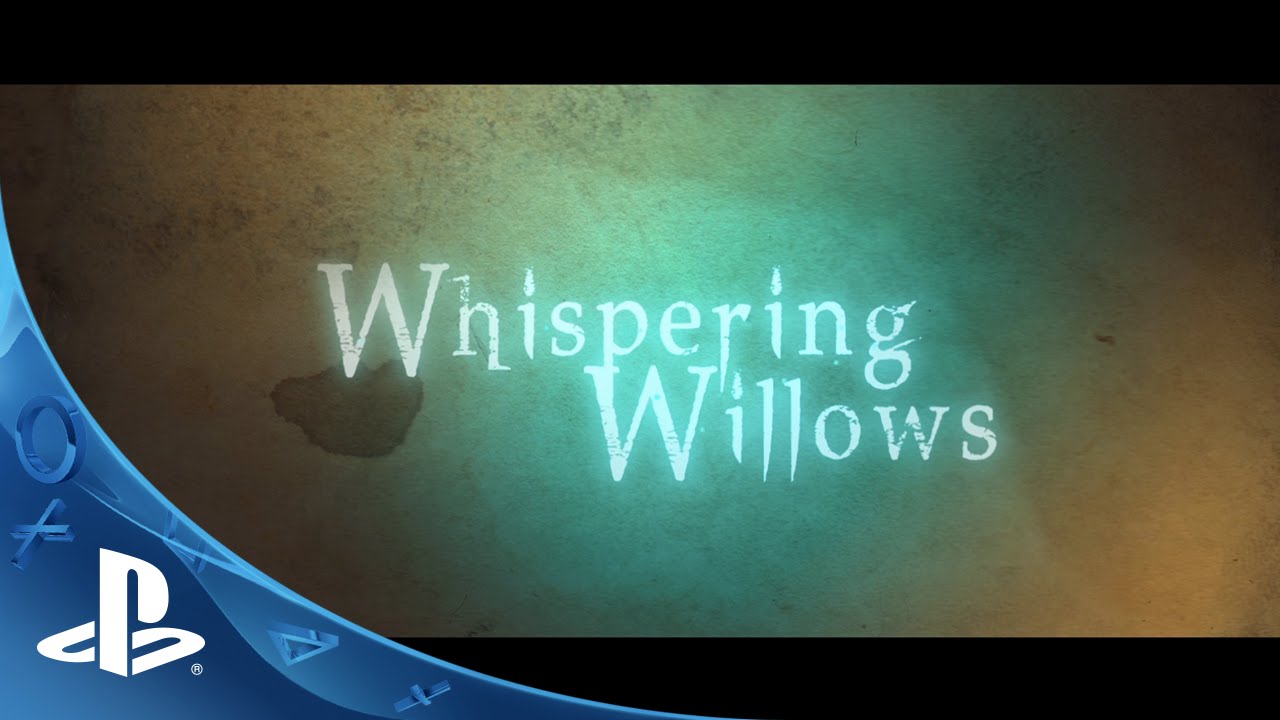 Ever go exploring somewhere you shouldn't have?
The excitement! The anticipation! The heightened, electrified, tingle that ran down your spine. There you were, surrounded by an eerie, raging silence, overcome by the haunting feeling that you knew — just knew — you weren't alone.
Whispering Willows is that kind of experience: an adventure game wherein you take on the role of Elena, a determined young girl with the extraordinary ability to project her spirit outside of her body. In this spectral form, she can interact with the benevolent spirits and wicked wraiths that dwell within the walls of the sinister Willows Mansion. Help Elena use her astral projection to solve puzzles, help lost spirits, and uncover the mystery behind her missing father.
Whispering Willows is launching on June 30th as a PlayStation cross-buy console exclusive for PS4 and PS Vita — with an exclusive dynamic PS4 theme available as well, along with special discount pricing for PlayStation Plus members. It's best described in one word: immersion.
A story of adventure and discovery which unfolds as you progress through the game. We reached out to Night Light Interactive's David Logan and Kyle Holmquist for more insights into Whispering Willows.
---
LOOT: Whispering Willows emphasizes atmosphere and discovery — more like an interactive work of fiction. What was the inspiration for this game?
David Logan: My original motivation behind Whispering Willows was more gameplay focused; I wanted to explore mechanics and abilities that a player might have if playing as a ghost. Story was incredibly important from the beginning to me as well, so the first person I brought on board was our writer, Kyle Holmquist. Early on, the idea evolved from playing strictly as a ghost to playing as both a corporeal and ethereal form.
Kyle Holmquist: A lot of the inspiration for the game came from the history between natives and white settlers, and the dual nature of those stories. The natives told stories of being enslaved and murdered, while the history books claim a more peaceful approach to the relations between whites and natives. We wanted to show that duality to players.
LOOT: Players need to rely on their decision making, exploration skills and puzzle-solving abilities rather than button mashing combat. Was that part of the overall idea from the beginning?
David: Yes; the horror genre has some beautiful worlds, but I feel the player is often just quickly running through it, since they're scared of what's around every corner. With Whispering Willows, I wanted the player to feel like they could explore every nook and cranny of the world we created.
Kyle: Steve Goldshein (the composer) made such chilling music for Whispering Willows that, along with our beautiful hand-painted scenes, created a more cerebral game which got players thinking. Overall, we wanted to provide a horror-tinged adventure experience that could be enjoyed in a different way.
LOOT: Whispering Willows, notably, started off as a successful crowd-funded project; what do you feel were the hooks that got people so enthusiastic that they decided to throw down money on a concept they'd never heard of before?
David: Initially I think one of the big draws was the artwork in the game. We had a talented (and large for an indie project) art team that worked very hard to create a unique style. We also just had an overwhelmingly supportive base of friends and family that continue to be very involved and motivated. I think that's contagious, and people online picked up on our very enthusiastic community.
Kyle: A large draw is having a female main character. Elena is a strong girl, but we also made sure to keep her human; she has her moments of being scared, sad, and even angry. Those are aspects I really strove to portray in the game.
LOOT: Whispering Willows is now about to make it into the more exclusive console ecosystem with its PlayStation debut. What do you think the PlayStation audience will make of the game? Why should PlayStation gamers pick it up?
David: Whispering Willows has always been very much a console game. It's the kind of game that I loved as a kid, where I could bundle up in a blanket on my couch and play. It offers an accessible experience for a casual gamer, but also has an in-depth story and experiences that a hardcore gamer would appreciate as well.
Kyle: We think it fills a nice little niche that has been otherwise vacant on PlayStation. It's also pretty fun to play with someone else next to you, especially if you both like the pace of relaxed terror that is Whispering Willows.
---
If you like your adventures filled with dark discoveries, immersive storytelling, and the sort of mystery that sends that tingle down your spine, then follow your instincts and check out Whispering Willows on June 30th. Got any questions? Let us know in the comments below!