Hello, PlayStation Nation! This summer I'm hosting "Conversation with Creators," a series of roundtable discussions with some of the most incredible and talented game creators on the planet. (I know, it's a little on the nose, but we all figured you should know exactly what you're getting into, because we respect your time, and Dragon Age: Inquisition isn't going to play itself while you try to figure out if you want to watch a new show)
The series is presented by PlayStation Store and the first episode premieres July 7th. Here's a little preview of what you can expect: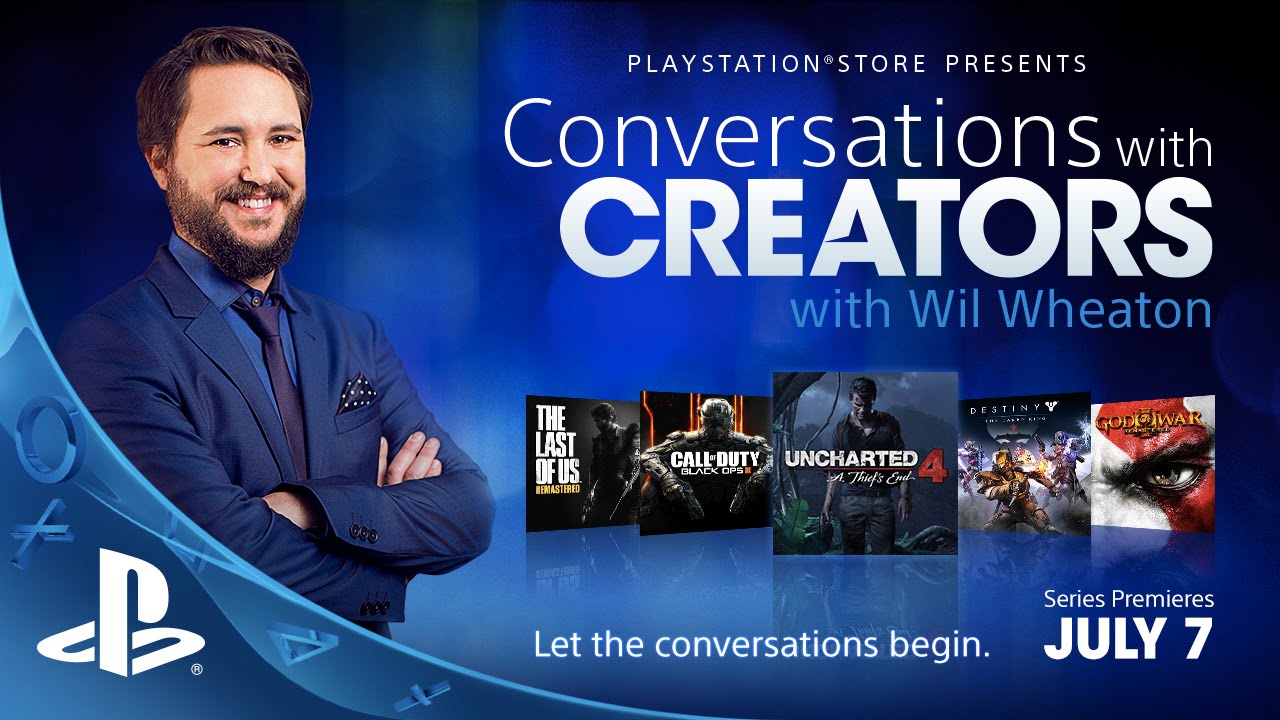 We'll release new episodes, every Tuesday in the US and Canada, on PlayStation Store. You'll get them for the low, low price of FREE on your PS3, PS4, and PS Vita. What's that? You loaned your device to your cousin and she went out of town, locked it in her house, and didn't give you the key? Don't worry. If you don't want to try out those lock-picking skills just yet, we're also going to make our episodes available on PlayStation's YouTube channel.
So, I hope you'll join me and some really interesting people as we talk about games like Destiny, Call of Duty: Black Ops 3, Uncharted, The Last of Us, God of War and more. I've already taped a couple of episodes, and I've had some really fascinating conversations about the similarities and differences between videogames and movies, the origins of Destiny, and exactly how The Last Of Us scared the hell out of us all, while simultaneously making us care about Joel and Ellie more than we care for actual people we work with in our real lives. Yes, Mark, I'm looking at you. You are never going to get a spot in my zombie survival compound, Mark.
If you're interested in hearing about how the games we love were brought to life from ideas to actual worlds we can visit, you're going to love this show. And if you're not, that's okay. I could probably use your help in some Destiny raids, anyway. Seriously, you should see me dance. I'm amazing.Here's a list of our upcoming episodes and creators:
Episode 1: Bungie – July 7th
Jason Jones – Co-Founder
Ryan Ellis – Design Director
Luke Smith – Design Director
Jason Sussman – Senior Environment
Episode 2: Naughty Dog – July 14th
Evan Wells – Co-President
Neil Druckmann – Creative Director
Bruce Straley – Game Director
Anthony Newman – Co-Lead Game Designer
Episode 3: Treyarch – July 21st
Mark Lamia – Studio Head
Dan Bunting – Game Director, Multiplayer
David Vonderhaar – Studio Design Director
Jason Blundell – Campaign Director & Sr. Executive Producer
Episode 4: Santa Monica Studio – July 28th
Shannon Studstill – Studio Head
Cory Barlog – Creative Director
Nathan Gary – Creative Director
Jason McDonald – Lead Combat Designer
Oh, and one more thing! Beginning today, through June 23rd at noon Pacific Time, I'm giving two PlayStation fans an amazing opportunity. Submit that question you've been dying to ask of the Treyarch and/or Santa Monica Studio teams in the comments section below and I will select the top question for each studio and ask it during our taping on June 23rd.
Play more games, visit playstationstore.com/creators for more info and I'll see you on the Internets!
Your pal, Wil Wheaton