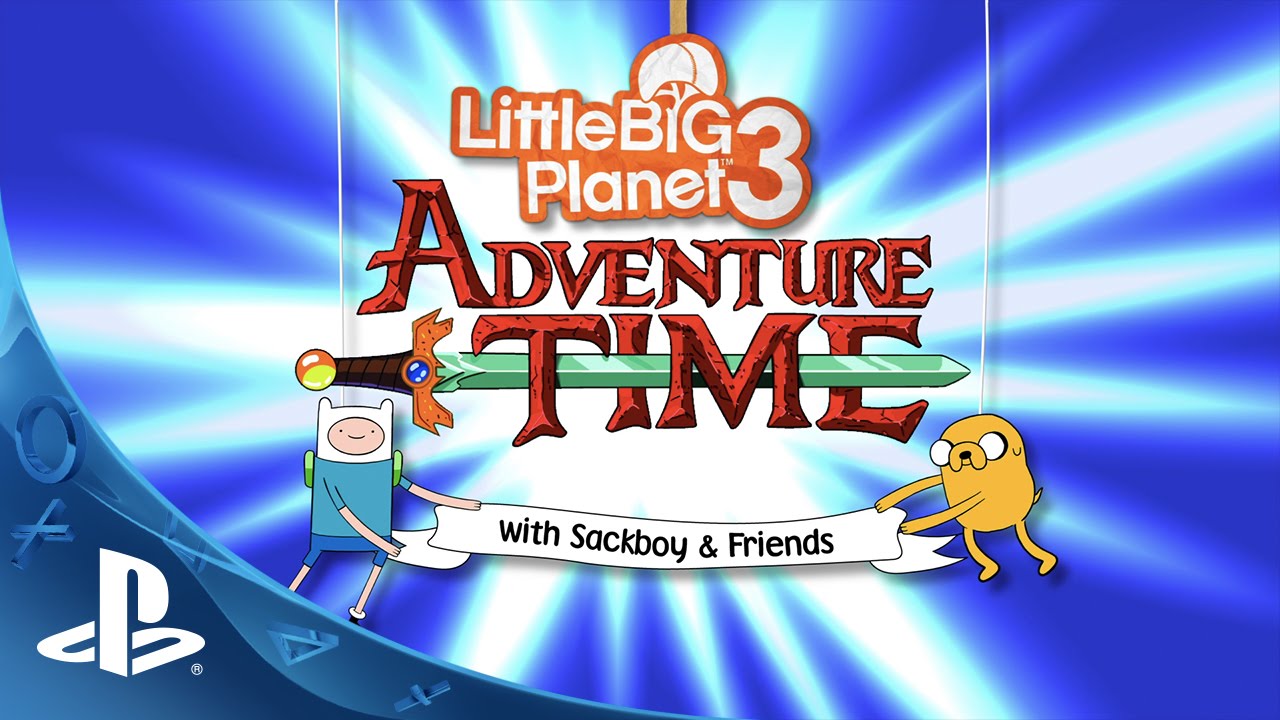 The ever-adventurous Sackboy embarks on an adventure like no other this week when he finds himself transported to the Land of Ooo in the Adventure Time Level Kit.
You will encounter many other characters from the Cartoon Network animated series — and will even be able to find all sorts of goodies to pick up and add to your ever-expanding collection of creative goodies in your Popit.
The Adventure Time Level Kit features a playable Gallery Level containing:
16 Materials, 4 Objects, 25 Decorations, 81 Stickers to design with!
2 Original Music tracks ("A Blip and a Bubble", "Manlorette Party"), 1 Interactive Music track ("Zombie Loop") and 3 Cinematic Stingers ("Tragedy of Jake", "Level 1" and "Distortion Dirge") by original Adventure Time composer, Tim Kiefer.
Land of Ooo Level Background
A Bonus Fionna Costume
All of these items are just waiting to be found by your Sackboy or Sackgirl to bring back to LittleBigPlanet!
Your Adventure Time experience just wouldn't be complete without being able to pick up some brand new costumes and our latest costume pack will fill your Popit with five new costumes for Sackboy, OddSock, Toggle, and Swoop featuring some of your favourite Adventure Time characters.
Finn, Jake, Ice King, Gunter, and The Cosmic Owl are all featured in the Adventure Time Costume Pack which can be picked up for $5.99 or purchased individually for $1.99 each, whilst the Adventure Time Level Kit can be purchased for $4.99.
We're really looking forward to hearing all about your adventures with Jake and Finn and hope you will all bring a piece of the Land of Ooo back to your LittleBigPlanet creations! We can't wait to see what you create with these new goodies!
LittleBigPlanet 3: Adventure Time Avatars
Add a bit of LittleBigPlanet and Adventure Time to your PSN profile with our range of new avatars featuring Sackboy and all his friends dressed up in their favorite new costumes!
You can pick up these fab avatars for free following the steps below:
Save the avatar image from the blog post to your device with the PlayStation app installed.
Upload the avatar image via the app for use as your PSN profile image, which would show on PS4.
So pick up the brand new Adventure Time Level Kit and these free avatars to have a grand old time with Sackboy, Finn, Jake and all of their friends.