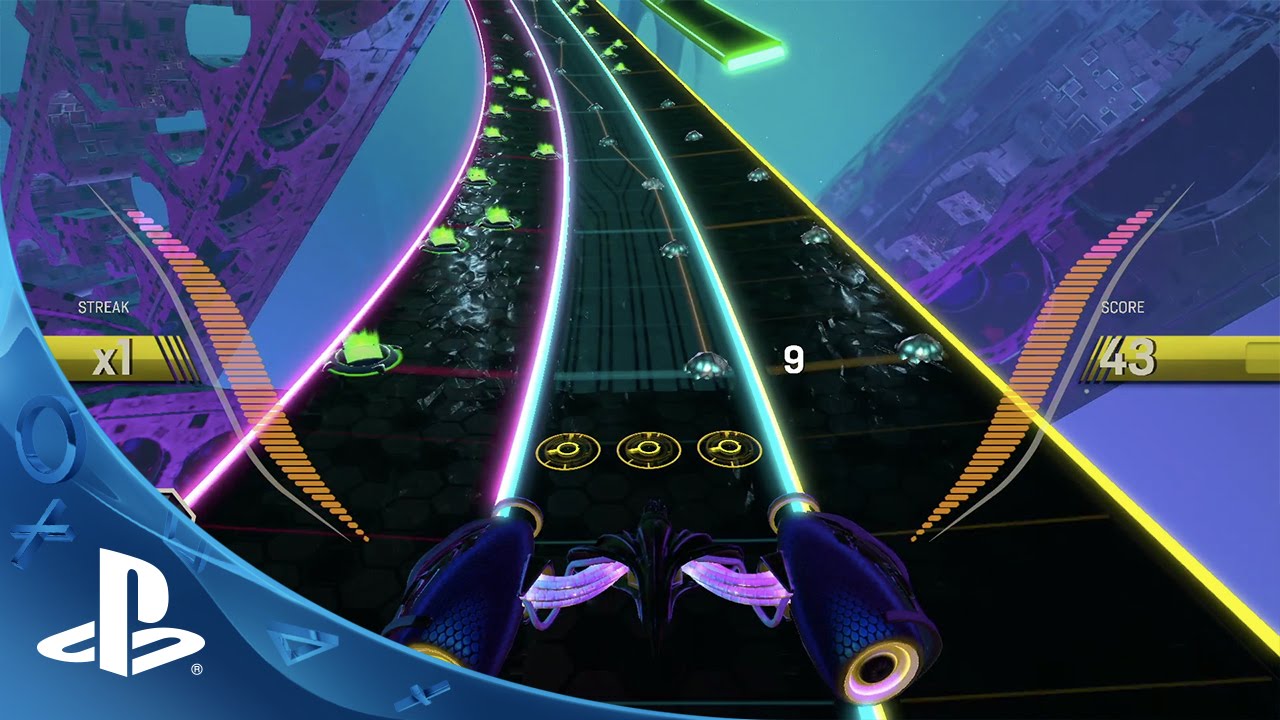 Hey there, fellow FreQ!
It's been a while since I've had a chance to talk to you about Amplitude, but with PAX East right around the corner, and looking at the great progress we've been making in development, it seems like a great time to show you what we are up to.
Team Amplitude has been working feverishly to bring a sweet build of the game to PAX East, and as of this past week, we think that we nailed it. In the past few months since showing the game at PlayStation Experience, we've put a real focus on multiplayer, hoping to get groups battling it out at PAX East.
While we were focusing on the gameplay for Amplitude multiplayer, I started posing a question to the team: What can we do to even the playing field when pro players sit on the couch to play against new players? During a team meeting, I discussed thoughts that I had for things like "rubber-banding" and power-up distribution, and out of nowhere, Amplitude Audio Lead Pete Maguire threw out the idea of team play. TEAM PLAY!? Genius!
Team play is something we'd never done in Amplitude before, and allowing players to team up 2v2 or even 3v1 sounded like an amazing way to even the playing field without disrupting the current design. We decided to give it a shot, and after some iteration and tweaking, we are proud to say that it's already super fun.
It's been a really interesting challenge, balancing the gameplay carefully between casual and hardcore. We want to create a game that can be super fun in a party situation, while also being tight and sharp in a way that could potentially even appeal to the competitive gaming community. I think that we're on the right track now that we have both the classic Free-For-All Multiplayer mode and the new Team Play mode. Time will tell, but we have a couple of months to really suss it out, playtest the crap out of it, and get some great feedback from fans.
We're excited to showcase this brand new feature at PAX East this week. There will be a few Amplitude kiosks set up at the Harmonix booth on the show floor (#4224). We'll be there playing the game with everyone, so stop by and check it out if you're attending!
Speaking of Team Play and PAX, we were invited by the fine folks at Penny Arcade some weeks ago asking if they could use Amplitude as one of the games in their Omegathon tournament! They specifically asked if we had a way to whittle down teams. Luckily, we were working on the perfect feature for that, and we can't wait to see folks go head-to-head with one another in front of a large audience Saturday morning of PAX East.
Keep an eye out for us on the PAX East floor and in the Omegathon this weekend. In the meantime, we'd like to give the PlayStation community an opportunity to check out new gameplay footage in the world premiere of our very first Amplitude gameplay trailer here on the PlayStation.Blog, just above this very paragraph. We hope you like it!