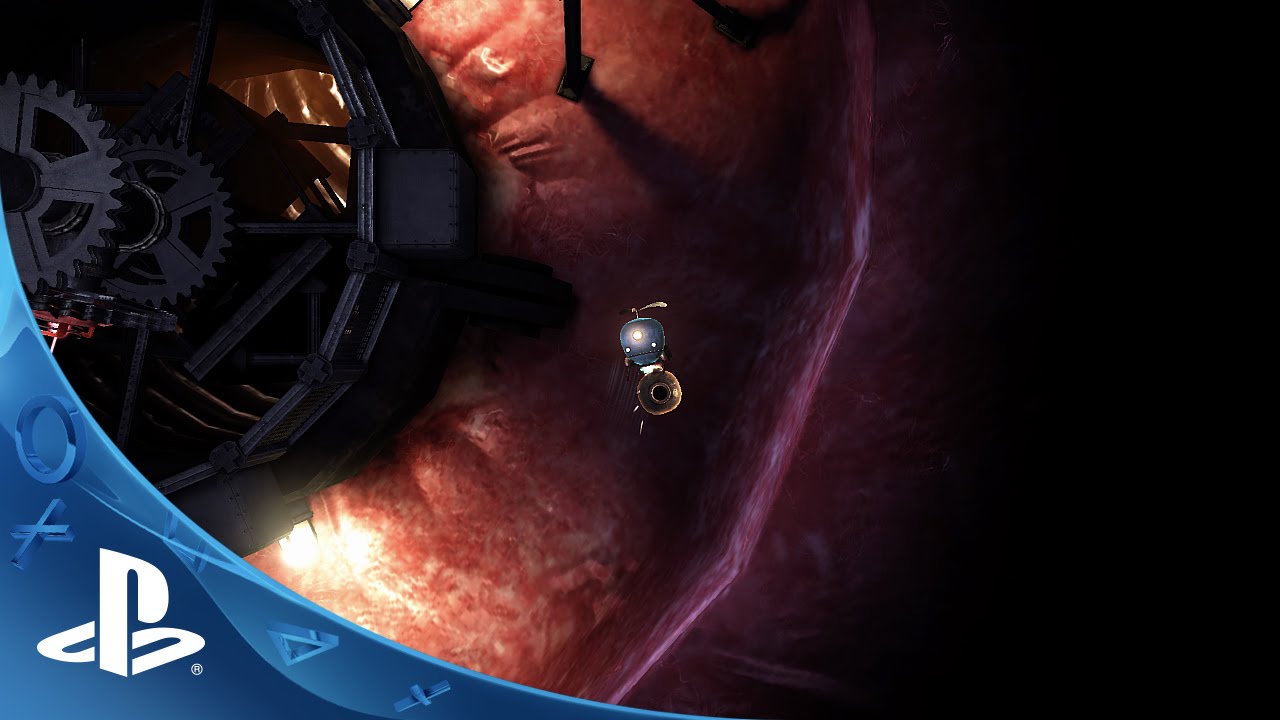 Hi, it's Jakub from Grip Games. This week, we launched Unmechanical: Extended for PS4 and PS3. Just like the story of the game, even the development has been a difficult journey full of puzzles and problems. This post-mortem article maps what we think went right and wrong during the development, and what has shaped Unmechanical: Extended into what it is today.
Unmechanical started its life as a PC game, developed by Talawa Games and Teotl Studios. At Grip Games, we have a long history of working with other game developers and bringing their games to consoles — The Impossible Game being the best-known among them. But Unmechanical was a completely different beast — created using an AAA engine, bigger than any other game we have made up until then and with a dedicated fan base that would eat us alive if we messed it up. Developing Unmechanical: Extended was really like getting sucked into a dangerous underground world looking for a way to see the daylight again.
What Went Right
Extending Unmechanical
Unmechanical got some rave reviews when it was released on PC, won prestigious awards for its visuals, and had a large community of die-hard fans. But the console version needed to bring something new. More story, more puzzles, and more characters — to make the game longer and to let everyone who enjoyed the original game get something new. And thus Teotl Studios and Talawa Games created Extended — a completely new episode, where we return to the strange Unmechanical complex one more time.
And the developers really outdid themselves with Extended. They included a second character in that story, which spends a lot of time with your character, but always separated from him, sometimes working together to solve puzzles, sometimes needing to be saved, or saving you.
Extended really took Unmechanical in a great new direction and made the whole game a lot richer.
Unreal Engine
Unreal is the king of game engines, and when you look at screenshots and trailers from Unmechanical, you'll immediately see why. Even a small, independent team can create a truly beautiful game, full of visual effects that are usually only associated with AAA projects.
It's not always easy to tame the Unreal Engine beast, as it was made for large-scale projects and not for super-effective indie development, but it rarely became an issue. I think that the game could never look even remotely this good, across several different game platforms, as it does, without Unreal Engine. We have several other games in development and all of them are using Unreal.
The Team(s)
Unmechanical: Extended was a collaboration between three companies — Grip Games, Teotl Studios, and Talawa Games. Each having their own tasks to do and with people scattered all around Europe, from the Czech Republic and Germany, to Sweden. It could have turned into a disaster, but it actually worked really well. Problems were solved, discussions were friendly, deadlines and milestones were not missed by rage-inducing amounts.
Thanks to Unmechanical, we have adopted Unreal engine as our technology of choice for future projects and formed a lot of new friendships and opportunities for the future. I can already say, even when Unmechanical is still just being launches, it was a breakthrough game for us.
Problems We Faced
Story
Unmechanical: Extended has a really experimental narrative for a video game. There is no spoken dialog, no written messages. The whole story is told through the things you see and things you experience. And there are pieces of the story missing intentionally, to let the player's imagination do the explaining.
This has worked only to a certain degree, though. While we were happy to see that each player creatively came with a name of their own for the main hero, many players actually failed to spot the little story elements scattered around the game. Why was the little robot taken and what was supposed to happen to him, who are the other characters and what is their purpose? It's all there. You just need to have your eyes open.
A lot of players just rushed through the game, complaining that it was too short and that it didn't have a story, instead of slowing down, feeling the atmosphere and unravel the secrets. Maybe we should have just had memos to read, scattered around the levels, or Morgan-Freeman-like voice explain everything in the end. But where's the mystery in that?
Working on Two Projects At Once
As we have grown as a studio, we started something that is always a major step for any game studios, small or AAA — we started working on two games simultaneously, with two separate teams and a few people belonging to both projects and some people on top of that, trying to keep it all together.
We started working on Unmechanical: Extended while we were still deeply in the development of Jet Car Stunts. And when the development of Jet Car Stunts was finished, we started with Tower of Guns, which is our next upcoming game after Unmechanical: Extended. Juggling two projects at once isn't easy. It came with its own pains, like moving to a larger office space, getting more development hardware… this really could have ended badly, with missed deadlines, unclear responsibilities, lower production qualities, bad QA, etc.
It's also a riskier state of affairs for an independent, self-funded developer than it is for an AAA studio. You really have to be sure that the games you are making are worth the extra trouble. There were some initial pains, occasional yelling and heightened consumption of coffee, but in the end, it all worked better than we even hoped. Jet Car Stunts is out (with only two months delay), Unmechanical is on time, and Tower of Guns is actually ahead of schedule.
And so, after nine months of development, over twenty people involved, four platforms supported, and one production baby born, Unmechanical: Extended was launched this week.
We all hope you'll like it.