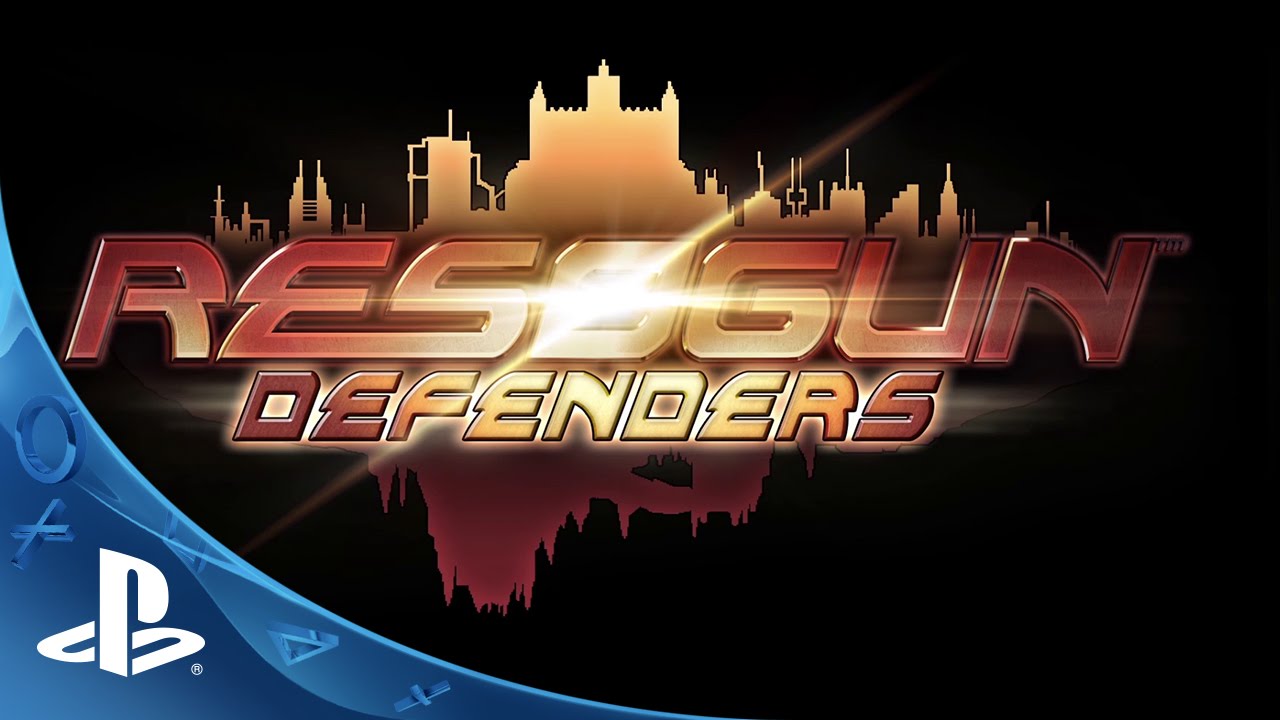 Hey all, Ian Pickles from XDEV Studio Europe here and I'm pleased to announce that Resogun Defenders, the second expansion for Resogun, will be available in a little under a week from now on February 17th for $4.99 and is free of charge to all existing season pass owners.
The Defenders expansion brings with it a huge amount of new content for the game and we've worked really hard to make this final expansion a fitting send off for Resogun.
What's more is that in order to prepare you for the arrival of Defenders, we are pleased to announce that our latest content update, Resogun Challengers will be made available free of charge to all players as of today!
Resogun Defenders takes place during our last stand against the overwhelming Sentient forces. Pushed back to an unknown planet you will take the fight to the bad guys in two all new game modes. Protector and Commando.
Protector Mode sees you taking to the skies to defend one of the last human colonies remaining. Utilize all new power-ups including Super Boost, Teleport, and automatic city defences; take down the enemy and deliver as many of the last humans to each city in order to extend your grip on the planet. Protector Mode features an all new planet flip mechanic and environmental hazards such as volcanic meteors to avoid while fighting off the never-ending enemy invasion.
Commando mode lets you play as the Last Human who was left behind. Stranded on a distant planet with only a mini-gun to defend him he takes the fight directly to the Sentients in the ultimate arcade revenge mode. Jump, boost and equip your favorite bandana as you aim to defend your home from waves of enemies, volcanic meteors and more in this all new mode.
What's more is that Commando mode supports both cooperative and competitive multiplayer modes. Team up with a friend to fight the good fight or turn against each other to outsmart your opponent and destroy their house from under their nose. We've named the competitive mode Battle Mode and hope you have as much fun fighting it out with your friends as we have had here.
Resogun Defenders also includes an all new Trophy set for you to achieve and leaderboards to climb to prove your worth as the best pilot out there.
So as mentioned above we need to update the game to get it ready for the arrival of Defenders and that gives us the opportunity to add a bunch of new content for everyone free of charge while we do it! This brings us to Resogun Challengers, our all new content update launching today for all players.
Resogun Challengers is the largest content update to date for the game and brings with it a new system of player levelling which is achieved by earning Challenge Points as a reward for completing new challenges and feats across all existing game modes.
Challenges task you with playing a specific level or game mode with different rules or modifiers designed to provide a new challenge. Can you rescue 200 humans in a single level if every enemy drops one, or better yet can you complete survival mode using the Super Stardust Ship?
Challenges change things up and give everyone a reason to revisit all Resogun game modes for a new experience.
Performing well will award Challenge Points which will advance your player level higher unlocking rewards and bragging rights.
Alongside the Challenges we have also included Feats. These are long goals that are tracked across all game modes and award Challenge Points for achieving huge milestone goals. Have you rescued a cumulative 1,000 humans or just dodged 13 wrecking balls in Demolition Mode? There'll be a Feat and reward for that. Only a true Resogun Hero can ever hope to achieve all the Feats but we're sure you'll have fun trying.
Human Gallery and Photo Mode
The Resogun Challengers update also contains an all new Human Gallery to organize and select your collected Human types, and the much requested Photo Mode which allows you to pause and capture stunning screenshots of all the voxel based action exploding on screen. We're looking forward to seeing some of the shots captured by the players.
To top it all off, the Challengers Update also contains a bunch of new Trophies for you to earn — designed around the challenges and feats these will test the skills of even the finest Resogun pilots out there.
Finally I'm happy to announce that for those of you that have yet to play Resogun there has never been a better time. To celebrate the launch of Resogun Defenders we are offering 33% off the retail price of the full game for the next two weeks. Additionally, anyone who purchase the season pass will immediately gain access to our previous expansion, Heroes, and the additional humans available in the store.
We look forward to launching Resogun Defenders and can't wait to see you all climbing the leaderboards and beating the biggest challenges ever seen in Resogun. We'll be back soon with more Human news and updates on the Original Soundtrack for season pass holders.