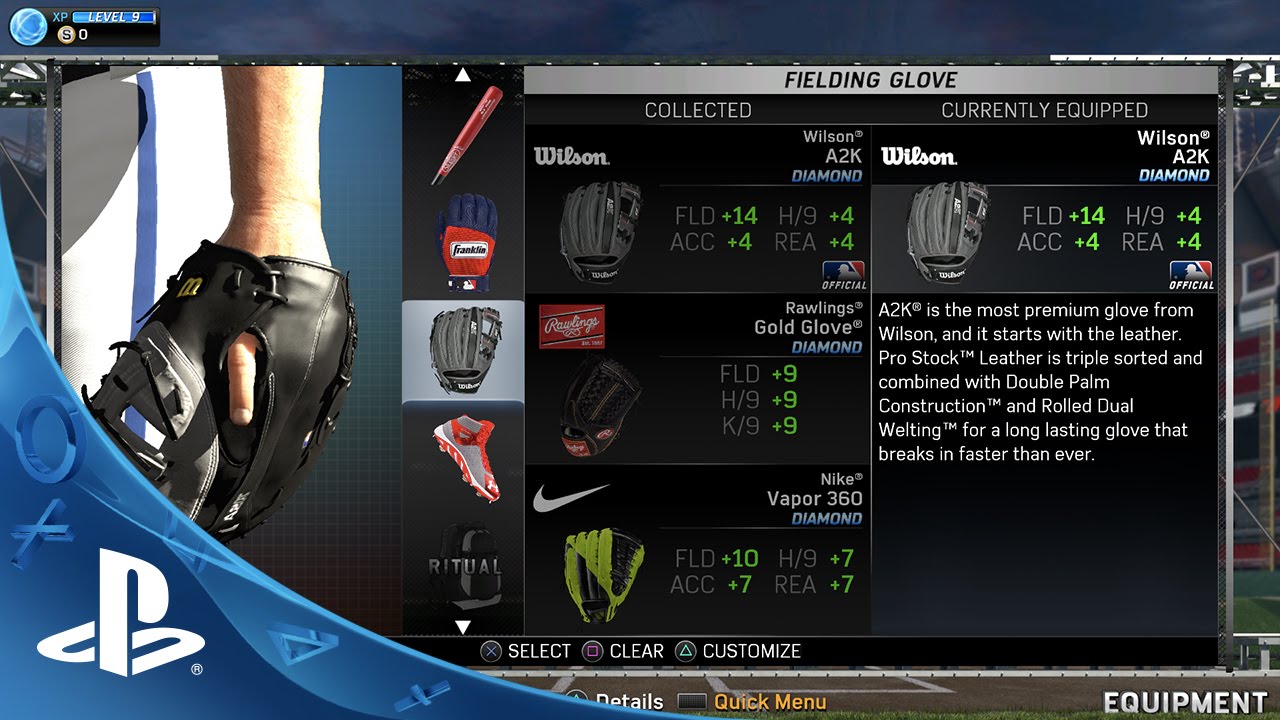 Hello, PlayStation.Blog friends! Today we're revealing some details about three new features in MLB 15 The Show: Universal Rewards, Licensed Equipment, and our 30 Legends. Keep an eye on our new Twitch channel for even more in-depth coverage of our robust new feature set!
In the last couple years, we've added something we call your Universal Profile, which tracks your playstyle tendencies and passively rewards you with XP and Stubs while you play. This year, in addition to XP and Stubs, you'll earn new Items usable throughout different game modes.
Road to the Show is a mode focused on one player's path to the majors and beyond. As you play, you'll find different qualities of licensed equipment that can enhance your player's attributes. Once you find them, you'll equip them to your player for an instant boost to his skill. Your player has slots for a Bat, Batting Gloves, Fielding Glove, Cleats, and echoing the traditions of our sport, a Ritual item.
Franchise is a mode focused on managing baseball organizations on every level. Periodically, you'll find Brand Sponsorship contracts. Once you have the contract in hand, you can choose at any time to partner your Franchise team with the Brand. Doing so will add some Brand flavor to your interface during game broadcasts. The Sponsorship also earns your team budget incentives based on how you performance in a certain statistic.
Diamond Dynasty is a fantasy baseball card mode where you build a custom team and assemble players you find into a squad. Diamond Dynasty is DRASTICALLY changed this year so keep an eye out for a more focused blog about it. MLB Player Cards and Stadiums Cards will be rewarded as you play. While playing ANY mode, you'll be passively building a fantasy squad of MLB pros.
Collect an entire MLB team or get REALLY lucky with a pack, and you'll unlock an iconic alumni player from one of 30 MLB teams.
We're very excited this year that we've partnered with nine iconic baseball brands to bring items from their product catalog directly into the game. We are lucky to have such amazing partners. Check out this list of awesomeness:
Franklin®
Louisville Slugger®
Nike®
Under Armour®
Wilson®
Rawlings®
Sam Bat®
Mizuno®
Marucci®
Before you bolt, make sure to check out the tail end of the video for the epic reveal of the 30 Legends cards included in MLB 15 The Show. Thanks for watching/reading!