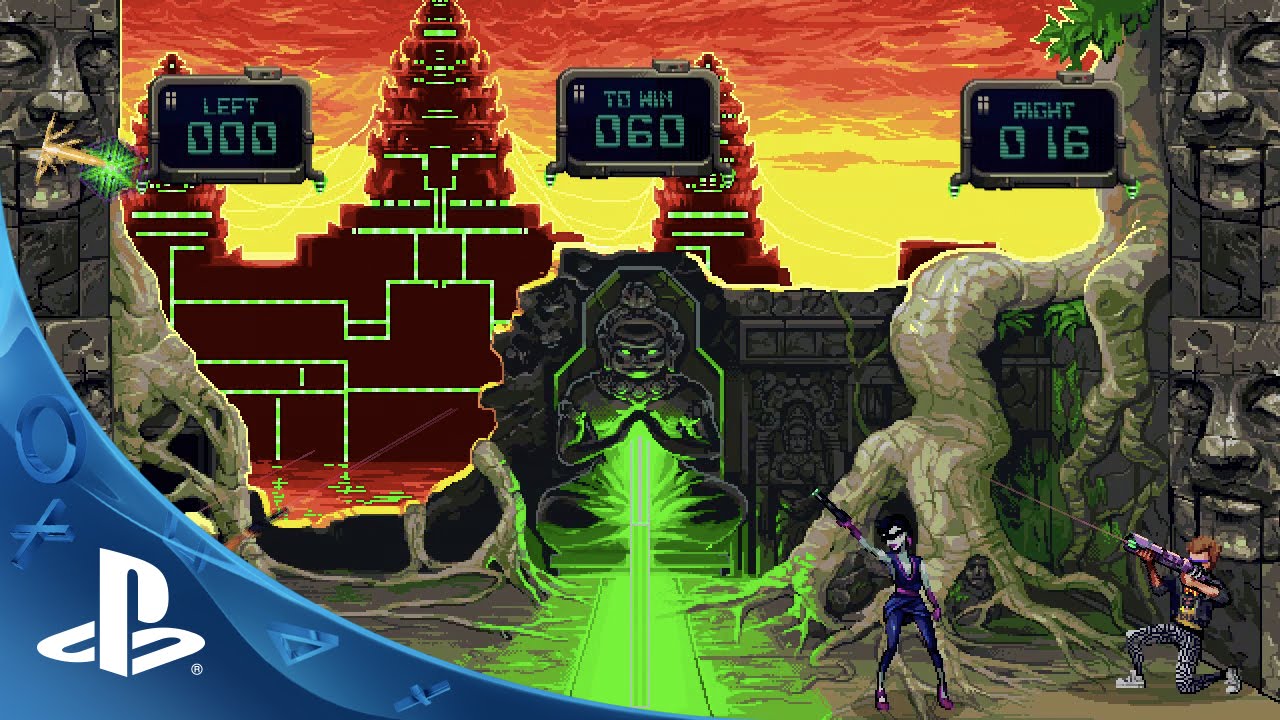 We previously introduced Necrosoft Games' Gunsport to you back in April — it's a cyberpunk volleyball with guns-style eSport for the PS4, coming in late 2015. After a successful showing at the PlayStation Experience, we'd like to finally reveal to you our first teaser trailer. In it, you'll get a glimpse into the world of Gunsport – a world without war.
In the alternate future of Gunsport, humanity has lost its taste for war, and regional pride now takes the form of sport and performance, much like football or soccer does in America and Europe. But each region, many of which were newly formed after the fall of war, has achieved its new found peace in a unique way. Today we will tell you about one of those: Neo Tokyo. Neo Tokyo reflects a Japan that is consumed by technology, much like you see in the real Tokyo of today. But Neo Tokyo also marries this with another real Tokyo trend – the desire by some to return to a time of master craftsmanship, strong national identity, and creation.
This is why the Neo Tokyo you'll see in Gunsport appears to be so analog focused – with neon signs, personally crafted automobiles, and buildings that are allowed to wear down and show their character, without losing their functionality. Everything in Neo Tokyo was hand crafted to bring out its unique flavor.
Neo Tokyo also values a strong sense of group identity, which you'll find in our characters, which we'll be introducing at a later date. The current Neo Tokyo characters you see in the trailer, on the right side of the screen, are… shall we say apprentices in the game of Gunsport. Where you might consider these players to be initiates, or street punks, our final characters are masters, sponsored by the Yakuza for their prowess and what they represent to the national identity. That doesn't mean they always go along with what others say, though.
The future of Gunsport
In this trailer you'll also catch a few seconds of the Blue Cambodia background, as well as our team from the People's Republic of Oakland (on the left), which is a new city-state in the US. There will be more stages and characters revealed as we move forward – we are trying to make this a very international game, as we are a very international team. No two people at Necrosoft even live in the same country!
What we're showing you here in this trailer is our prototype – since its creation we have been working hard to revamp and update all our backgrounds, characters, and we hope you'll like what we have in store.
The game is tough, it's hard, it's fast, and since each team has its own stage, its own weapon set, and its own personality, we think it will provide a fair amount of variety. Please feel free to follow our progress as we work on Gunsport via @NecrosoftGames on Twitter. We hope you like the trailer, and may all your shots be true!