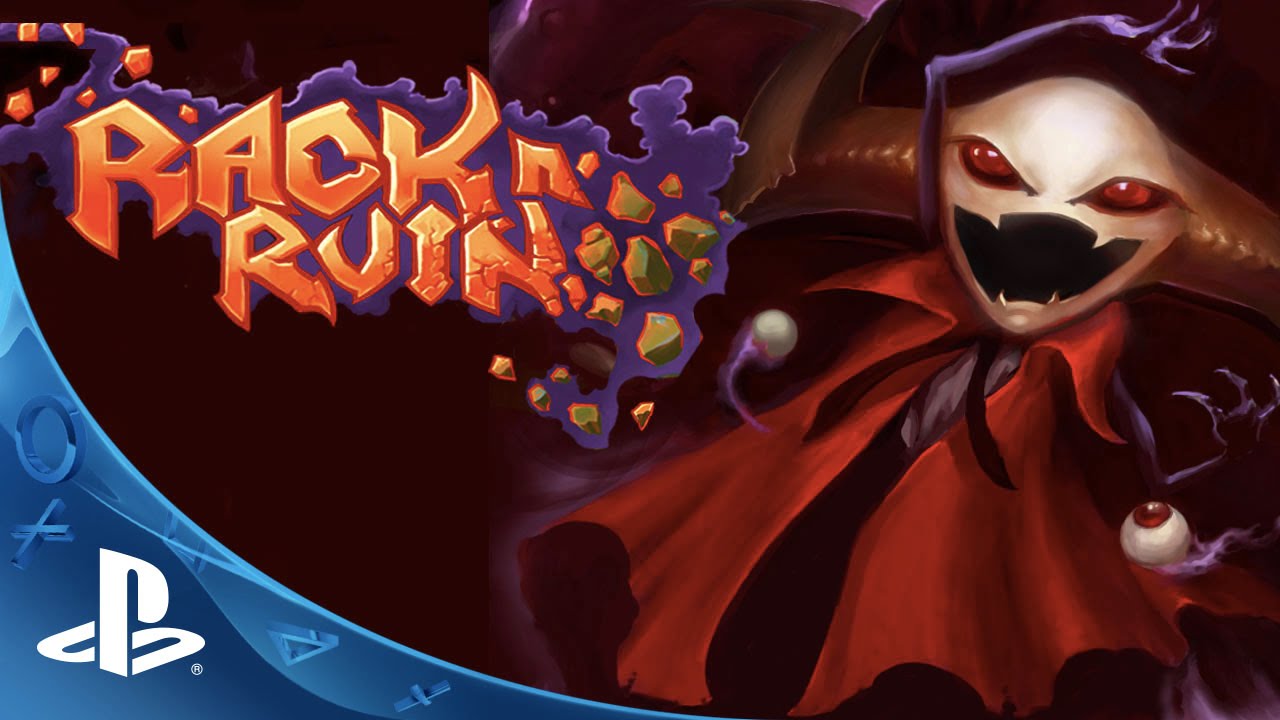 Hello everyone! We're excited to announce that our game Rack N Ruin will be launching soon on PS4. Rack N Ruin has been in development for 3 years, and now it's almost done. You may be asking, "What is this game? And 3 years! Why haven't I heard of it?" Well, I'm here to tell you.
Rack N Ruin is a top-down, action adventure game infused with a classic shmup. Its got all the trappings of a great action adventure game — a detailed open world, dungeons, puzzles, secrets, bosses, and numerous, curious items. However Rack N Ruin doesn't play like your typical hack and slash. The shooter style combat is fast and hectic, with your highly capable character being set against deadly aggressive enemies. So get ready to embark on a quest to save the worl… oh, wait. I forgot to mention: you aren't the good guy here.
The game begins with Rack, the evilest evil doer in the history of evil — a title he totally earns — sent by Ruin, the lord and the dark master of the universe, to a pristine and innocent planet with orders to enslave its inhabitants. He quickly begins corrupting the world — morphing its once lush fields into a twisted nightmare. This increases Rack's power, but also transforms its tranquil animals into deadly, feral demons. On his quest Rack will not only do battle with the champions of good, but also the demons that he has created.
Of course, the champions of good won't just sit around and let Rack have a field day. You won't get far before the local Dragon Protector Amon shows up to pick a fight. Not that silly self important dragons send shivers down Rack's spine. Rack is ready for any confrontation with over 25 unique weapons and items to unleash upon the things Rack doesn't like. Which, in this case, is everything. He can summon options, turrets, bombs that turn into black holes, swirling tornados of fire, and many more contraptions of death.
During Rack's quest for total planetary annihilation, he meets a colorful cast of characters, each with their own tragic story that plays out in the face of their world's end. Rack profits from each tragedy by selling the souls of these poor innocents to a creepy wizard to upgrade his arsenal. As the world boils towards the point of no return, and Rack's power grows, he must decide whether to hand over the reins to his master or jump start the apocalypse.
So look forward to this chaotic romp as it makes its way onto the PS4 in the near future. We are confident you will find a game that is fresh and unique, from its high-definition, hand painted art style, to the adrenaline fueled shooter-style combat. Rack may be evil but he has a lot of fun being evil, and we think you will, too.
If you are interested in the game, let us know and we'd love to tell you more.