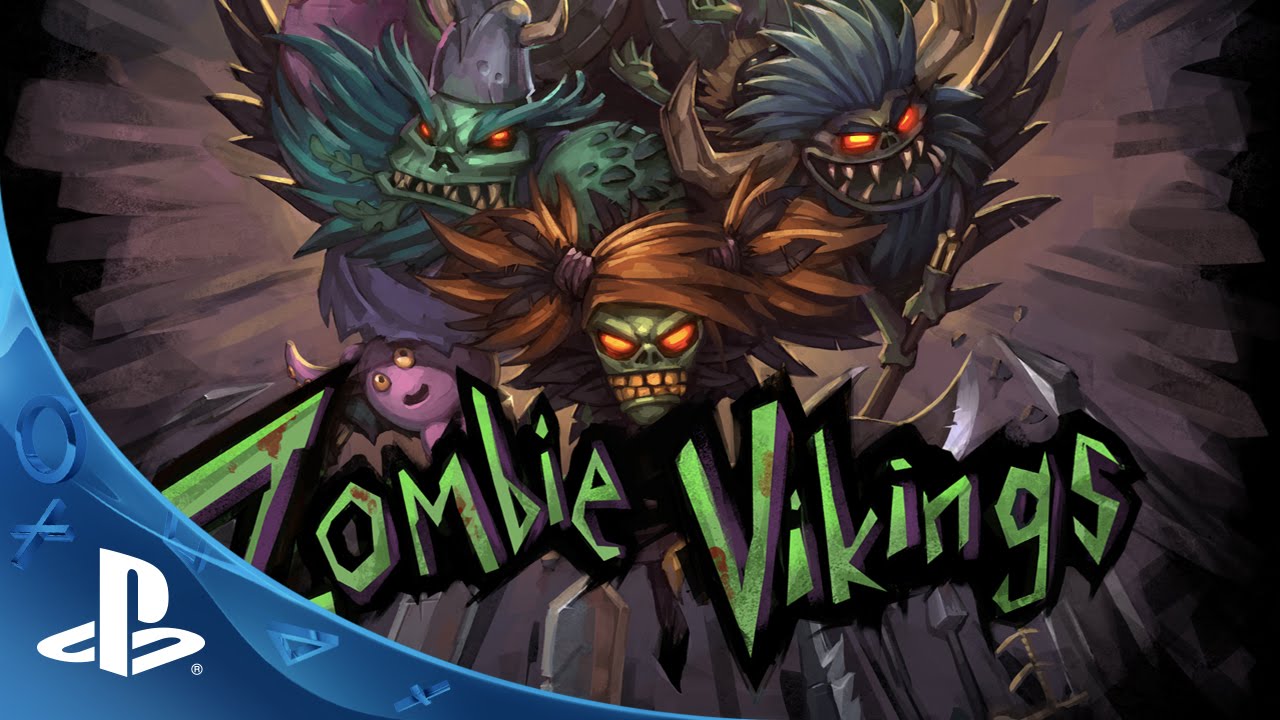 Hey, fellow berserkers! Allow me to introduce our new game Zombie Vikings on PS4. You may have played our latest game, Stick It to The Man!, which came out on PS4 and PS Vita earlier this year. Yep, it's that insane game about mind-reading and the giant pink rubber arm.
Stick It was a big success for us at Zoink, and I just want to thank all PlayStation players for all the great feedback we've received from you. You make all the hard work so worth it, so THANK YOU!
Zoink is an indie developer operating out of dark, cold Sweden, so making a quirky game about our crazy ancestors feels just right. We love games that can be played together. Friday night, pizza, a bunch of friends on a big comfy couch and a great game… being an old-school hack 'n' slash, Zombie Vikings fits the bill perfectly.
But we wouldn't be Zoink if we didn't surround the game with a stupendous and crazy story, lots of awesome voice actors, and tons of energy put into script and character design. We call it a "story brawler," and don't mind taking credit for inventing a new game genre. This time we're working together with comic genious Zach Weinersmith, also known for Saturday Morning Breakfast Cereal Comics.
Our saga starts out with Loki snatching Odin's one remaining magic eye right out of its socket. With Odin blind as bat and the Gods of Valhalla too busy partying, Odin makes a desperate move: he summons four of the most fearsome zombie vikings out of the Norse soil: Gunnborg, Seagurd, Hedgy, and Caw-kaa! A putrid posse on a mission through the most epic of worlds to retrieve The Eye and make peace with their own rotten pasts.
The action-packed road to find Loki and The Eye will take you through some seriously strange worlds. Why not hack through the boiling gingerbread swamps of Molgaga? Or take a cruise through the intestines of the Midgaard Serpent? You will also discover the previous lives of the zombie vikings: was Caw-kaa really raised by crows? And why is there a squid living in Seagurd's stomach?
Choose among four different zombie vikings, each with his own story and special moves. We've aimed at finding ways to play together and cooperate using lots of different moves, and at the same time use the fun in already being dead. Yes, being dead is actually a lot of fun! Getting your head chopped off in the game doesn't mean you die.. instead your friends can use your vomiting head as a weapon.
And who can resist a good digital stab? Stabbing your friends is a key feature in Zombie Vikings! Stabbing means you can throw your zombie friends. Work together like true Scandinavians!
We're also working on a way to stitch all your zombies into one giant Mega-zombie, which you all have to control together… but more on that later!
As you can see, we're having a ton of fun developing this game, and we hope you'll love to play it.