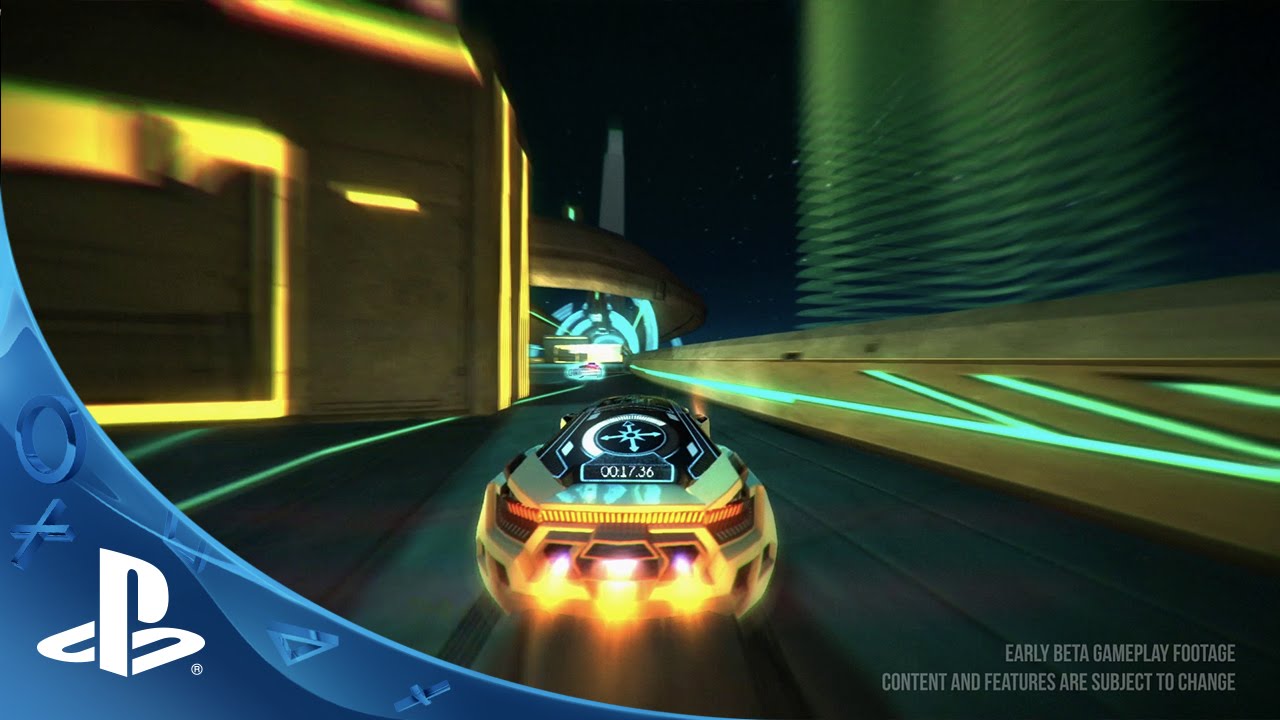 Hi there! My name is Jordan Hemenway and I'm one of the developers at Refract, a Seattle-based indie studio. I'm excited to finally unveil that we're bringing our survival racer Distance to PS4 in 2015, and you'll be able to play it at PlayStation Experience this weekend!
Distance is what we're calling a survival racing game. It takes the intense action of arcade racing and places it in an explorable, atmospheric world. The environments are mysterious and deadly with treacherous obstacles around every corner. Instead of doing laps on a loop, you'll be trying to survive from point A to point B.
Fortunately you control a unique car that allows you to boost, jump, rotate, and even fly. Instead of being constrained to the track, you can break away at any point and find your own path. You can even drive upside down or on buildings and walls parkour-style if you like.
Multiplayer takes this to the next level. To overtake your opponents you'll have to use all of the car's abilities at your disposal. For example, in Sprint mode it's a quick dash to the finish with the goal being the fastest time. As you boost, your car's core systems will begin to overheat, so to maintain the fastest speed you'll have to land tricks (like backflips or barrel rolls) to stay cool.
In Reverse Tag mode you want to remain "it" for as long as possible. As other players start closing in you might want to scale a building for a quick escape, or dive bomb from a high point to use gravity to your advantage. Using car rotation to transition out of flight might be the best way to keep your momentum and stay in the lead.
The world has a mysterious history, and as you explore you'll be able to uncover pieces of its past. Adventure mode takes you through a short story where you incrementally earn each of the car's abilities and use them to survive the increasingly deadly environment.
Crafting a story within a racing game has been one of the most enjoyable parts of the development so far. Without spoiling too much, we're incredibly excited to have you discover the dark mysteries of this world.
All of us at Refract hope to see you at PlayStation Experience! For more info about our ongoing development and to sign up for our newsletter simply visit Distance's website here. If you have any questions let us know in the comments below!