Nothing is true. Everything is permitted.
Slip through daylight and shadows both in the latest chapters of the groundbreaking Assassin's Creed series, which bring action and intrigue to PlayStation this week.
Shape history in Paris. Assassin's Creed Unity launches on PS4 with a jaw-dropping world and cooperative multiplayer. Guide the newly minted assassin Arno through the bloody days of The French Revolution and use new weapons like the Phantom Blade to uncover the dangerous truths driving the revolution forward.
Or witness the Assassin's Creed universe from a new perspective in Assassin's Creed Rogue. Take up the mantle of an Assassin-turned-Templar and sail your ship, The Morrigan, through icy seas to exact vengeance.
And that's just the start of a big week for new games. Read on for the full list, and as always, enjoy the Drop!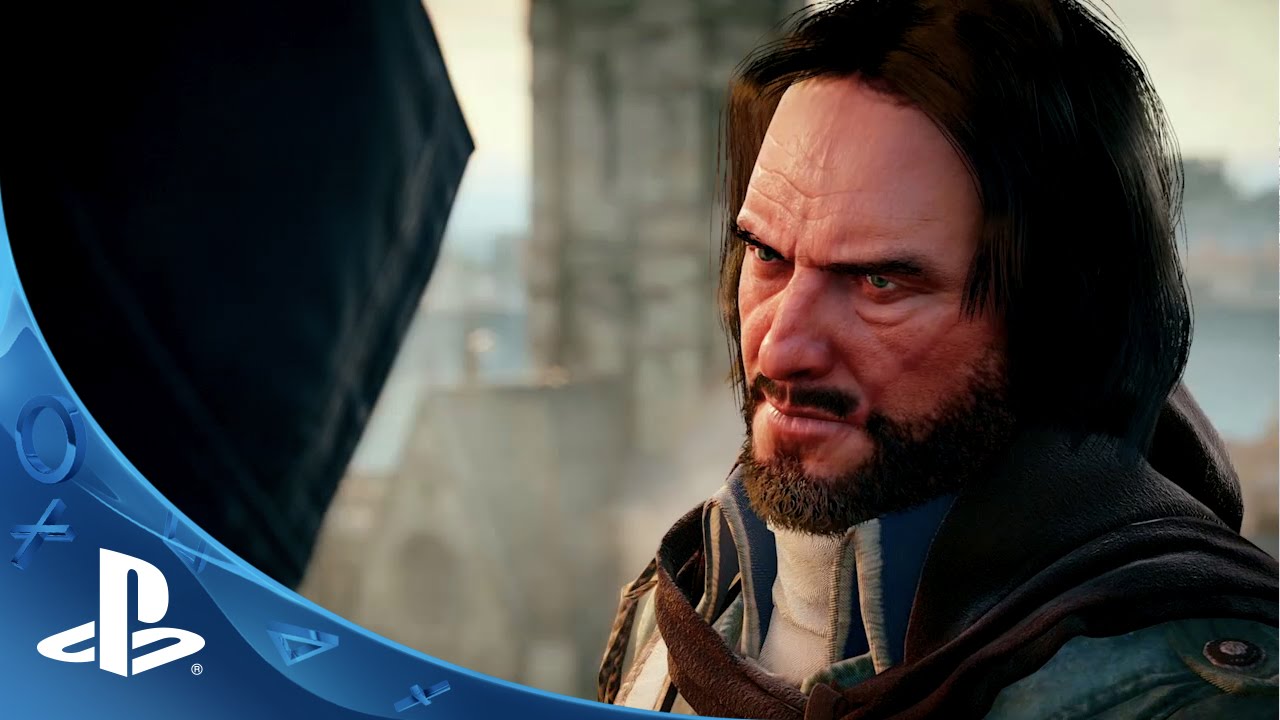 New PlayStation Games This Week
Assassin's Creed Rogue
PS3 — Digital, Retail
North America, 18th century. Amid the chaos and violence of the French and Indian War, Shay Patrick Cormac, a fearless young member of the Assassin Brotherhood, undergoes a dark transformation that will forever shape the future of the colonies.
Assassin's Creed Unity
PS4 — Digital, Retail
The French Revolution turns a once-magnificent city into a place of terror and chaos. Its cobblestone streets run red with the blood of commoners who dared to rise up against the oppressive aristocracy. As the nation tears itself apart, a young man named Arno will embark on an extraordinary journey.
Digimon All-Star Rumble
PS3 — Digital, Retail
Let's get ready to Digi-Rumble! Jam-packed with an all-star cast from the Digimon Universe, Digimon All-Star Rumble throws down with immersive 3D battle arenas and high-impact, in-your-face fighting action.
Get Off My Lawn!
PS Vita — Digital
First contact didn't go as planned, when aliens woke Murray Mendelson up from him afternoon nap. Pulling the trigger first has drawn Murray into full scale war with these alien visitors, and they'll stop at nothing to destroy him. Armed with his musket and inconsolable rage, Murray must defend his home against all odds.
LEGO Batman 3: Beyond Gotham
PS4, PS3, PS Vita — Digital, Retail
The Caped Crusader joins forces with the superheroes of the DC Comics universe and blasts off to outer space to stop the evil Brainiac from destroying Earth. Using the power of the Lantern Rings, Brainiac shrinks worlds to add to his twisted collection of miniature cities from across the universe.
Nano Assault NEO-X
PS4 — Digital
Stop the deadly Nanostray virus from spreading in the nano cosmos. Traverse a breathtaking microscopic world. You are one against millions. Nano Assault NEO-X is a unique and exciting twin-stick style shoot'em up.
Pro Evolution Soccer 2015
PS4, PS3 — Digital, Retail
PES 2015 returns to its roots with unbeatable gameplay that never fails to satisfy. Every pass, shot, and off-the-ball run is fine-tuned to deliver an unparalleled experience for true fans.
Retro City Rampage DX
PS4, PS3, PS Vita — Digital (Three Way Cross Buy)
Open-world carjacking goes back to the '80s in this 8-BIT nostalgic throwback. Run missions! Outrun the law! Rampage the city with weapons, power-ups and vehicles! This remastered DX version includes both a Story Mode of open-world adventure and an Arcade Mode for quick pick-up-and-play action. If that's not enough, it also packs an interactive city full of shops, minigames, customizations, collectibles, special guest stars, and more.
Ring Run Circus
PS Vita — Digital
Discover a unique dream world of connected circus rings, perform as three magnificent acrobats, and solve more than 50 tricky skill-based puzzles in the world's first "ring-former."
Senran Kagura: Bon Appetit!
PS Vita — Digital
Many speak of it, but few have ever tasted it… the pinnacle of culinary perfection… the Super Dish. Legendary shinobi and sushi chef Hanzo holds a contest to see which of the girls can hone her shinobi arts best for cooking instead of combat. The one who presents the greatest Super Dish will obtain a Super-Secret Ninja Art Scroll that will grant her most fervent desire.
Terraria: PS4 Edition
PS4 — Digital
Almost triple the size of the original PS3 game. A truly huge amount of content and features have been added, with far more than 1,000 new items including 10 new ores, 4 new wood types, 31 new brick types, 12 new wing types, 29 new tinker combinations, 50 new paintings, 8 new friendly NPCs, 15 new pets, over 100 new enemies, 4 new bosses… the list goes on, and on!
Demos and Betas
LEGO Batman 3: Beyond Gotham — PS4 Demo
Terraria: PS4 Edition — Demo
The information above is subject to change without notice.