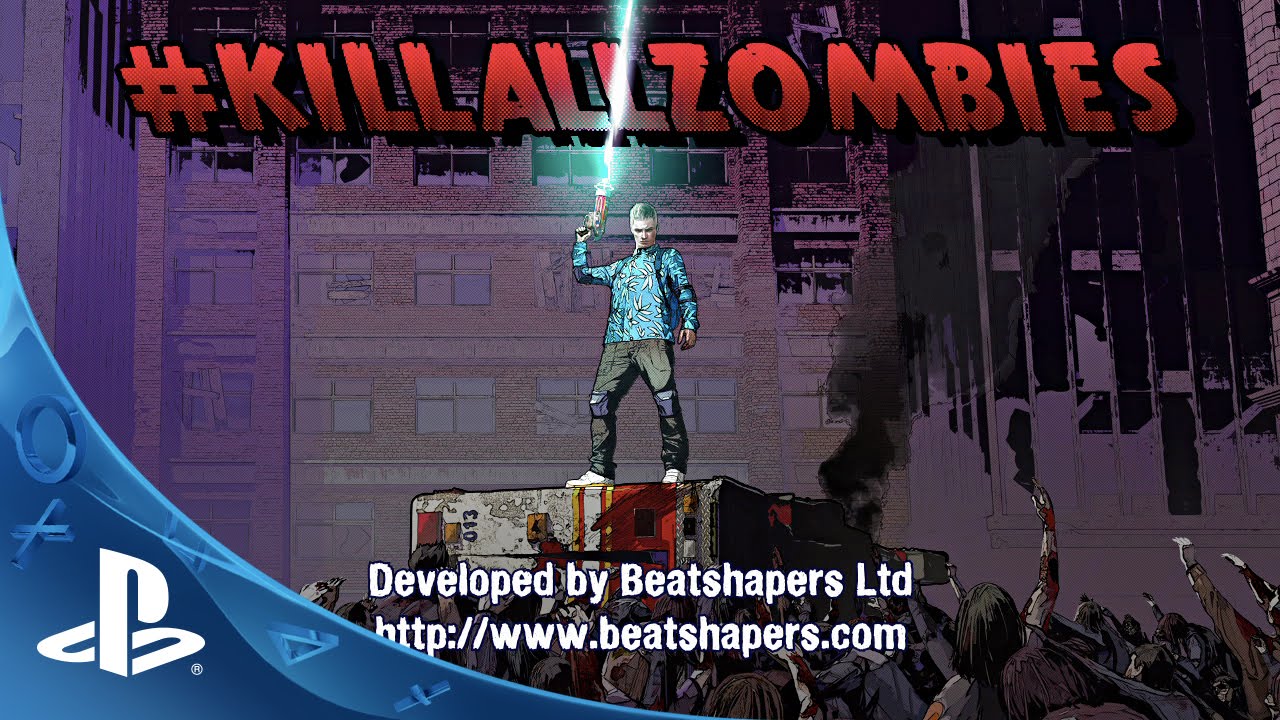 Hi everyone! When we at Beatshapers announced #killallzombies for PS4 on August 8th, we were not expecting to receive as much praise and anticipation for the game as we did, so thank you for helping us generate that. And now we're back to provide a significant update on the game.
#killallzombies sees you attempting to survive wave after wave of enemy zombies with every wave increasing in difficulty as the complexity rises to provide a new experience different from that of the previous wave.
You will find an ever-expanding horde of zombies forming over time; therefore if you do not keep up with killing the zombies from the previous wave, you will find that you have an even larger enemy count with nothing on their minds other than earning their meal for the day.
Bosses are big enemies with unique attack mechanics in certain waves, you must find ways to evade any zombie bosses you encounter, while attempting to steadily damage them; if you get too close to their attacks, then you will not last too long. Each boss has their own strengths and weaknesses with different stun times, while more bosses will be added to the game in upcoming updates.
The perks have tremendous power in each of them that can shift the balance of power from the hordes of zombies surrounding you to the player. The perks are all described in detail on the perk selection screen. Perks possess varying lengths of effectiveness, such as a one shot effect for a huge explosion from "The Duke Is In Town" perk, a time limited effect for freezing bullets from the "Ice Ice Baby" perk, and a session permanent effect for moving slower but increasing the amount of damage inflicted upon enemies from the "Heavyweight" perk. It is vital to choose perks wisely and strategically in order to progress in game.
When in broadcast mode, there is a different element of gameplay available to the player in order to engage socially, as we actually involve spectators within the gameplay, so they can interact with players while watching a live stream of you playing.
The next encounter vote is placed on top of the screen during gameplay provides extra game events and changes every 80 seconds with the potential of them including random weapons, more or less zombies, random events, and much more besides.
Spectators can vote for their preferences via the Live from PlayStation interactions panel or the Twitch website or simply by typing the exact name into the chat window with the chat commands being listed in the manual. Most chat commands have a cool down period and some chat commands must be repeated a number of times in order to be accurately executed.
The perks screen has its own voting mechanic, so if a player decides to allow spectators to vote for perks, the player earns extra XP if they select the most voted perk from the spectators. You can avoid broadcast mode if you prefer or even turn off interactions entirely via the options menu, although the broadcast mode and interactions provide an extra dimension of fun and spectators can help you survive longer and earn a higher position on the scoreboards.
If you are a YouTube streamer, please contact us via e-mail with any requests such as exclusive custom chat commands, channel logos, backgrounds or in-game weapons to provide some extra fun for those watching via the YouTube app.
#killallzombies will receive post-launch support with further content and game modes patched into the game for free, therefore when the game launches today on PlayStation Store for $13.99, you will be guaranteed to receive the full experience of the game.
You may see some chat commands in the accompanying video, although here are a couple of exclusive chat commands that are not listed in the manual. "Hexawave!" spawns a large wave and "nutcracker" spawns a nut decoy, which zombies will start attacking.