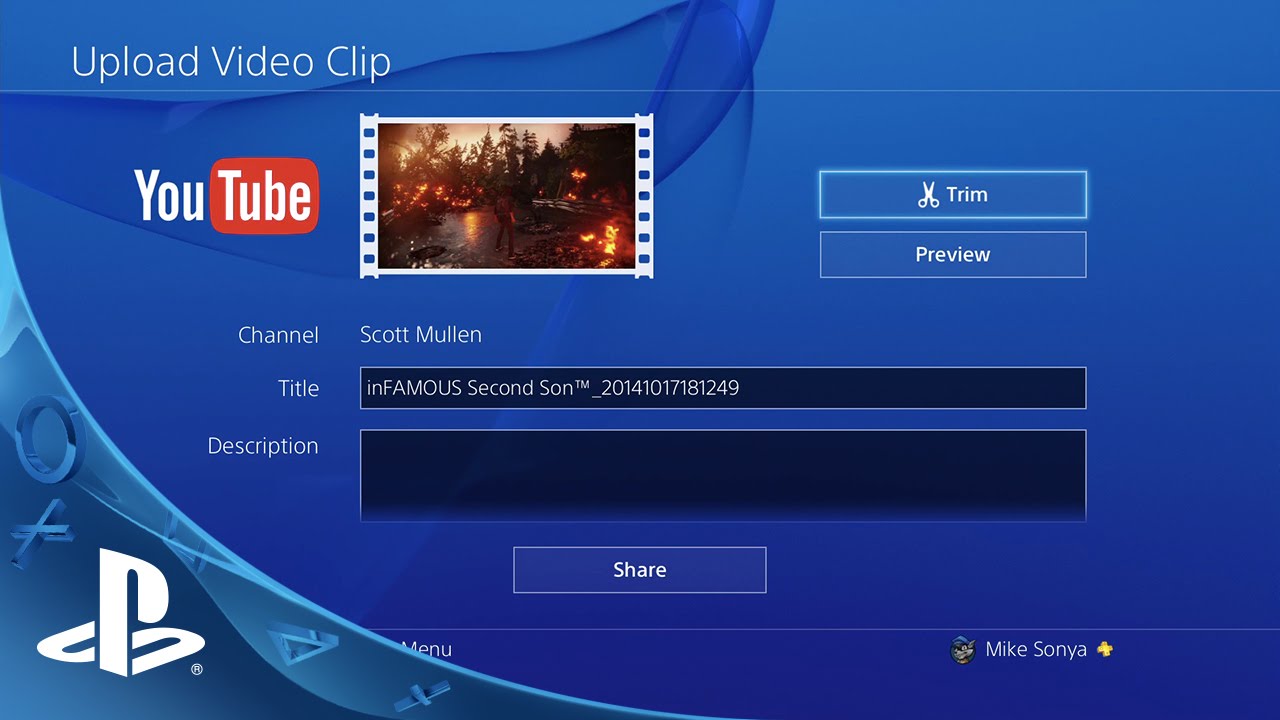 PS4's system software v2.00, codenamed Masamune, is making its arrival tomorrow and we can't wait for you to check out all the new enhancements it'll bring to your PS4. This update adds unique, forward-looking features like Share Play, and addresses some of the most highly requested features from the community including YouTube integration, USB music player, ability to find players you may know, sorting options for PS4's game library, and themes that change the look of your home screen. This is the biggest update we've delivered to date for PS4.
For a look at what you can expect, check out our walkthrough video on key Masamune features. And don't forget to watch the walkthrough video of the SharePlay feature.
Here's a recap of some top features you can expect with Masamune in list form:
Share Play: PlayStation 4 will create an online local co-op experience by allowing you to invite a friend to join your game — even when they don't own a copy of it. PlayStation Plus membership is required for certain Share Play features.
YouTube: Upload your gameplay highlights directly from PS4 to YouTube by clicking the "SHARE" button on DualShock 4. In addition, a YouTube app for PS4 will be available to download from the PlayStation Store.
Themes & Colors: Personalize your home screen background with select themes and colors. As a big thank-you to the PlayStation Nation, we want to kick-start your dynamic theme options by giving away a theme for two of the biggest titles gamers will be playing on PlayStation 4 this fall; Destiny and Call of Duty: Advanced Warfare. Both themes will be available for download on Tuesday.
Live Broadcasting Enhancements: Search filters, archived broadcast support and more have been added to Live from PlayStation
Content Area & Library: Find and access your content quicker with a redesigned Content Area and improved filter and sort functions for the PS4 Library.
USB Music Player*: Insert USB memory with music in your PS4 and start playing your favorite tunes in the background.
What's New: To make the activity feed more relevant and timely for you, What's New will add Friends of Friends suggestions and Live Broadcasting updates from your friends at the top of your feed.
For the full list of features in PS4 system software update (v2.00) and instructions for updating your PS4 system, please visit this page after the update goes live. As a reminder, you can also set your PS4 to download system updates automatically.
PS Vita and PS TV Update
Also available tonight is a new system software update (v3.35) for PS Vita and PS TV, which includes 4-player Remote Play support for PS TV, as well as the Live from PlayStation app, which allows you watch game streams from PS4 on both your PS Vita and PS TV devices. A full features list and instructions for updating PS Vita and PS TV can be found here after the update goes live.
PS App Update
Lastly, don't forget to update your PlayStation App on your mobile devices to the latest version. The new 2.0 update will include a redesigned home screen, and a new layout for tablets.
This has been an amazing first year for PS4 so far, with more than 10 million units sold and a robust set of new features already added including SHAREfactory, automatic pre-download, and more. We are pleased to see the great feedback we've been getting from fans like you, which helps us to make PS4 the best place to play.
Let us know what you think about these new features and let's keep the conversation going!
*User can play music files stored inside USB storage but cannot copy music files to PS4 HDD. This application cannot be used at the same time with Music Unlimited. USB Music Player will appear once USB storage is inserted, and will disappear once USB storage is removed.