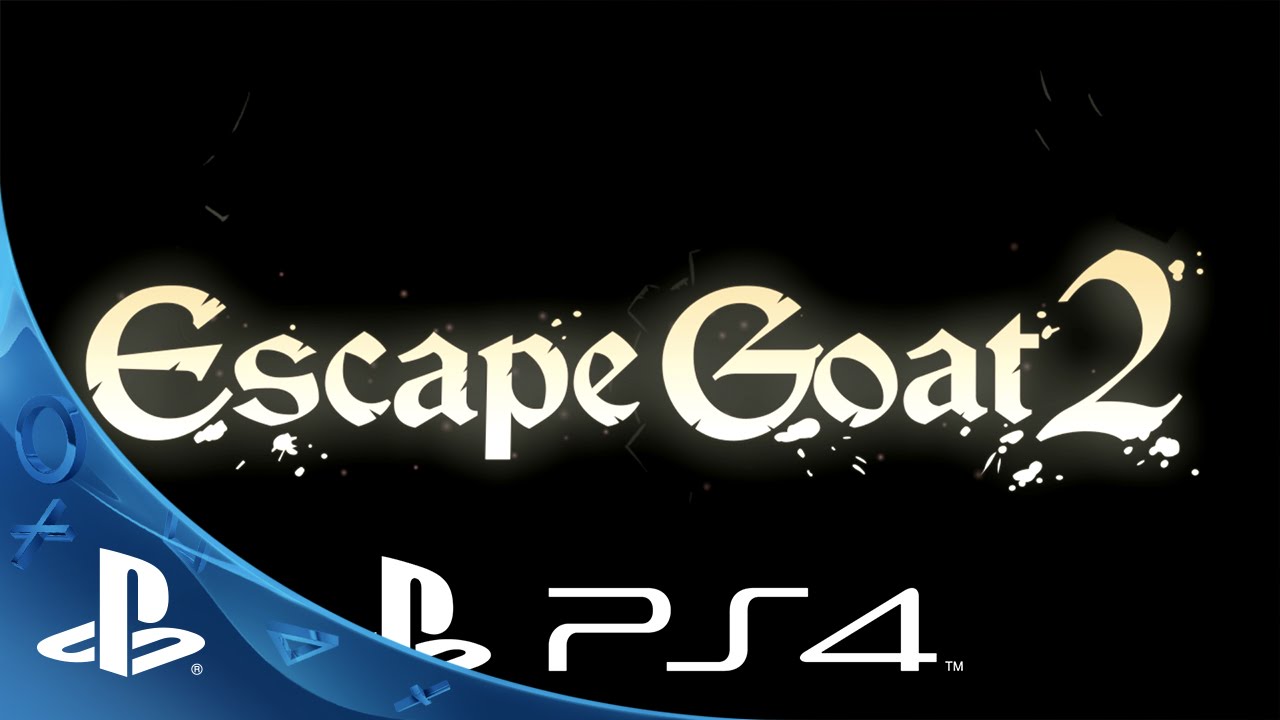 #GoatnessAwaits
Hello, PlayStation.Blog readers! This is Ian, main creator of Escape Goat 2, with some important news: the goat has made its way to your PS4!
Escape Goat 2 debuted in March for PC, and has since enjoyed an overwhelmingly positive fan response. My proudest one is reaching the #2 spot on IndieGamerChick's leaderboard of over 500 games reviewed. (Journey still ranks #1, and… Yeah, I'm okay with that). It's also the very first Double Fine Presents game. Can a dev ask for more than a nod from Tim Schafer? Every bit worth the golf club injury, from which I have fully recovered.
Simply put, the goal of the game is to reach the pinnacle of the Stronghold of Toragos — a structure laden with traps, hidden machinery, lightning machines, and ghostly animals. The theme is transformation: levels change dramatically as you solve them, some of them in a Rube Goldberg type of way.
Along the way, you'll need to rescue some of the sheep who have fallen under the tower's spell. There are over 100 puzzle rooms in all, but in an act of generosity on my part, you only have to complete half of them to reach the ending. If you're thirsty for more, there are additional challenges, some very well hidden.
I know what you're thinking. "Goats are capable of so many uncanny feats, but can they really overcome these lightning machines and relentless reapers? Dramatic license only goes so far." Correct! That's why I added in a faithful mouse companion to help our hero along the way. He's an immortal friend who reaches places the goat can't, and becomes a puzzle-solving utility on par with the Portal gun.
So what makes the game special? It's kind of the sum of its parts — platforming, puzzle solving, dark atmosphere, farm animals — but if I had to pick one thing, it would be the physics system. I decided to write my own physics code, which took forever, but the end result is something special. Levels transform dramatically, and yet things always stay aligned to make the puzzles solvable. Physics based games always do a great job of making chaos from order, and Escape Goat 2's engine makes sure that no matter how chaotic things get, blocks resolve to grid alignment. When you play, you'll see what this means!
I'd like to thank everyone from PlayStation who made this possible. They are really following through with their initiative to add indie games like mine to their library. I'm really excited to see the reception for this game in the console world.
Escape Goat 2 is available in North America today for $9.99. Other territories are imminent. Vita owners, let me preempt your question: I would love to bring this game to your beloved handheld, and will work towards that as soon as MonoGame is operational on Vita.