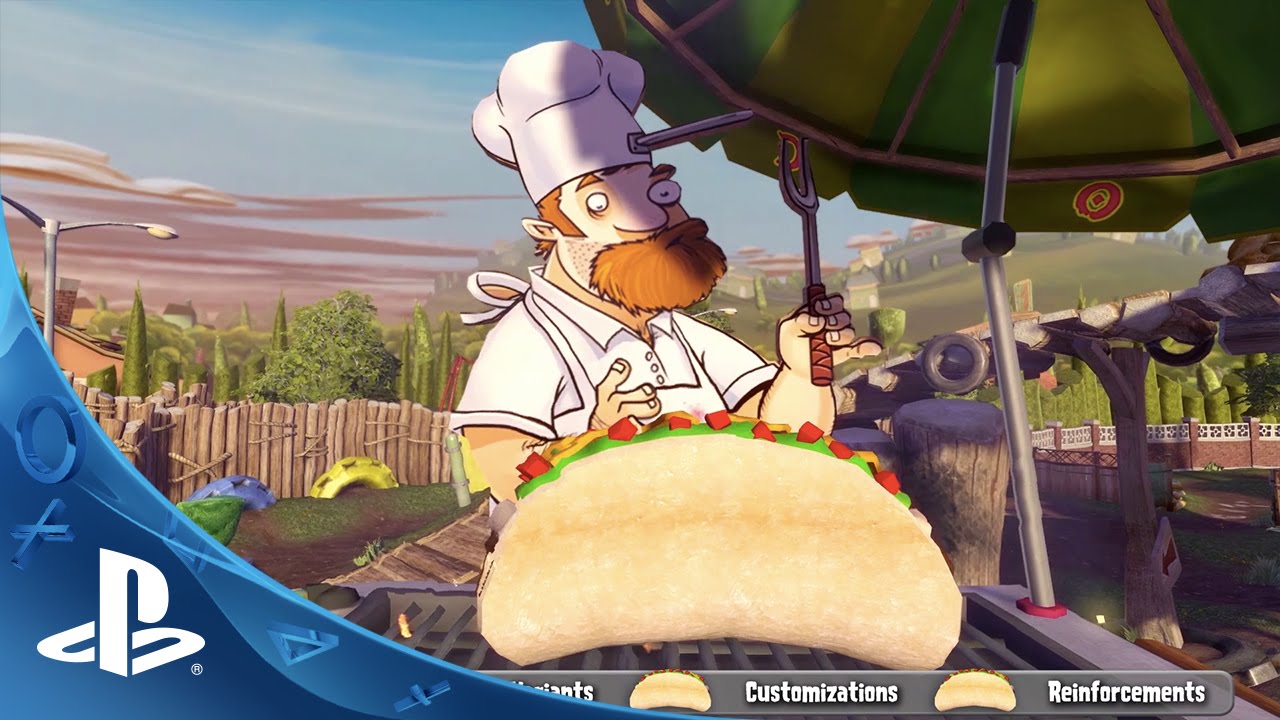 Hello again, everyone! I'm Chris Fox, lead gameplay designer on Plants vs. Zombies Garden Warfare. I'm back today to tell you a little about our latest free content update — Legends of the Lawn, coming tomorrow to PS4 and PS3.
This massive update includes everything from our Suburbination pack — the update that released prior to our PlayStation launch — as well as another brand new mode, new character variants, customizations, and more. Specifically, you're looking at 2 new modes, 1 new map, 8 new character variants, 2 new Garden Ops bosses, new spawnable Plants and Zombies, and hundreds of new customization items.
Phew. Now that I hopefully have you interested, let's dig into the details!
The star of this pack is our brand new game mode, Taco Bandits. Crazy Dave set up his taco stand in Zombie territory and naturally, Dr. Zomboss is trying to eat lunch and skip out on the bill. As a Zombie, it's your job to push through reinforced Plant defenses, grab the taco, and make it back to Dr. Zomboss' spaceship in one piece. If the Zombies can manage this feat three times in a round, it's game over for the Plants.
We're also bringing our Suburbination game mode to PlayStation. In Suburbination, the Plant and Zombie teams are locked in an epic tug-of-war as they fight for tactical control over three hotly contested gardens. In this take on the classic domination-style game mode, its Suburbinate or be Suburbinated!
To complement the new game modes, the Crash Course map is making its PlayStation debut. Set on the prestigious Bogey Hills Golf Course, Crash Course is equal parts idyllic greens and flaming Zomboss wreck. It's the perfect place to work on your swing, improve your putting skills, and take down the Zombie horde.
Next up, we have 8 brand new character variants. Characters are always our most requested additions, so we're really excited to show these off:
The Centurion and his stylish new crossbow are up first. Unlike most Soldiers, the Centurion's weapon is a single shot, semi-automatic. It's quick, extremely accurate, and inflicts fire damage that burns over time.
Meet the Sanitation Expert. His trash compactor launches explosive garbage bags that inflict toxic damage to any Plant caught in the blast radius. Just don't call him a Garbage Man.
In addition to rocking a seriously stylish dinosaur suit, the Paleontologist comes equipped with a molten magma blaster that applies fire damage at both short and long-ranges.
With his increased zoom and super-accurate aiming, the Golf Star is as close to a sniper as the All-Star class can get. His Golf Cannon also features the fastest rate of fire in the game.
On the Plant side, the Plasma Pea Shooter makes his first appearance on PlayStation. Winner of our Facebook design contest: the Plasma Pea Shooter can shoot rapid-fire plasma balls, super-explosive galaxies, and more!
The Alien Flower is a bit of a departure from your standard Sunflower. Her projectiles explode on impact, creating a temporary spore mist that rapidly damages any Zombies unlucky enough to walk through it.
The Chomp Thing is all about survivability. His health regeneration kicks in twice as fast as any other character, so if you're planning on taking him on, you'd better make sure you can finish the job.
Last but not least is the Jade Cactus. She's heavily armored, featuring the highest health out of any Cactus. Her weapon deals explosive damage on direct hits, while misses stick in the environment, build up in power, and then explode.
That's just a small sampling of the crazy new stuff we'll be offering in Legends of the Lawn. We've got brand-new themed customization sets, new spawnable AI characters like the Laser Bean and the Yeti Imp, new co-op special waves, improvements to the party experience on PlayStation, and more. This is undoubtedly our most jam-packed update ever.
Thanks again for your time.