Talion, skilled swordsman and Ranger of the Black Gate, dies upon the rainy walls of his charge, moments after the cruel murder of his wife and child. But Talion is banished from death, and brought back to life by an ancient wraith with a thirst for vengeance. So begins the open-world adventure in Middle-earth: Shadow of Mordor.
Shadow of Mordor, which launches this Tuesday on PS4, opens up the rocky passes and shattered ruins that house Sauron's massing armies. Guide Talion on his quest to find the forces that killed his family, and build his arsenal of powerful runes and wraith magic. Gain insight into the history of Middle-earth, and see a few familiar faces along the way.
But that's not the only adventure coming to PlayStation this week. Solve deadly mysteries in Sherlock Holmes: Crimes & Punishments, or fight over-the-top battles in Persona 4 Arena Ultimax.
For a full list of games coming to PlayStation, read on. And enjoy the Drop!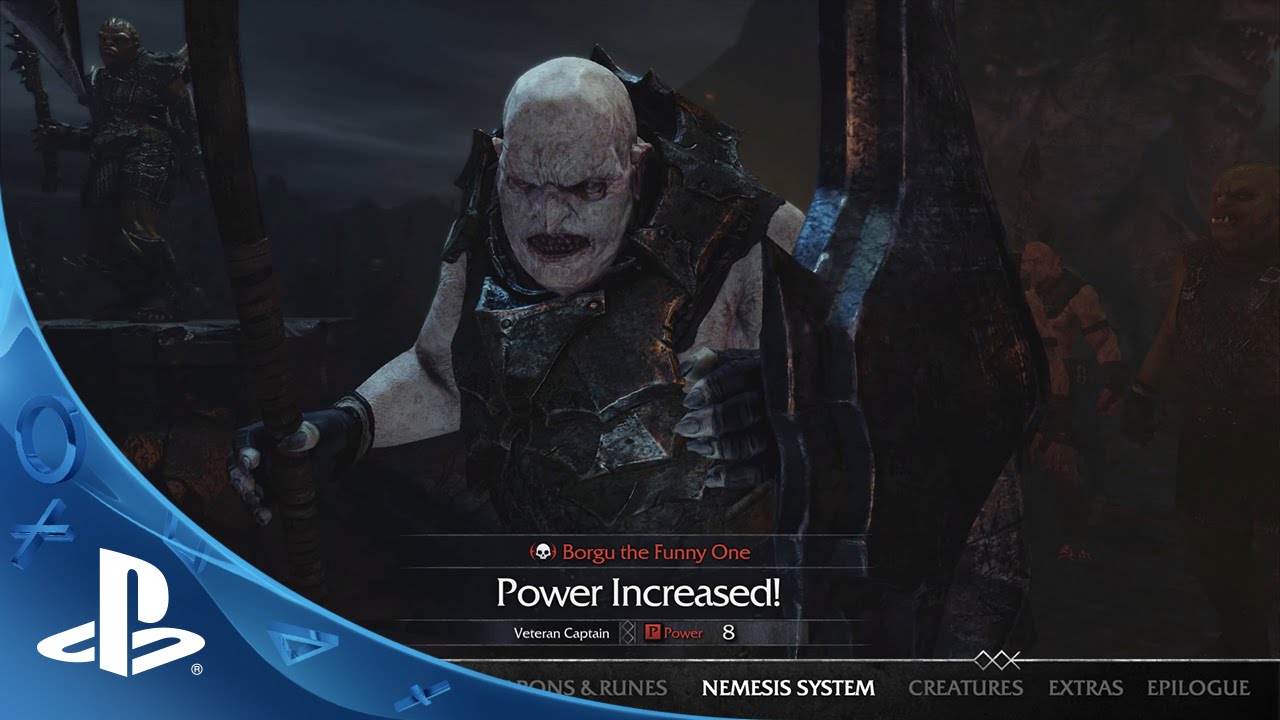 New PlayStation Games This Week
Chariot
PS4 — Digital
Chariot is a humorous, physics-based couch co-op platformer in which a brave Princess and her Fiance carry a funeral wagon through ancient caves, fending off swarms of looters while amassing riches, to bury the King's remains in a worthy, gold-filled tomb.
Falling Skies: The Game
PS3 — Digital, Retail
Based on Falling Skies, the popular TNT sci-fi series, Falling Skies: The Game is set in a world devastated by Espheni aliens. Following the destruction of an Espheni tower at the end of season 3, the 2nd Mass stumble across the wreckage of an ambushed convoy.
Futuridium EP Deluxe
PS4, PS Vita — Digital (Cross Buy)
Futuridium EP Deluxe is a psychedelic retro inspired shoot 'em up with a modern twist, that blends together frantic action, puzzle elements, a vibrant low poly aesthetic, and an heart pumping electronic soundtrack.
The Incredibles
PS2 Classic — Digital
Mr. Incredible and his family must join together if they are going to put a stop to Syndrome and his city-wrecking Omnidroid.
Invizimals: The Alliance
PS Vita — Digital
You're the star in Invizimals: The Alliance. As the successor to the PSP entries, you'll use nearly every Vita hardware feature to capture a whole host of new creatures and help the Alliance investigate the Invizimal disturbance in our world.
Invizimals: The Lost Kingdom
PS3 — Digital
Invizimals: The Lost Kingdom is a 3rd-person, action-adventure that follows the story of Hiro — a star member of The Alliance who gets sent into the Invizimal world to fend off an enemy threat. You'll be able to transform into 16 distinct Invizimals, each with its own abilities and attack styles, as well as challenge your friends with the same multiplayer mode found in The Alliance.
Middle-earth: Shadow of Mordor
PS4 — Digital, Retail
Fight through Mordor and uncover the truth of the spirit that compels you, discover the origins of the Rings of Power, build your legend, and ultimately confront the evil of Sauron in this new chronicle of Middle-earth.
Namco Museum Vol. 1 through 5
PSone Classics — Digital (Sold Separately)
Play these arcade-perfect hits from Namco and relive the action! Includes Pac-Man, Bosconian, Pole Position, Galaga, and more.
Natural Doctrine
PS4, PS3, PS Vita — Digital, Retail
A challenging strategy game that supports cross play, cross save, and stunning visuals. But be warned — this adventure will truly test your ability to conquer the evils that lurk in the sprawling networks of mines and ruins in the areas surrounding the fortress city of Feste.
Persona 4 Arena Ultimax
PS3 — Digital, Retail
The events of Persona 4 Arena reach their thrilling conclusion in the massive story mode of Persona 4 Arena Ultimax! New playable characters, including fan favorites from the Persona 3 and 4 RPGs, add even more breadth to the already diverse roster.
Pier Solar and the Great Architects
PS4, PS3 — Digital (Cross Buy)
Pier Solar is an RPG that tells the story of Hoston, a young botanist who is on a quest to save his father from a mysterious illness. Along with his two best friends Alina and Edessot, the three friends embark on a quest seeking a rare herb to cure the illness of Hoston's father.
Second Chance Heroes
PS4 — Digital
Second Chance Heroes is a cooperative arcade action game that takes place in a world overrun by apocalyptic disasters! Put together a dream team of cloned heroes drawn from throughout human history and use them to push back the apocalyptic tide.
Sherlock Holmes: Crimes & Punishments
PS4, PS3 — Digital, Retail
You are Sherlock Holmes! Use your impressive talents as a detective to solve six thrilling and varied cases: murders, missing persons, spectacular thefts and numerous investigations that sometimes lead you into the realms of the fantastic.
Short Peace Ranko Tsukigime's Longest Day
PS3 — Digital
Ranko Tsukigime, the only child of the underground "Tsukigime Enterprise" is an average high school girl by day and a deadly assassin by night. While taking on a new mission, an enemy organization threatens the lives of Ranko and her friends.
Demos and Betas
Invizimals: The Alliance — PS Vita Trial
Invizimals: The Lost Kingdom — PS3 Trial
The information above is subject to change without notice.