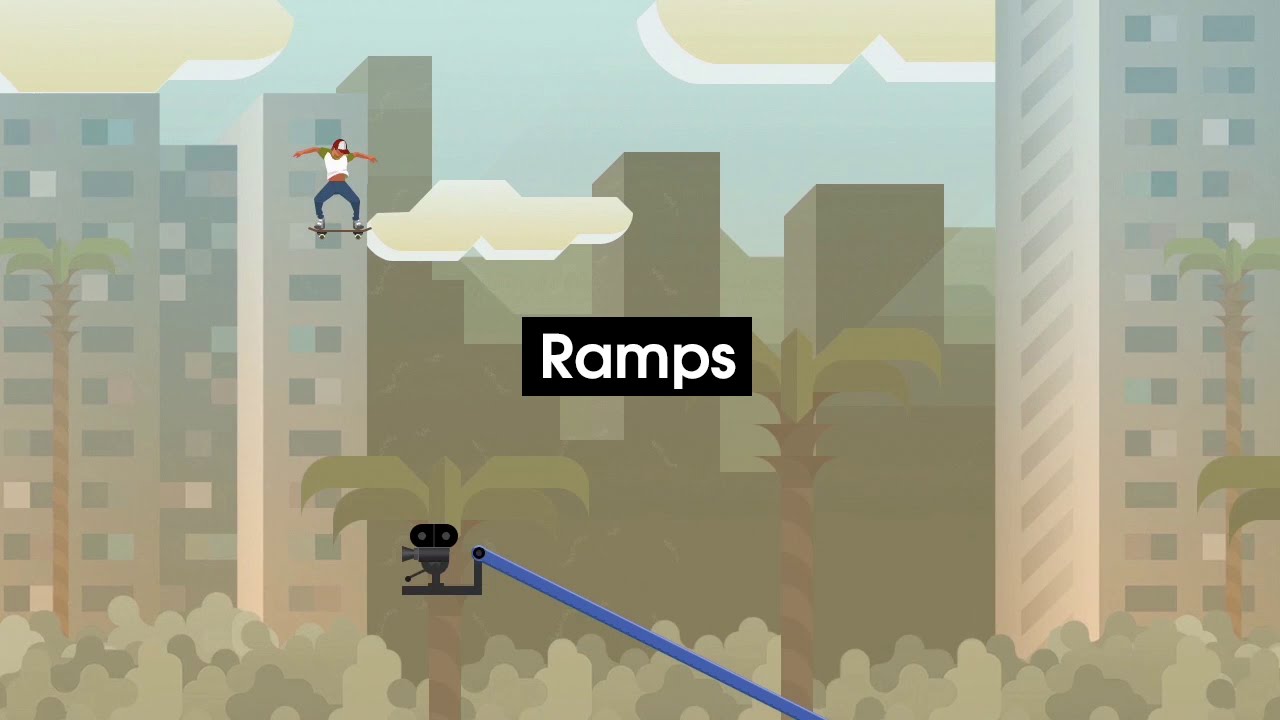 So, its finally here — the moment that we can announce that since February this year, the skate crew here at Roll7 have been working night and day on what we think is the most epic skate game ever! OlliOll2: Welcome to Olliwood will hit PS4 and PS Vita in 2015!
A sequel, you say? Why, OlliOlli has only just come out! Well, actually we finished on the core of OlliOlli in late September 2013 — which seems like a LONG time ago now… We were exhausted and somewhat broken — but we had learned a whole load about both OlliOlli AND PlayStation development as a whole.
At the end of the project, John (our creative Director) excitedly sat us down with a vision for a sequel, something that had been lighting up in his brain ever since we locked features for the original. The main thrust of his plan was that we needed to expand meaningfully on our (since much praised) combo system, create a far more powerful level editor (to allow for more bodacious level design) and to unify the whole experience in a themed OlliOlli universe.
We pitched the idea to PlayStation in London, who, on blind faith in the original (it hadn't come out yet!) jumped at the chance to bring the game to PSN. OlliOlli was then a monster indie hit for us on PS Vita and now on PS4 and PS3, and as we watched the reviews and playthroughs come in — we relished in building our new OlliOlli engine and coming up with Olliwood.
Our iconic skater is going all green-screen and will be getting radical at Olliwood Studios, plucking him from the street and dropping him squarely in the middle of the Silver Screen's most radical cinematic locations. Most of the Roll7 team are children of the 80's, so we're digging into our movie memory to create the most badass stages for players to grind through (excuse the pun).
So whats new for players? Gameplay will be massively enhanced with the addition of Ramps, Jumps, and Epic Hills allowing for monster air and split-level routes. The combo system is set to be EVEN deeper, through the joy of Manuals, Reverts, Revert Manuals, and Grind Switching.
Our crew at Roll7 HQ in New Cross are even updating the hallowed "Tricktionary" with new specials including 540 Shuvits, Anti-Casper Flips, and Darkslides to name but a few.
To accommodate the sheer volume of action, the skater and his pixelated world are being given a stunning new art makeover, with clean lines, gorgeous new backgrounds, and uber detailed trick animations (More than 9,000 EXTRA frames of hand drawn goodness!)
On top of all of this — we are super hyped to announce a whole new mode; Combo Rush. This is a split-screen Local Multiplayer (up to 4 players) that pits players in a race to ramp up big scores on a spot in a set time limit.
The team is deep in the juju at the moment making the magic happen and fighting each other with bare knuckles over every tiny detail (as we did last year) in order to bring precision goodness to all the PlayStation peeps out there!
Watch this space for development announcements from the team over the coming months.