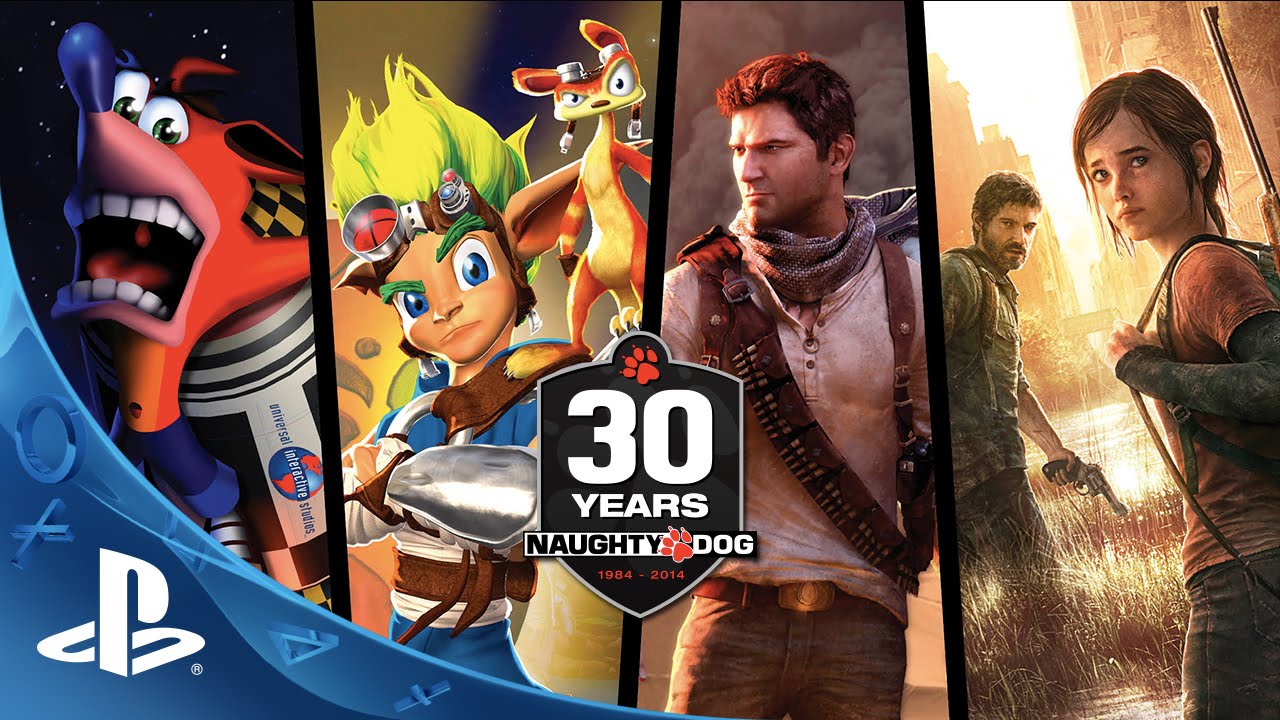 September marks thirty years of making awesome games at Naughty Dog. From our start as a team of two at JAM Software to the world-renowned, two hundred plus studio you know today, we've been hard at work to continually set the standard and surpass it with every game we create. We're looking back while looking forward in our upcoming 30th anniversary art show and video.
This is only a tease of the unbelievable stories and rich history told in the full length 30th anniversary video. We're delighted to announce that our art show and celebration, A Tribute to Naughty Dog: 30th Anniversary, at Gallery Nucleus will be the first place you'll be able to watch the full-length video during special screenings held October 4th and October 12th, 2014. The complete video will be available online sometime in the next month as well.
The art show itself kicks off September 27th. Opening night will be full of fun, including a photo booth area, cosplay, a birthday cake, special guests, and the opportunity to get some very cool merch such as The Art of Naughty Dog art book. Special workshops in concept and character art featuring artists from our studio will be held October 4th and October 12th.
Speaking of artists, not only is the art show the first place in anywhere you'll be able to buy The Art of Naughty Dog Limited or Regular Edition, it's the first place you'll be able to get 30th anniversary t-shirts from the fan artists who won our We Love Fine 30th anniversary design contest.
You'll want to be among the first to arrive at Gallery Nucleus. Door prizes and giveaways will be given out to a select handful of early attendees including limited quantities of our Naughty Dog created 30th anniversary t-shirt and posters. The first 30 people in line will be entitled to receive a very limited edition Penny Arcade 30th Anniversary Pinny:
Starting today and until the art show ends (October 12th), we're asking you to Tweet out your favorite Naughty Dog memories as a way for celebrating our anniversary online with us. Just use #NDMemories and tell us your favorite moment from a game or a story you'd like to share with us. Post up a photo or screenshot. Make us an anniversary GIF. We'll retweet the best memories and possibly send you something really cool.
Very shortly we'll have an announcement about a partnership with Treehouse Brand Stores that will make some of these cool items shown more obtainable for everyone, but get out to Los Angeles for our art show if you can. It's going to be a celebration you won't want to miss!
Be sure you're following our social channels for all the latest 30th anniversary news throughout the month of September and beyond.