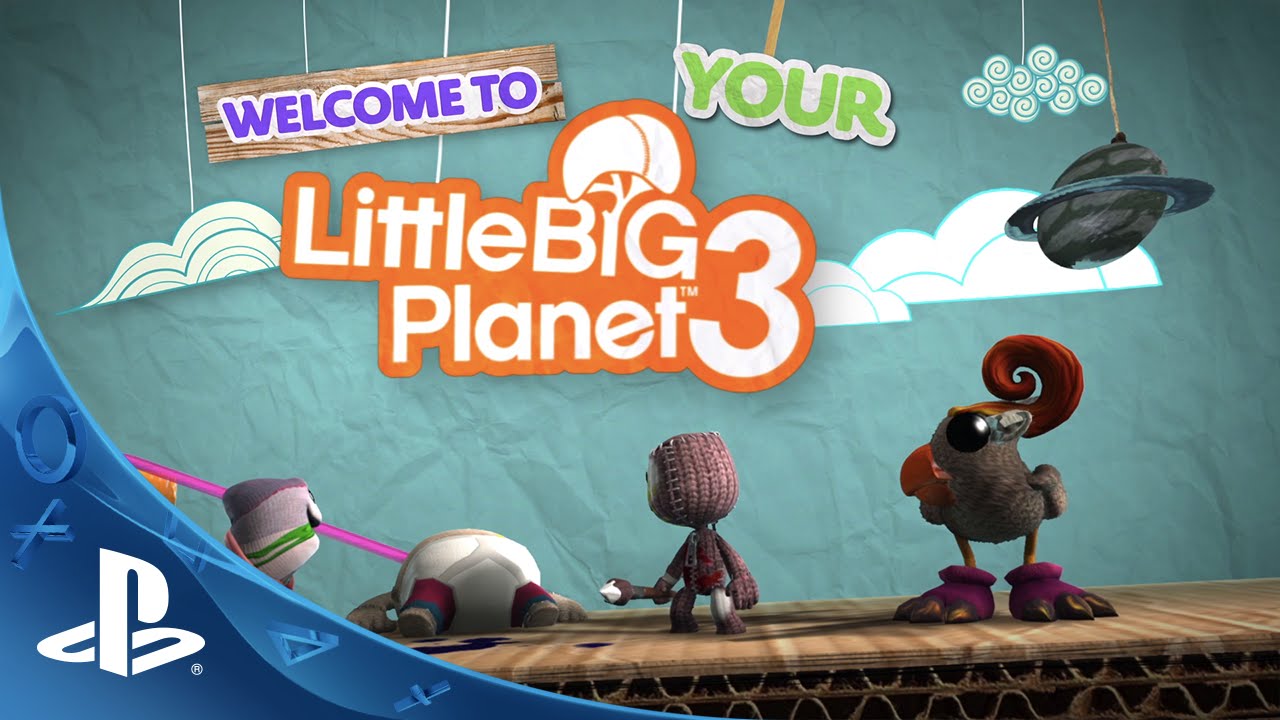 We're showcasing some of the brand new tools and features in LittleBigPlanet 3 at Gamescom this week and we're here today to give you a glimpse at these exciting new gadgets and features that you will be able to use to create your brand new levels!
Customizable Heroes
Our brave, brave new heroes – Oddsock, Swoop, and Toggle – all come with their own unique special abilities and physics but they're capable of oh so much more! Each hero can be fully costumed up just like Sackboy but you can also tweak them all in Create Mode to completely change their handling and abilities for your own levels!
The Blaster Handle
You have all seen his friends' special abilities, but Sackboy has some brand new tricks too! Using the new Blaster Handle tool you can create your very own power-ups for Sackboy to use! Power-ups from goo-firing guns to magically enchanted staffs are now possible… The only limitation is your imagination!
Dynamic Thermometer and Deep Layers
Using our brand new Dynamic Thermometer functionality, the LBP create thermometer is now more flexible than ever. This will allow for created levels to be massively bigger than ever before and even have much greater depth since a creator can now make use of up to 16 playable layers with some rather neat new gameplay objects to help our heroes transition between multiple layers instantaneously.
Touch Create
We're fully utilizing the unique features of the PlayStation 4 and using the DualShock 4's new touch pad. You will now be able to use Touch Create to bring a whole new element to your level creation that just wasn't possible until now!
Create More Expansive Adventures
Using our new adventure creation tools, you can now make your very own Adventure Maps filled with levels containing fun and exciting quests that can be tracked across the entire Adventure using the new Organisertron quest tracker!
The Sack Pocket
Whilst playing adventures and completing quests, you will be able to collect power-ups that Sackboy can add to his personal inventory, the Sack Pocket! Using the Sack Pocket, you can quickly equip and use these power-ups at any time during your home-made adventures!
Create Anything!
That's not all and we're still just scraping the surface! If we had to sum up the new additions in the tastiest of nutshells, we can tell you that you will gain access to the following in LittleBigPlanet 3…
70 Brand New Tools
29 Enhanced Tools from LittleBigPlanet and LittleBigPlanet 2
10 Tools from LittleBigPlanet PS Vita arriving to home consoles for the first ever time!
If you combine that with all of the other tools that we're bringing forward from LittleBigPlanet and LittleBigPlanet 2… That gives you an absolutely whopping 250 Create Tools to pour all your imagination and creativity into!
Create & Share Trailers, Stream Gameplay and More!
It just wouldn't be LittleBigPlanet if you couldn't share your amazing creations and activity with the rest of the community! Using the PlayStation 4's Share features, you will now be able to create trailer-style videos that you can attach to your published levels to give the rest of a community a personalised preview of your level.
We will also be adding full video integration to our LBP.me community site. You will be able to use the site to quickly find great new video content to watch and queue up new levels to play. Finding great content in LittleBigPlanet has never been easier!
LittleBigPlanet 3 comes to PlayStation 3 and PlayStation 4 on November 18th and is available to pre-order now!
We can't wait to see what you create with these brand new tools! Let us know what you will be creating in LittleBigPlanet 3 in the comments below!