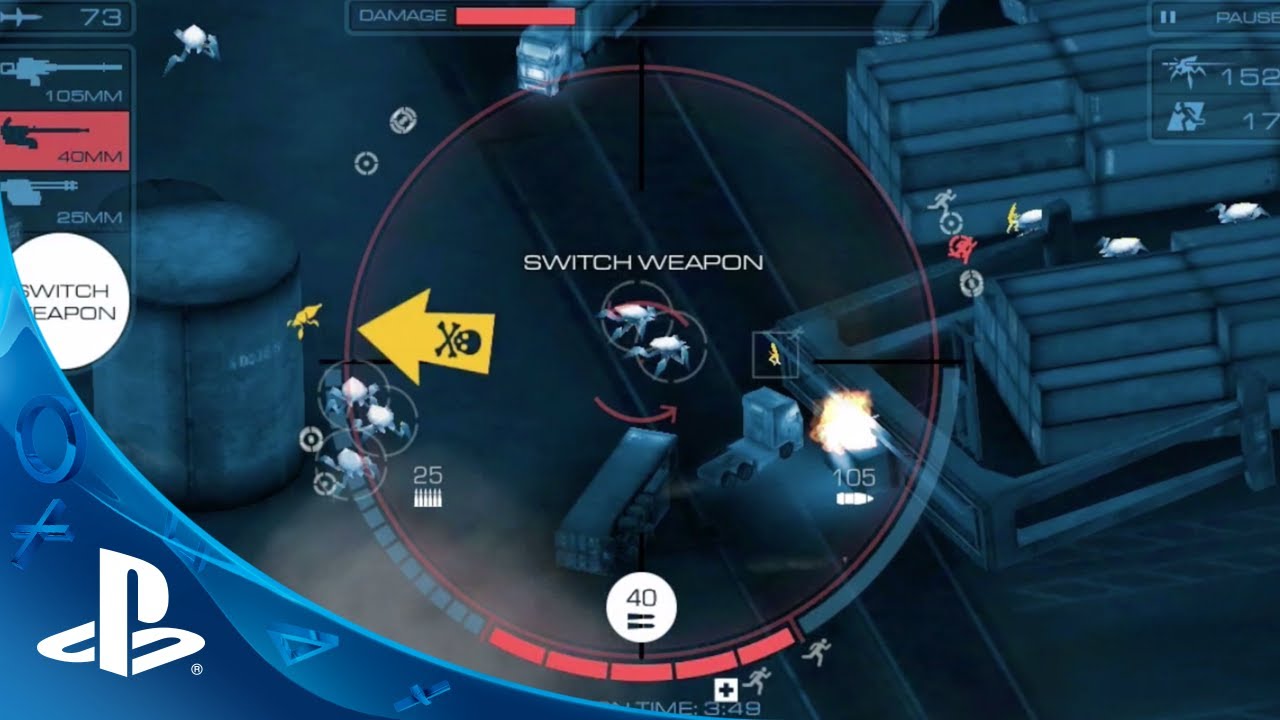 I'm happy to announce that Gunship X is coming to PS Vita later this year. If you're around E3 next week, swing on by the Sony booth to say hello and to give it a try. I love my Vita, and after six years of iOS development I'm really excited about returning to console development — and I'm glad we can do it with Gunship X.
Gunship X is a top down shooter inspired by arguably one of the most memorable parts of Call of Duty Modern Warfare (the AC-130 mission) with a sprinkle of Starship Troopers. Take control of an AC-130 Gunship to defend humanity from invading hordes. Push back the intruders and give the humans a chance to be airlifted to safety with the awesome arsenal at your disposal. Quickly switch between weapons as they reload or cool off to ensure maximal alien carnage. Upgrade your airplanes and their weapons with your earnings and then go out on another bombing and rescue run.
We created Gunship X to provide an intense bite sized experience for players on the go. The action ramps up quickly with most games ending in about five minutes. First and foremost this was achieved by carefully tuning levels. As a player you're immediately confronted with enemies that demand attention, but that do not put you in immediate peril. This gives you a moment to look around, spot friendlies, and gather yourself before unleashing your weapons. The intensity quickly ramps up from there as you see friendlies abducted and taken off the edge of the game board. Over time, you have to balance your focus between saving humans to maximize earnings, keeping the landing zone clear of hostiles, and dispatching the bomber aliens that can shoot you down.
Click here to see the full gallery
Gunship X is developed by a team of two artists and two engineers living in parts of the United States (California) and The Netherlands. We will ship Gunship X later this year with at least two airplanes (AC-130, AC-17, and maybe a secret 3rd plane ;) ) and over thirty levels spread across at least four unique battle fields. In addition to the missions you can play a survival mode where you'll put your skills to the test to see how long you can last before getting shot down or overrun by aliens. Keep an eye on the PlayStation.Blog, like us over on Facebook, and follow us on Twitter to stay up to date with our progress.
I hope to see you at E3!