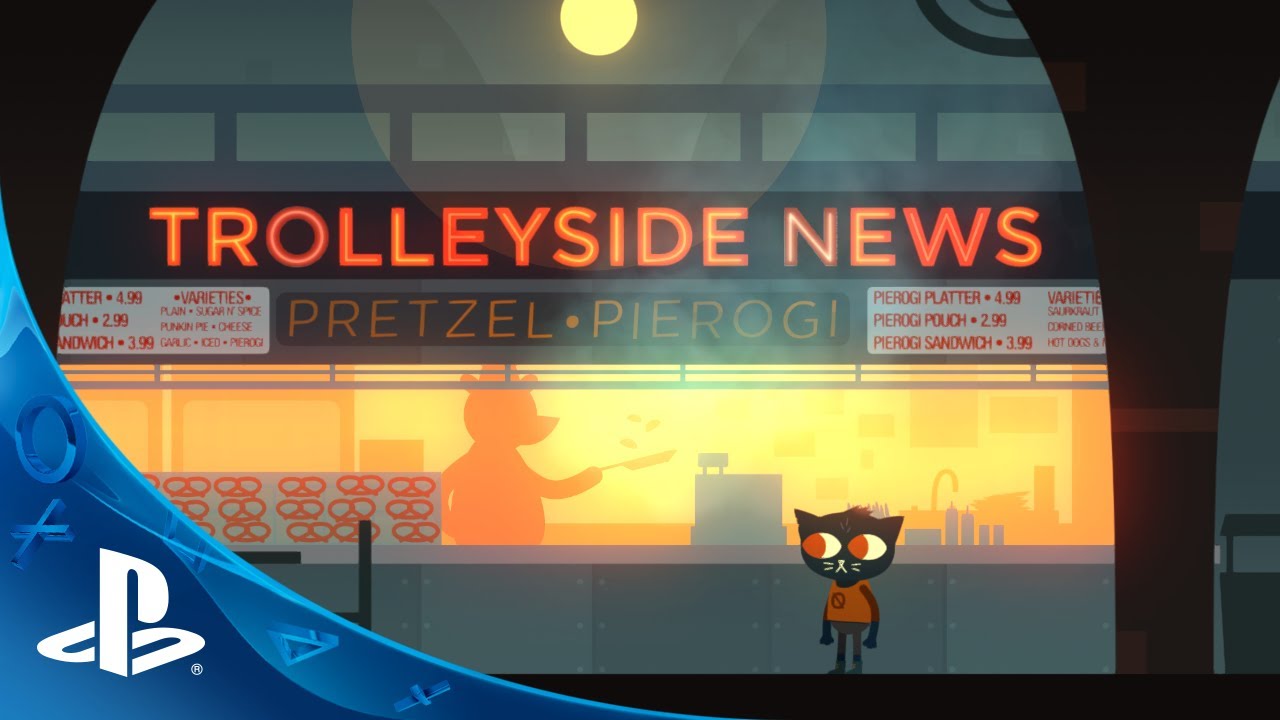 We're super happy to announce that Night In The Woods is coming out on PS4! You'll be able to play our little game in the comfort of your living room, den, or Dedicated PlayStation Room.
Night In The Woods is an adventure/exploration game with a heavy focus on story, character, and place. You'll be doing some running and jumping around, a lot of extracurricular activities, some bass playing, some smashing of things, and a lot of hanging out with your townie friends.
Night In The Woods takes place in the crumbling town of Possum Springs, a dead-end backwater that is barely holding on after the mining jobs left. Mae the cat is a college dropout who has returned home to reclaim her teenage life with her friends who stayed in town. Bea stayed home from college to take over the family business after a death sent her family into a tailspin. Gregg and Angus are highschool sweethearts, working hard to get out of Possum Springs. Germ is a weird kid that hangs around. No one knows what his deal is.
What Mae finds, however, is that life and her friends moved on while she was away. Strange things are happening to her and to the town. Things are changing. And there's something in the woods up behind the park that might mean an end to all of it.
Night In The Woods is a story about letting go and holding on. We wanted to create something that got into some ideas that were kicking around in our heads, themes that hopefully resonate with a lot of people. We wanted to create characters people could identify with and the kind of town a lot of people are from, but with more talking animal people. Most towns don't have more than a few talking animal people probably. If yours does, please get in touch.
Alec probably summed it up best: Night In The Woods is a game about the inevitability of death… and pizza parties.
We're really excited. Are you excited? You should be excited. This is going to be rad and we're so glad to be able to share our little game with you. We'll have more info as time goes on, but for now we'll be happy to chatter with you in the comments section.