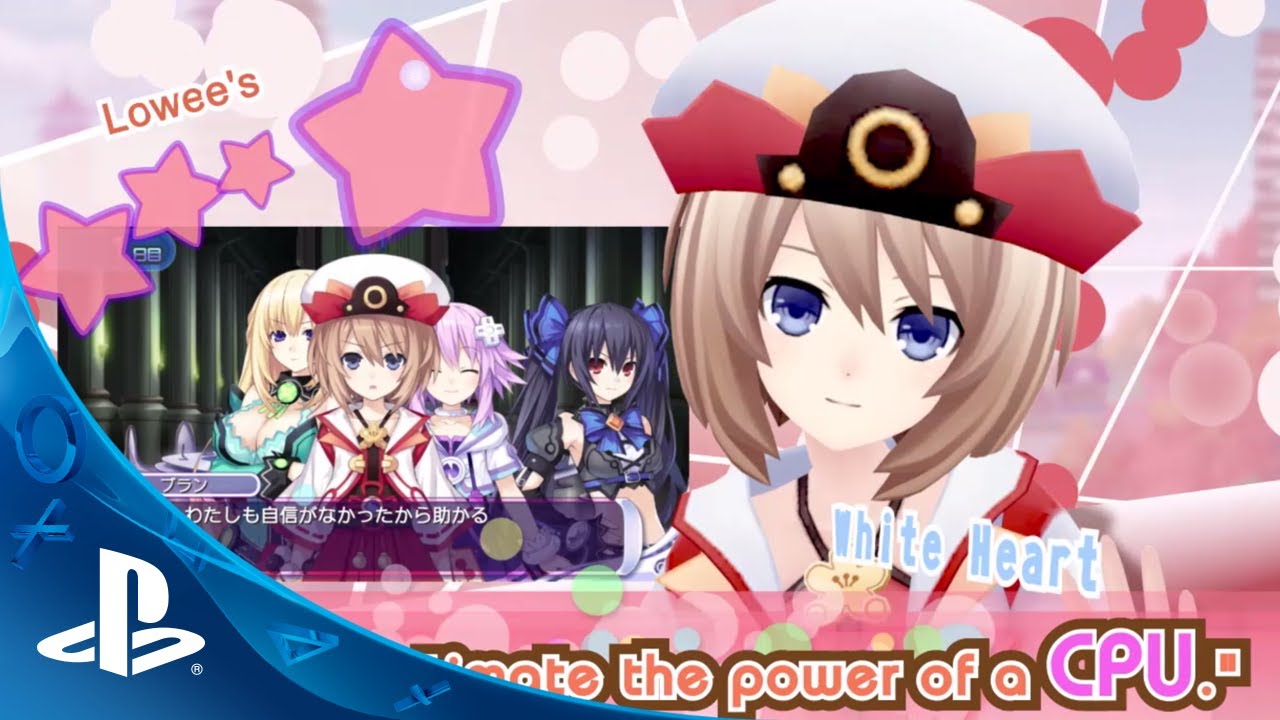 Greetings, doods! Your humble Prinny David here, and I'm drawing on years of singing telegram experience to sing some good news into your face — the idol simulation Hyperdimension Neptunia: Producing Perfection is out today in both retail and digital formats for PS Vita!
In this game, you find yourself summoned to the familiar environs of Gamindustri in order to help your favorite CPUs… turn into idol stars?! That's right, you'll be seeing Neptune, Noire, Blanc, and Vert (maybe even a few other familiar faces) in a whole new spotlight as they sing and dance their way to idol stardom. As the CPU's perfect producer, they're gonna need all your help to skyrocket their idol careers, raising your shares and keeping the public out of idol group MOB-48's peppy grip!
In this idol simulator, you'll get to know your favorite CPU as you manage every aspect of their career. Day in and day out you'll be choosing how they spend their time — putting them to Work will garner them new fans through all sorts of activities. Having them train in Lessons will improve stats like Trust, which affects how events and story will unfold. Or Rhythm, which determines how much your audience will like your performances.
However, just like any performer, you can't have them working too hard or else their Stress level will reach 100% and then it's curtains for their career! You don't want to have a CPU diva meltdown, do you?
All this training and hard work of course leads to the really flashy part, which is the concert. Before putting on the concert, you can pick what song to perform, where the idol goes on stage, and even plop down some familiar enemies onstage to have them bounce around behind you.
Did I mention that the more you play, the more costumes you'll unlock for your characters? You can go the Gaga route and put on the most outlandish combinations (Mustache accessories and a flowery eyepatch, anyone?) — all the stage garb is totally up to you!
Once the concert's been set up, you'll direct the whole show — operating cameras to get the right angles at the right time, adding some crazy special effects, and even activating HDD under the right conditions! Putting on an awesome show for the audience will guarantee you boost your idol's career! Did I mention that if you play your cards right, you might even be able to form an idol group? Look out, nation, 'cause this CPU might just turn into a 3PU.
So you ready to take these CPUs to idol superstardom in Hyperdimension Neptunia: Producing Perfection? Train 'em, work 'em, and make them dance to take all the shares! These wacky characters are gonna need your producing perfection skills if they want to take over Gamindustri.
Now if you'll excuse me, this Prinny's gotta jet to live the idol lifestyle. Prinny out, dood!