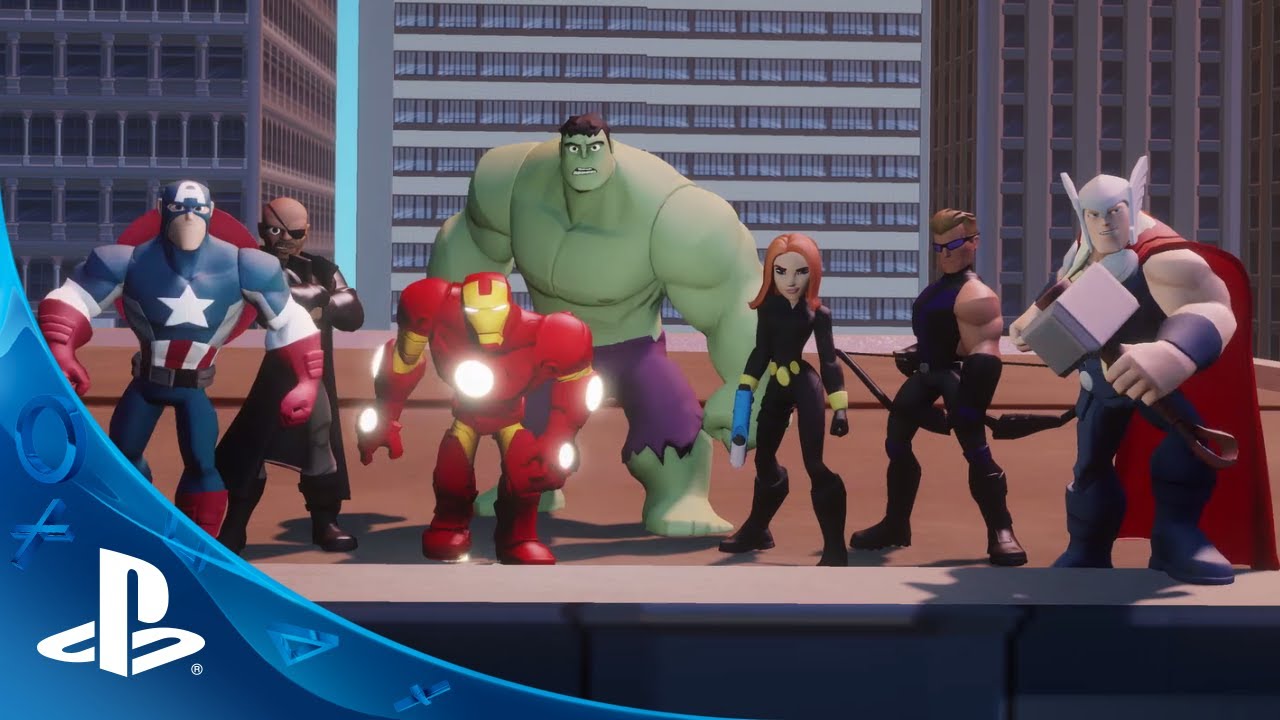 Last week, with assists from Nick Fury and Agent Coulson, we finally got to share the big news that Marvel is coming to the 2.0 Edition of Disney Infinity. At the packed Cinerama Dome in Hollywood with thousands more tuning in via the livestream on YouTube and Twitch, we unveiled plans to release Disney Infinity: Marvel Super Heroes on PS3 and PS4 this fall.
Disney Infinity: Marvel Super Heroes builds on what worked really well about the first installment and is bigger and better in every way. Play Set adventures including The Avengers will feature story-driven gameplay, iconic Marvel locations, amped up combat, more destruction, and many gadgets and vehicles. Of interest to Marvel fans is that Marvel Comics writer Brian Michael Bendis has crafted original stories for the Play Sets.
More than 20 Marvel Figures from across the Marvel Universe will be joining the game including Captain America, Iron Man, Black Widow, Thor, and Hulk. Some of the most popular Disney Infinity figures to date have been the Incredibles, who each have a unique power. Now you're going to have an entire cast of super-powered Marvel characters with abilities that you can level up through skill trees.
You can get a first look at all of this, as well as some Easter eggs, in the Announce Trailer. Watch very closely, friends…
The 2.0 Toy Box is getting major enhancements too. Before we dive into that, let's get this out of the way: yes, Disney Infinity is forwards compatible! The Disney Infinity Figures and Power Discs you've already collected can be brought into the 2.0 Toy Box. Even the current Base will work with the 2.0 edition.
Competitive structured gameplay across franchises was a huge community request, and we're so psyched to make it happen. With Toy Box Game Discs, you'll get to play Tower Defense and Dungeon Crawler games with any character you have on hand. These are about three to four hours in length.
We also heard from players and saw firsthand that building in the Toy Box could be simplified, so we've made it more intuitive with the Creator tool. This mode uses procedural generation so you're able to easily craft uniquely elaborate cityscapes and complex racetracks, and then of course you have the option to go in and tweak them.
Additionally, the "INteriors" feature opens up new possibilities by allowing you to go inside buildings and completely customize the spaces.
We've really been blown away by the power and creativity of the community in terms of what's been created in the 1.0 Toy Box. The Disney Parks creations we recently featured on Toy Box TV are prime examples of how far players are pushing the possibilities. With all of these upgrades to the 2.0 Toy Box, there's no doubt that the creations are going to go from awesome to unbelievable. In fact, we just hired community member crazybynick to create 2.0 Toy Boxes and are looking to have even more stars from our community join the Disney Infinity Team.
We have much more to announce on all fronts and, as Nick Fury briefed us at the Announce Event, more intelligence about the additional Super Heroes joining "Project Infinity" will be incoming at E3. Until then, what do you think of what's been shown so far? Which Marvel characters are you most excited to play and/or hoping to see join the lineup? And did you spot the Easter eggs in the Announce Trailer?