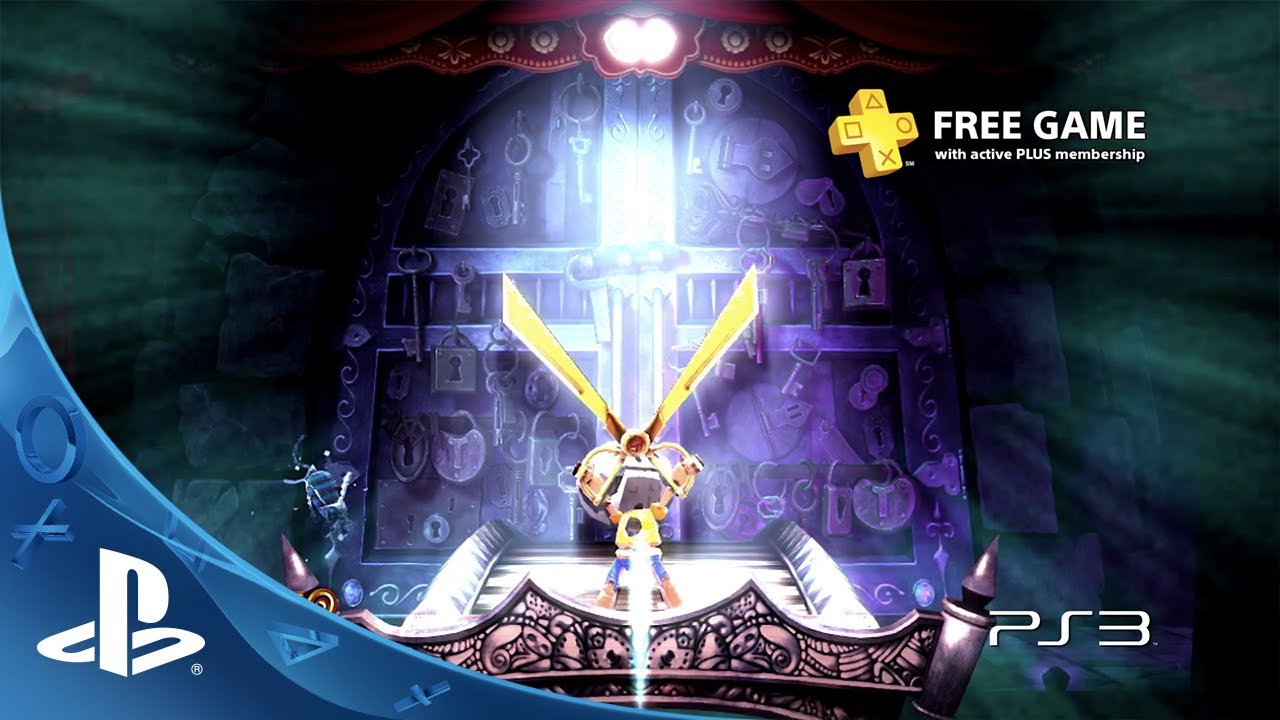 Next month PlayStation Plus members will receive several games as part of their membership including Stick it to the Man! on PS4, Puppeteer, PES 2014 and Skullgirls Encore on PlayStation 3, and Limbo and Surge Deluxe on PS Vita. Several of these titles are a visual treat, boasting distinct, vibrant art styles.
Stick it to the Man! is a mix of point and click adventure puzzles plus a bit of platforming, and the animation-inspired art style is really slick. You'll solve problems as Ray, a regular guy who wakes up one day with a giant pink hand floating out of his head. This pink hand gives him the ability to read people's minds and grab stickers from their thoughts to use in the world.
On PS3 members will receive three very different titles: the award-winning, uber-charming platformer Puppeteer, the popular soccer simulator Pro Evolution Soccer 2014 and the indie-darling fighter with a crazy roster, Skullgirls Encore. Puppeteer is a visual treat that follows the story of a boy named Kutaro who gets turned into a puppet by the evil Moon Bear King (great name) and loses his head. After the transformation Kutaro must borrow other heads and use his fancy new pair of scissors to navigate the world and return home (preferably with his original head). Pro Evolution Soccer 2014 allows you to play as your favorite soccer team and pit them against teams from around the globe. The improved FOX Engine means that the soccer ball will be much more fluid than previous PES games. The 2D fighter Skullgirls Encore houses a bunch of wacky characters, each with their own unique attack style. The Encore version has new systems, balance updates, stages and music and a few new characters to mess around with.
PS Vita owners will get to download Surge Deluxe, an intense color-matching title and the critically-acclaimed puzzle platformer Limbo. The action in Surge Deluxe heats up quickly as you chain together color-coordinated blocks. The faster you move the more likely you are to be successful — taking too long means the pressure will build up in the pipes surrounding the screen and BOOM! Game over. If you haven't played Limbo yet you'll be in for a real treat when it comes to the Instant Game Collection for PS Vita. Limbo's haunting atmosphere, intriguing puzzles and vague narrative make this a game you'll remember for a long time.
May PlayStation Plus Preview
Free for PS Plus members
On an ordinary day, hard hat tester Ray has a bizarre accident and wakes up with a giant pink spaghetti arm sticking out of his brain, giving him extraordinary mind-reading powers. Ray can suddenly change the world with stickers, transforming his paper universe by tearing it, folding it and using the crazy stickers he finds (along with his awesome new powers) to solve mind-boggling puzzles! Sadly, Ray doesn't have much time to get to grips with his new-fangled psychic abilities. Instead, he's on the run from 'The Man' for a crime he didn't commit. Can you help Ray out of this sticky situation?
Free for PS Plus members
One dark moonlit night, a young boy named Kutaro was carried away by the maleficent Moon Bear King to a black castle where the unlucky lad was transformed into a puppet. Kutaro displeased the terrible tyrant, who devoured the boy's wooden head and cast away his body. But the headless hero was not alone, for he had discovered a very special pair of scissors to help him on his harrowing adventure to find his head, and his way home.
Free for PS Plus members
Experience a whole new ball game with KONAMI's PES 2014. The stunning new FOX Engine has been combined with a revolutionary soccer system that puts the ball at the heart of the action for the first time. Every element has been rebuilt and now features all-new physics systems, custom team and player AI and a huge leap forward in animations and atmosphere.
Skullgirls Encore (PS3)
Free for PS Plus members
Skullgirls Encore is an update to the original Skullgirls, a fast-paced 2-D fighting game that puts players in control of fierce warriors in an extraordinary Dark Deco world. Building on its established game systems tried and tested by veteran and casual fighting game fans alike, Skullgirls Encore includes new systems, new stages and music, balance adjustments, gameplay tweaks and more. All brought to you with the same high quality Skullgirls and Lab Zero Games are known for!
Free for PS Plus members
A new energy source provides humanity with enormous electrical power, but by-product materials build up fast, and must be constantly cleared to keep pressure levels in check. Shatter the dangerous by-products by routing electrical surges between matching blocks, and then vent pressure in huge blasts to buy you more time! Surge Deluxe puts sizzling electrical energy at your fingertips!
Free for PS Plus members
Uncertain of his sister's fate, a boy enters LIMBO.
If you've got feedback on PlayStation Plus make sure you take the poll above as well as leave a comment below. To chat about all things PlayStation, including this update, you can head over to the PlayStation Community Forums. You'll also find other topics you can contribute your thoughts to, or you can start your own discussion.