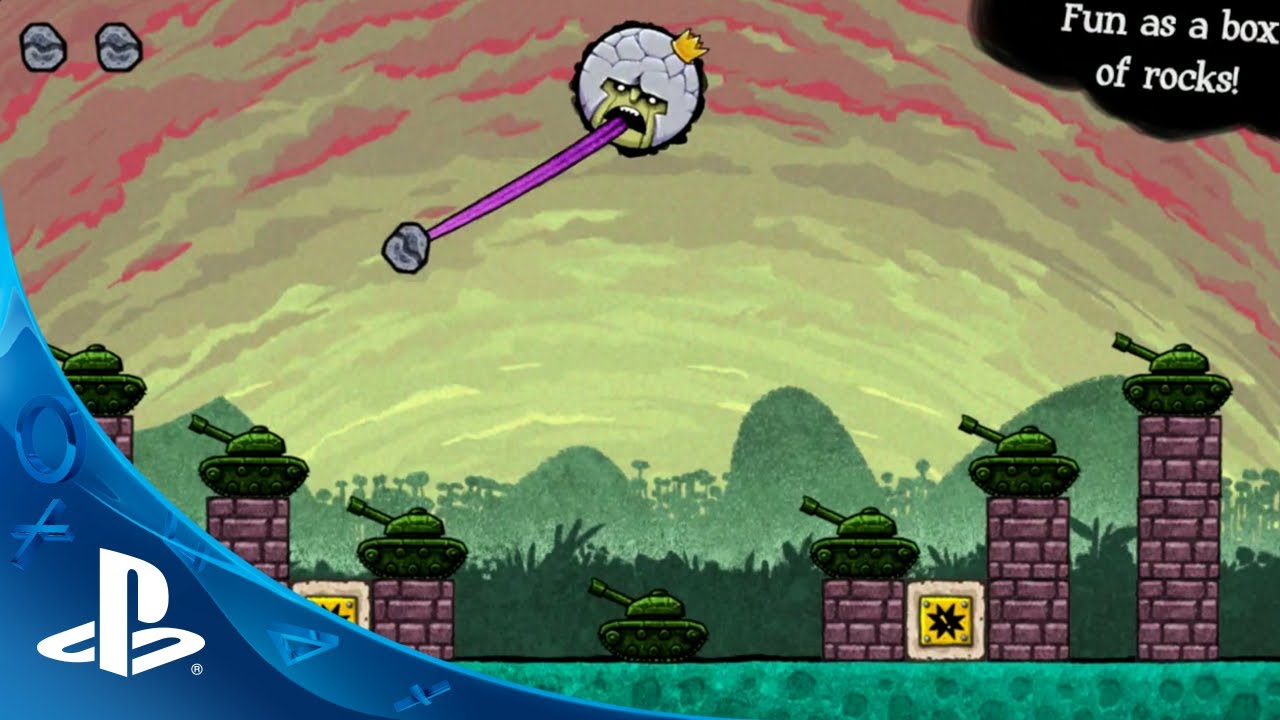 Hello readers — exciting times! It's been pretty frantic bringing King Oddball over to PS4 from PS Vita, but we're really happy to have it as our first PS4 release. We can't wait to see how the game is received on the big screen.
I've covered the game pretty well on Playstation.Blog in earlier posts, so I'll shed some light on the various special level sets and how they came to be. First, a quick recap: King Oddball is a skill-based, physics puzzler, where your goal is to clear the screen of enemies with three throwable rocks. So far so ordinary, but in King Oddball, you don't get to fling the rocks any way you please.
The King swings a rock back and forth like a pendulum, and the rock is released when you hit X. Gravity takes over, and you hit your target if your timing was good. Accurate timing takes you only so far though, because soon enough you need to be strategizing about where the rock will bounce after the first, second, and even third impact. Tip: it's often good to start from the topmost targets, as the rock will fall down eventually, possibly taking out enemies on the ground.
This basic gameplay is fun and strangely addictive, but as there are dozens and dozens of levels, some variety is good. Enter the Boom Challenge and One Rock Challenge. In Boom Challenge, the rocks are replaced with hand grenades which explode a few seconds after release. These levels obviously play quite differently than the basic levels.
In One Rock Challenge, you only get one rock to complete the level. King Oddball's basic gameplay is (on the surface) very simple, but we wanted to include levels where we got to strip it down even more. The question "How hard can it be?" is quite pronounced here.
Finally there's The Hall of Diamonds. Originally we made the conscious design decision not to include the ability to replay levels, display a score, or have the three star rating typically seen in pretty much all physics-based puzzles. We wanted King Oddball to be simply about clearing the levels and moving on.
After a substantial amount of player feedback, we caved in a bit. In The Hall of Diamonds, you get to replay the basic levels, but you fully" clear" them only by not throwing the last rock, which is now a diamond. It's a feat that very much equals earning a three star rating.
King Oddball launches for PS4 on April 8th, and it comes with a free trial. It's $6.99 and cross buy with the PS Vita version. Give it a go!