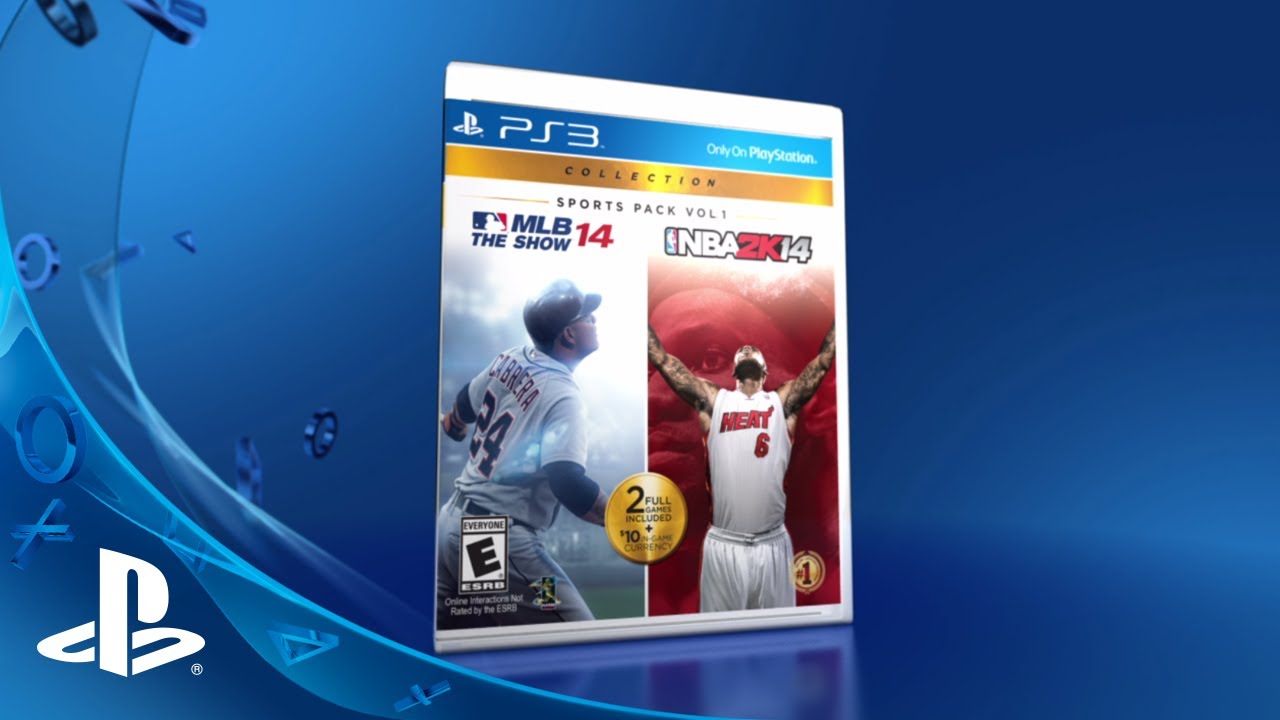 With Opening Day nearly upon us and the NBA Playoffs not too far behind, we're excited to announce MLB 14 The Show and NBA 2K14 will be available together in PlayStation Sports Pack Vol. 1, launching exclusively for PS3 on April 1st for $89.99. These two titles represent the highest rated Baseball and Basketball franchises in the market over the last several years, and together are the spring's must-have product for sports gamers.
The pack includes full versions of each game, as well as a bonus of $10 worth of in-game currency: 6000 STUBS for MLB 14 The Show and 20,000 Virtual Currency for NBA 2K14, bringing the total value to $129.99 worth of content for just $89.99.
MLB 14 The Show
MLB 14 The Show returns with new ways to play, more realistic gameplay physics, and the most authentic MLB gameplay experience ever. From the booth to the field, MLB 14 The Show captures the most exciting moments in baseball. Below are just a few of the many new enhancements in MLB 14 The Show:
Year-to-Year Saves — For the first time in franchise history, saves can be carried over from MLB 14 to future releases of The Show, meaning that gamers won't have to worry about starting their Franchise or Road to the Show seasons over in years to come.
Quick Counts — Users will now be able to play a full nine-inning game in less than 30 minutes, half the time it takes in previous iterations of The Show. Despite the shortened game durations, realistic stats will not be compromised.
STUBS — Playing games in MLB 14 The Show rewards players with Stubs. Stubs can be used to purchase additional in-game content — like Road to the Show training points — or used in our new mode, Community Challenges. Stubs can be earned in any mode, and they are not required to progress through a mode. You can still purchase additional in-game content through the PlayStation Store.
NBA 2K14
Following more than 38 Sports Game of the Year and "Best Of" mentions for 2K13, 2K14 rules the virtual hardwood once again. This year, 2K joins forces with the league's most dominant force: LeBron James. With a soundtrack hand-picked by the King, refined controls featuring the new Pro Stick, the return of Crews, new Signature Skills, enhanced defense including blocked dunks, and more, NBA 2K14 raises the bar yet again. Below are just a few of the numerous new enhancements in NBA 2K14
Crews — The single-most requested game mode is back! Face off against opposing crews online using your MyPLAYER. Create your logo and face off in 5v5 battles with other crews featuring leaderboards and stats.
Pro Stick — Throw down show-stopping moves, pull off intricate shots, and toss flashy no-look passes with deadly accuracy with Pro Stick control. Easily the most intuitive basketball controls ever implemented.
King James Soundtrack — Featuring artists and tracks hand-picked by LeBron James, including JAY Z, Eminem, The Black Keys, Daft Punk, and many more.
MyTEAM — Back and better than ever, with new player modes, multi and single player tournaments, and much more.