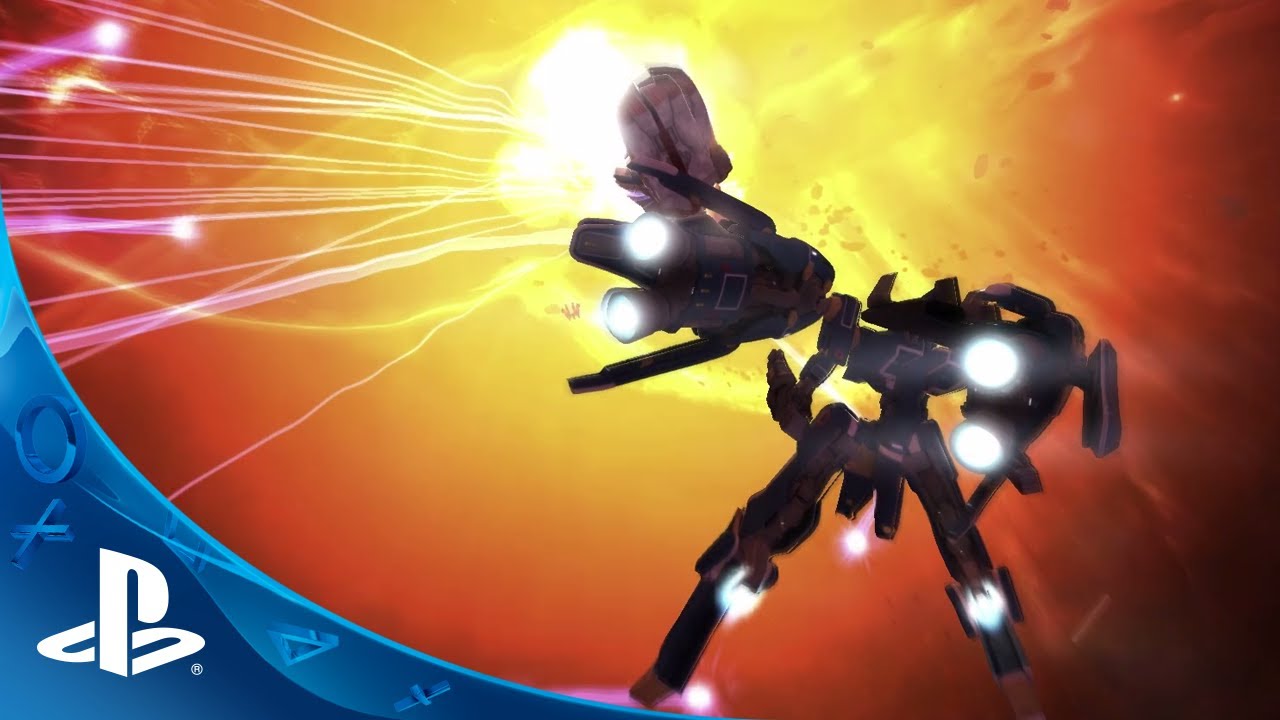 Hullo, I'm Jamin Smith, Community Manager and writery person over at Born Ready Games. I'm here to announce that Strike Suit Zero: Director's Cut will be heading to PS4 later this month. If mechs, space, and blowing things to smithereens with mechs (in space) are your thing, read on.
Strike Suit Zero is a space combat game that harkens back to the days of Wing Commander, Freelancer, X-Wing vs. TIE Fighter — all the classics — but with a mech twist to the dogfighting, and a next-gen lick of paint. At the heart of our game is a ship that can transform from a traditional fighter to a lethal suit of space armor: the Strike Suit. This really changes up the core concept of dogfighting, allowing pilots to transform, turn 180 degrees, and unleash a barrage of missiles without having to go through the laborious procedure of 'jousting' that older space combat titles relied on.
The Strike Suit was designed by Junji Okubo (Appleseed: Ex-Machina, Steel Battalion, Infinite Space), who has a very functional approach to mechanical design. As such, the Strike Suit unfolds much like a real piece of machinery would; there are no Michael Bay-esque transformations here.
U.N.E. Frigate from BornReadyGames on Sketchfab.
Fans of Homeworld will also be pleased to hear that we've enlisted the services of Paul Ruskay for the Strike Suit Zero soundtrack, too. Paul has collaborated with Japanese singer-songwriter Kokia (Tales of Innocence, Gunslinger Girl: II Teatrino) in bringing the soundtrack to life, resulting in an interesting blend of East meets West — a notion that is apparent in all facets of the game's design.
The development of the game was put under a bit of strain over Christmas when our studio was trashed by some pretty serious flooding. The river Wey here in Guildford burst its banks on Christmas Eve, and our studio (and poor neighbours Hello Games) was submerged in flood water.
Worry not, however. While lots of equipment and personal items were lost, we were able to rescue our machines in time, and successfully moved the team upstairs where development got back on track as quickly as possible. As such, Strike Suit Zero is well on track for its March launch.
We've furnished PlayStation.Blog with some never-before-seen concept art from Strike Suit Zero: the Grados Cruiser, Pegasus Cruiser, and concept enemy Fighters can all be seen below with notes from our Lead Artist, Dan Lodge.
Grados Cruiser
The Grados cruiser is a bit of a Born Ready art team favorite. We'd love to build this ship and see that massive fixed cannon in action one day. Check out the distinctive design of the rear hull and the engine housings.
Pegasus Cruiser
A little more streamlined than the Argama U.N.E cruiser found in Strike Suit Zero, the Pegasus was designed as a colonial frigate hunter. I think Junji really nailed the engine design on this one.

Fighters
Junji sent us a good range of proposed designs for fighters. These are some of the designs that didn't quite make it in.
You can also check out a 3D model of the U.N.E. Frigate, which has been re-modelled and upscaled for the Director's Cut. You can get up close and personal, and bask in the glory of those extra polys in the embed above.
Thanks for reading! For more information on the game, connect with us on Facebook and Twitter.