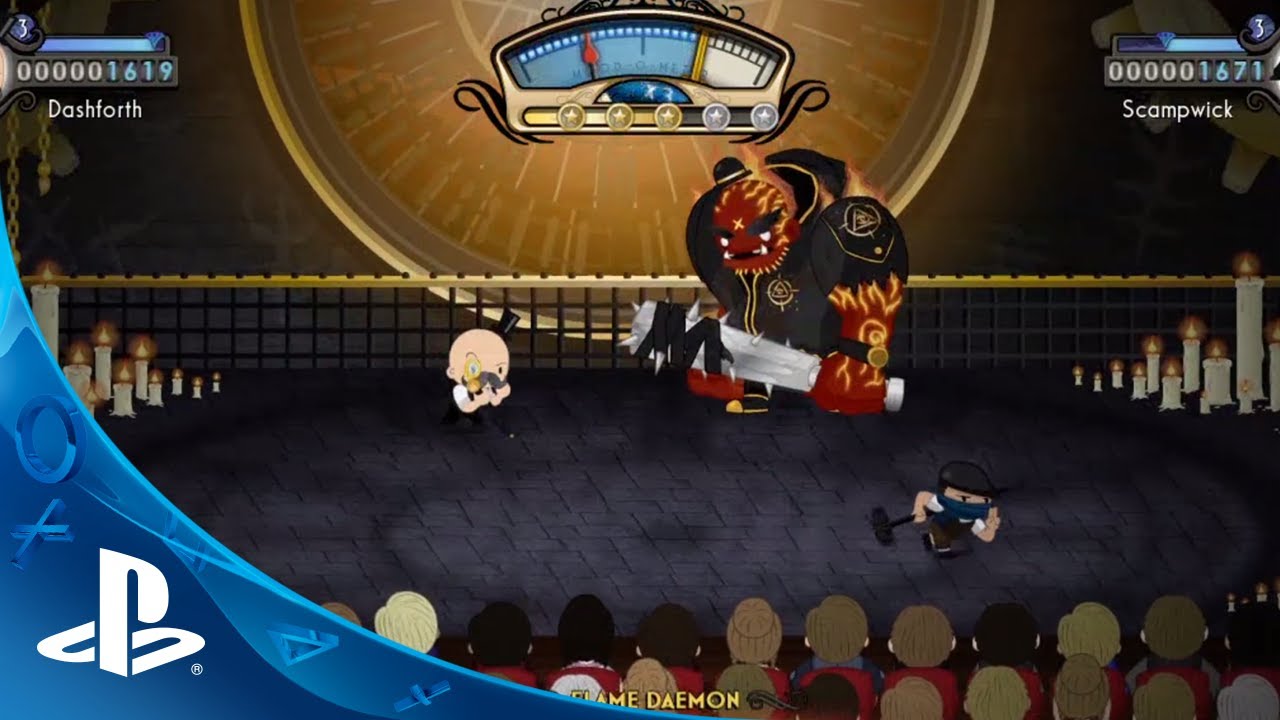 Hello there! Mediatonic here, checking back in on Playstation.Blog after a long absence. Some of you may remember our PSN Minis. If you do, it's highly probable that we love you. If you don't, that's okay, too!
We're thrilled to lift the curtain on our return to PlayStation platforms with Foul Play, coming to PS4 and PS Vita! In this encore performance, we're thrilled to announce a cross buy launch, hand-in-hand with some exciting new difficulties and optimization for each platform.
Foul Play is our theater-based beat 'em up where Victorian Daemonologist, Baron Dashforth, recreates his adventures for the stage; brawls and all!
No expense has been spared for the Baron's one-night-only spectacular show, and it's a game that rewards performance over pummelling, as every strike and combo has to keep an eager audience entertained.
You don't have a conventional life bar, but a "Mood-o-Meter." Keep it filled with audience pleasing action, and you'll be met with cheers, whoops, and hats in the air! Miss your cues, get beaten around by the adversarial actors, and you'll find yourself booed off stage…
Join the Baron and his assistant Mr. Scampwick in co-op play wading through hordes of combat trained actors in a variety of menacing (and/or ridiculous) costumes.
The various plays of the night represent the scarcely believable, but ENTIRELY ACCURATE tales of Baron Dashforth banishing daemons. The lovingly crafted sets vary from the automatons of Atlantis to werewolves on the misty moors of Somerset — even a cult inadvertently starting the great fire of London!
Now we're in the process of making sure everything looks great on the Vita display and in full 1080p for PS4 with our 60 FPS animations. We're not quite ready to announce what day will be opening night just yet, but if you've got any other questions I'll be happy to answer them in the comments!
We had a lot of fun playing with the conventions and limitations of the theater for such a grandiose tale. All in all, we can't wait to bring our brawler, characters, and humour to PlayStation. If you want so see how we're getting on, check us out on Twitter, Facebook, or our official website!