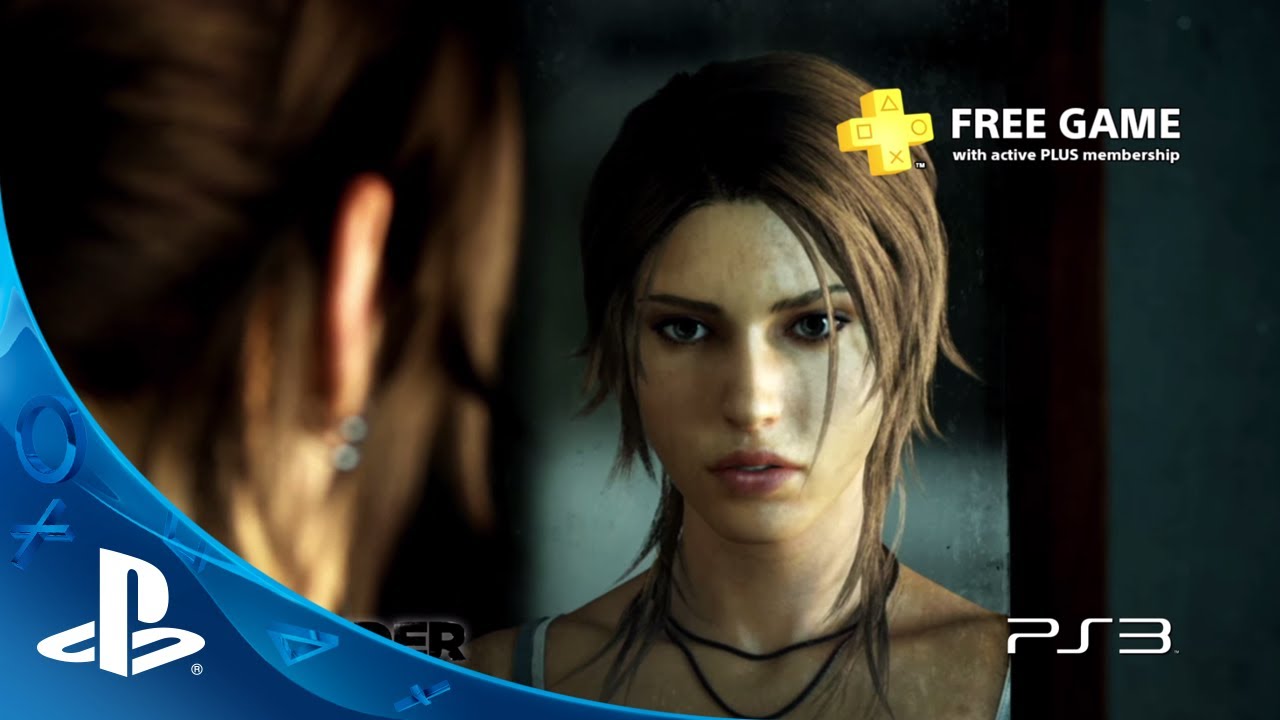 Let's take a look at what you're going to get in March with your PlayStation Plus membership. To start, PlayStation 4 owners can enjoy the Apocalypse Edition of the critically acclaimed PS3 twin-stick zombie shooter, Dead Nation. The PS4 version includes updated visuals and controls, as well as a sweet interactive broadcast mode, so hit that "Share" button when you start playing!
PS3 owners get Tomb Raider, one of last year's most praised titles. This reboot showcases Lara's transformation from a recent anthropology graduate to a battle-hardened adventurer as her expedition crashes on a mysterious island. You'll hunt animals, upgrade weapons and choose perks to increase Lara's chances of survival.
Also on PS3: Thomas Was Alone, an adorable puzzle platformer that showcases the camaraderie of artificial intelligences depicted as various shapes, and Lone Survivor: Director's Cut, a 2D adventure style survival horror game. Bonus! Thomas Was Alone and Lone Survivor: The Director's Cut are Cross-Buy titles, so you'll get both the PS3 and PS Vita versions of those games.
For PS Vita this month, you get Unit 13: a third-person mission-based shooter where you'll need to complete specified objectives, like staying in stealth or completing levels as quickly as possible. Then there's Monster Hunter: Freedom Unite, a massive experience where you can — you guessed it — kill monsters, and then use their body parts to craft new weapons & armor to take down bigger baddies.
March PlayStation Plus Preview
Free for PS Plus members
Run-and-gun through the zombie apocalypse as hit arcade shooter Dead Nation shuffles onto PlayStation 4. Fight for your life alone or with a friend as Jack McReady or Scarlett Blake as you step onto the streets of a city overrunwith undead flesh-eaters. And, if you're feeling really brave, take a walk down the Road of Devastation – a deadly experiment that pushes your survival skills to the absolute limit as you face hordes of zombies with no extra lives and no second chances. The dead may walk – but you can make sure they don't walk very far.
Free for PS Plus members
This newest rendition of Tomb Raider explores the intense and gritty origin story of Lara Croft and her ascent from a frightened young woman to the hardened survivor that she would become known as. Armed only with raw instincts and the ability to push beyond the limits of human endurance, Lara must fight to unravel the dark history of a forgotten island to escape its relentless hold.
Free for PS Plus members
Thomas Was Alone is the critically acclaimed indie platformer about friendship and jumping. Guide a group of sentient rectangles through a series of environments, combining their skills to reach the end of each level. Listen to awesome music by David Housden, negotiate obstacles meticulously placed by Mike Bithell and immerse yourself in the characters' journey with a voiceover read wistfully and amusingly by Danny Wallace.
Free for PS Plus members
In this psychological survival adventure, the masked protagonist must escape from a city ravaged by disease, by any means necessary. Lone Survivor: The Director's Cut is a new kind of adventure where the choice of how to survive is up to you. Sneak through without firing a single shot, or kill everything in your path. Eat and sleep well, or resort to drugs to keep going. Search for survivors, or try to escape the city alone. Look after your mental health, or descend into madness. Lone Survivor is a game where your choices genuinely matter.
Free for PS Plus members
Jump into the action with Unit 13 for PlayStation®Vita and conquer 36 tactical missions and 9 high value target battles as you help take down global terror networks and earn your place in the military elite. With the precision of the PlayStation Vita systems's dual analog sticks and unique touch interface, Unit 13 is the perfect on-the-go action shooter. Wi-Fi connectivity adds fast 2-player co-op action, and 3G compatibility keeps you connected for instant social updates and new daily mission challenges.
Free for PS Plus members
In the world of Monster Hunter you're never alone.
-The biggest Monster Hunter title to date with over 500 hours of gameplay.
-Huge variety of character customizations including 1400 weapons and over 2000 armor sets.
-Players can form a team of up to 4 players through Ad-Hoc play and experience the social gaming phenomenon.
-AI Felyne companion, who will accompany players on quests and provide aid through the challenging battles. With the 'Felyne Exchange' feature players can share their companions with other players, transferring data using the PSP's sleep mode.
-Fans of the series can transfer their data from Monster Hunter Freedom 2.
If you've got feedback on PlayStation Plus make sure you take the poll above as well as leave a comment below. To chat about all things PlayStation, including this update, you can head over to the PlayStation Community Forums. You'll also find other topics you can contribute your thoughts to, or you can start your own discussion.