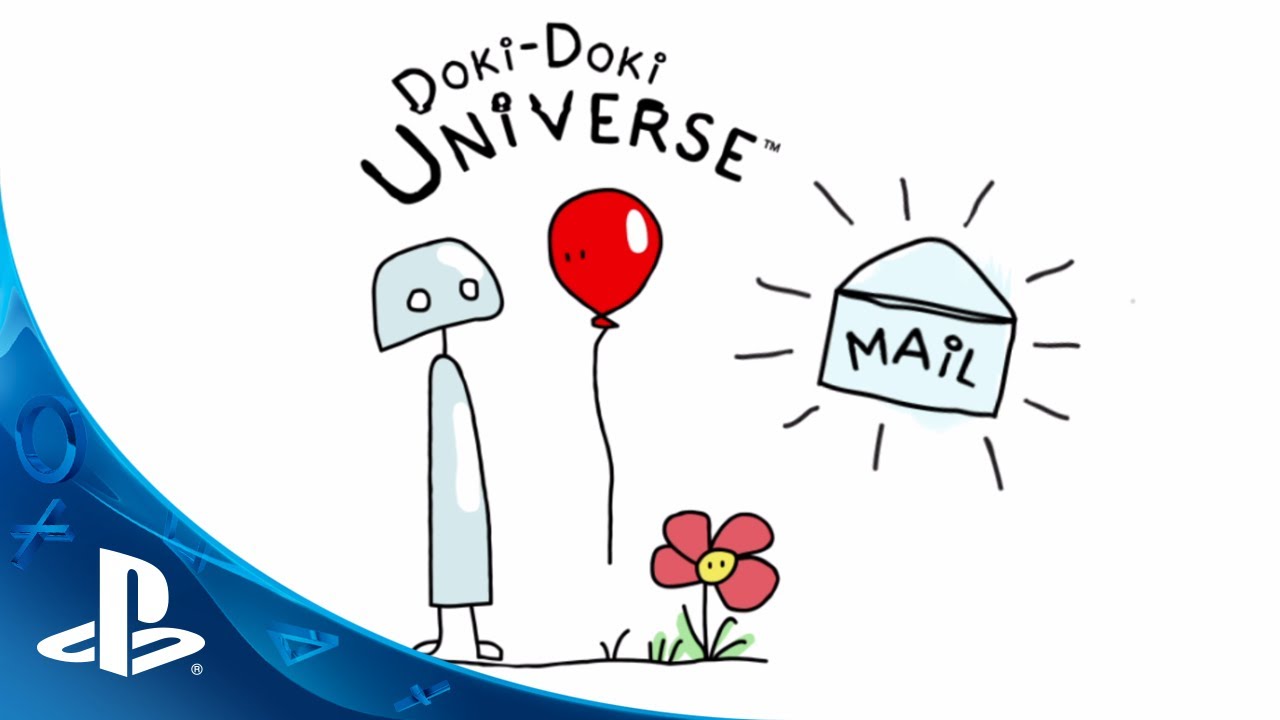 Welcome back to the Blog! It's been a little over a week since we launched Doki-Doki Universe. If you've been reading the reviews and forums you'll see that a lot of people have been charmed and perhaps a bit confused as to what to make of Doki-Doki Universe. It's about as far outside the box as you can get, but quite honestly, that was the whole idea. We wanted to stir things up a bit, and offer a different type of gaming experience that had more heart and more humanity. I'm very happy with what we created, and the game is causing a lot of thoughtful discussion, which is a very good thing in this industry.
Oh right!! That's not what I was supposed to write about (DOH!)… I'm supposed to remind you that Doki-Doki Mail, our new free messaging app is available now. You can use it to send playful animated messages to your Facebook friends on your PS4, PS3, or PS Vita and on iOS and Android devices. For PlayStation devices it comes as part of the free Doki-Doki Universe Starter Pack Download, and on iOS or Android just go to your normal app store and type it into the search bar. Here is a cute trailer put together by the folks at Sony:
THE CONTEST!
To get into the Holiday spirit, and also just for the heck of it, we are hosting a Doki-Doki Mail Holiday Card Contest starting today, and going until Sunday, December 22nd. Three lucky winners will receive a code for the Doki-Doki Universe Limited Edition Bundle for PS4, PS3, and PS Vita (which includes the Full Game, Starter Pack, 2 Personality Quiz Packs, 2 Story Packs, and 9 Deko Mail Packs – a super sweet deal!) If you have the limited edition bundle already, you can give this code to someone you like, and they will like you back.
To enter the contest, you will need Doki-Doki Mail, so if you don't have it yet, download the Starter Pack for free on PS4, PS3, or PS Vita; or Doki-Doki Mail on iOS and Android. Create your best Holiday-themed message, take a screenshot, and upload to the contest thread in the PlayStation Community Forums. You'll need to use a web browser to upload your screenshot since mobile browser image uploading isn't available. We'll then notify the winner via PSN message and the email address associated with the PSN ID you used to log in to the PlayStation Community Forums. The winners should receive their code no later than January 17th.
No purchase necessary. Must be 13 or over and a resident of the United States and the District of Columbia to enter. To see full contest info and rules and enter, click here.
To give you a glimpse into some of the fun dekos (emojis) you can find in Doki-Doki Mail, check out a few below. And don't forget, there are additional themed Deko Mail Packs available on PS Store if you want more variety. We hope to see lots of creative Doki Holiday Cards soon!
If you decide to check out the free download of Doki-Doki Universe Starter Pack, or even better, play the full version, please come back here and leave some comments to we can see what you think; not just about how fun this game is or isn't, but about where you would like to see gentler story-based games go in the future. What do YOU think will make games with more soul and more humanity work better? Do all gamers want action and challenge in all of their games? Also, what do you think of small indie-style games vs. bigger block buster games? What kinds do you tend to buy?
We hope you have a happy holiday filled with all kinds of joy and happiness and chocolate cake with extra frosting.