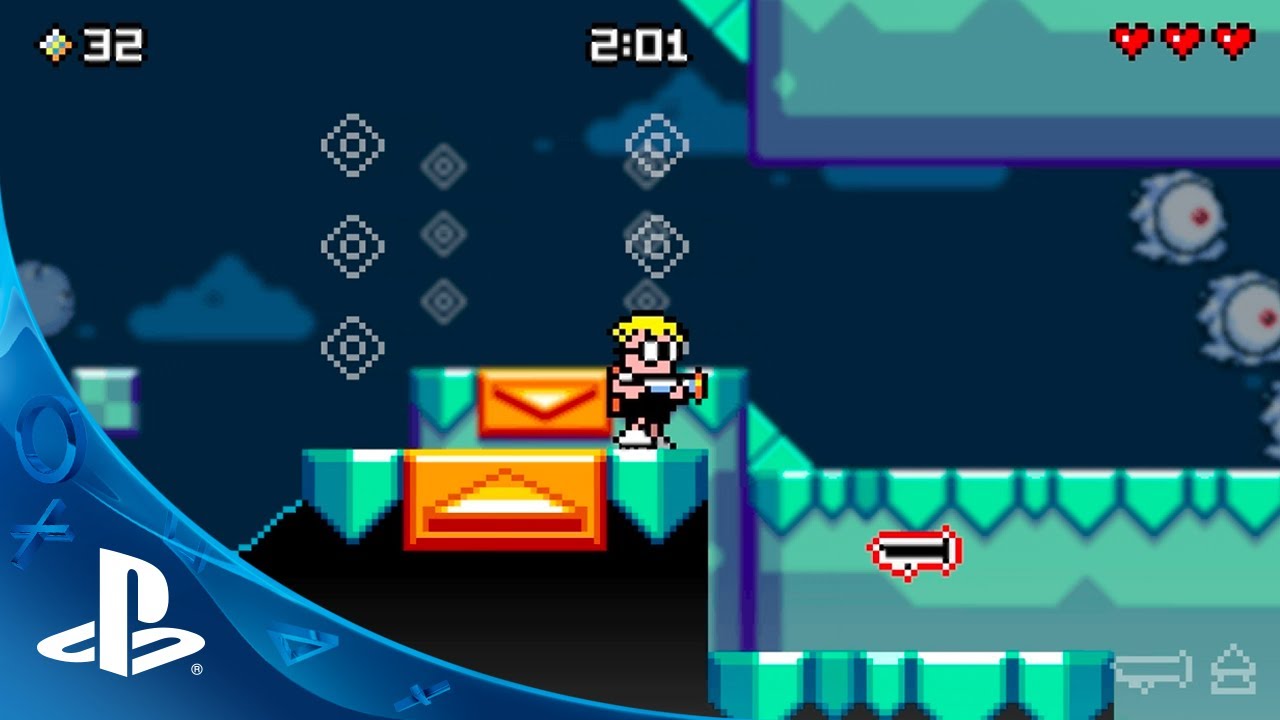 I am thrilled to announce that today marks not only Mutant Mudds' debut on PlayStation, but also Renegade Kid's first PlayStation game ever. Excite!
The unique PlayStation experience you get with Mutant Mudds Deluxe is very special. The game supports Cross-Buy and Cross-Save. Buy Mutant Mudds Deluxe on PlayStation Store once, and you get it on both PS3 and PS Vita! So, if you want to play it on your PS3 today, then take it on the go tomorrow with your PS Vita, Mutant Mudds Deluxe has you covered. You can transfer your saved progress between your PS3 and PS Vita via the cloud and not miss a Muddy moment.
If you're unfamiliar with Mutant Mudds Deluxe, it's a "12-bit" 2D platformer with challenging level design and some inter-dimensional leaping between the foreground and background layers – a real treat for the eyeballs! "What is so 'Deluxe' about it?" you may ask. Good question! The 'Deluxe' edition adds 20 new devilishly-difficult Ghost levels into the Muddy mix, bringing the total level count to a staggering 80. There's also a new Ghost Shot power-up, a multitude of secret playable characters to find, mid-level checkpoints (which can be toggled on/off), and a bevy of Trophies to collect and brag about to your friends.
Click here to see the full gallery
When we originally created Mutant Mudds, we did not know how many people were going to be able to play our baby or if anyone other than us would really enjoy it. We were genuinely surprised, humbled, and overjoyed with the tremendous response the game received from players and the press. Whether you're an avid fan of Mutant Mudds who is excited to play it on your PlayStation, or a new player who is looking forward to experiencing the Muddy apocalypse for the first time, thank you for your support and we look forward to entertaining you more in the future! Keep it Muddy, my friends.