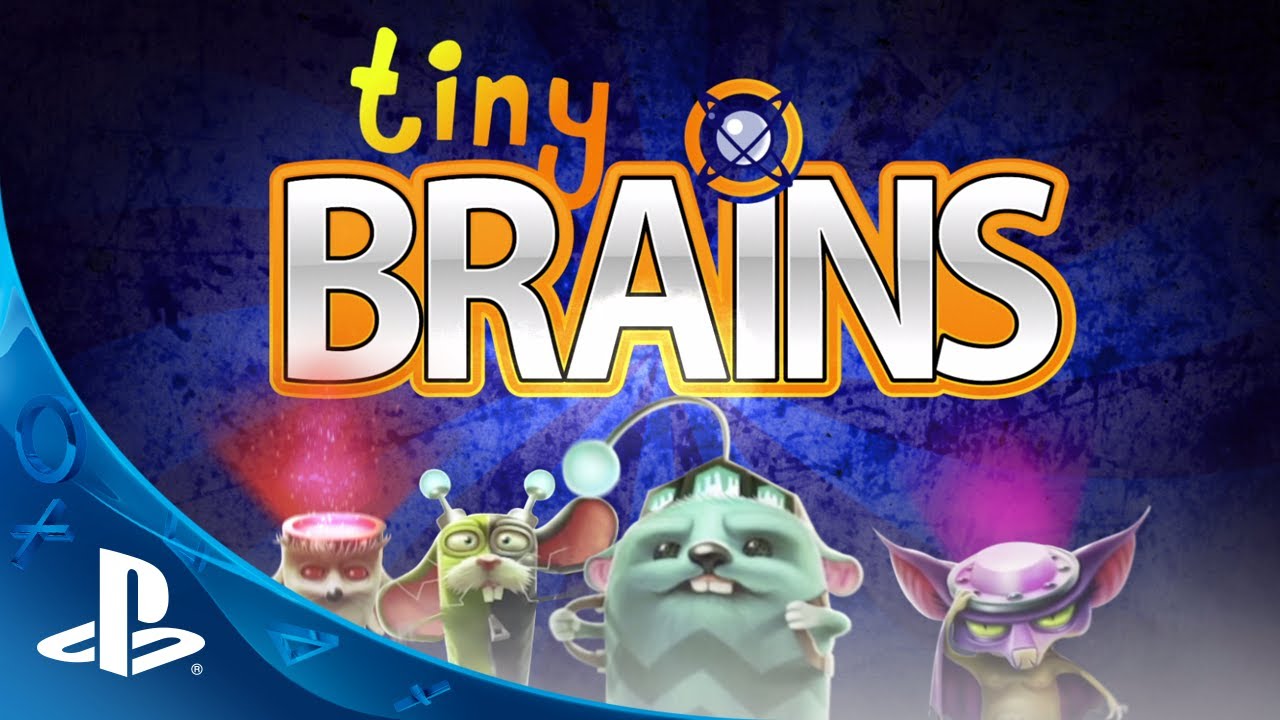 Hi! It's Simon from Spearhead Games, here again to talk about our upcoming PS4 co-op puzzler Tiny Brains. We finished our very last updates earlier this week, and we're finally done — it feels so weird to write that after Tiny Brains consumed my entire life for more than a year, but it's true. The whole team is incredibly proud to be bringing Tiny Brains to PS4 on December 3rd. Thanks to PlayStation's support of indies, we were given the option to be featured on PlayStation Plus for the launch — it was an opportunity we couldn't pass up!
So look out for Tiny Brains soon, and in the meantime, I wanted to share our brand new launch trailer, and tell you a bit about how we're trying to get you back in the living room for some old school co-op with a next-gen twist.
When I was a kid, one of the best feelings in the world was getting a new game and rushing home to call my friends to come over and play. Crowded together in front of the screen, all excited to game late into the night; elbowing for room on the couch, gloating and swapping tips — these things are what gave me a lifelong love of video games.
The launch of the PS4 marks the beginning of an exciting time for gaming, with new technology letting us play with more people, more often. It hearkens back to those "good old days" when you had new technology to show friends, and everyone wanted to come to your house to play. We're incredibly happy that our first game, Tiny Brains, is a part of that. With it, I feel that we're bridging the old and the new of multiplayer, co-operative gaming.
Let me take a few steps back. I'm Simon Darveau, formerly at Ubisoft and now co-founder at Spearhead Games. Tiny Brains is a quirky, social, cooperative, action puzzler. Beyond that, it's our baby — the game many of us left our jobs at AAA studios to make. It's a game that's been in our heads for a long time, all the way back from when one of my co-founders Malik and I were just kids playing games together.
We both made it into the industry and eventually decided we couldn't make the innovative types of games we wanted to make while at big companies. The process began with me sleeping on Malik's couch (where I was nick-named his house cat), playing games together every night, and thinking about what we could do to make the ultimate social, cooperative gaming experience — something where we had to work together toward one goal rather than try to kill each other on the same screen.
Fast-forward a year and a few months, and Tiny Brains has become a reality, coming out on the most cutting-edge gaming console of the new generation!
Tiny Brains is everything that the team originally wanted from a co-op game. It follows four tiny lab animals — a rabbit, a mouse, a hamster, and a bat — each of whom has been so extensively experimented on as to develop cool psychic abilities. The bat can channel his voice to force-push objects away from him; the rabbit uses an electric charge generated by his huge floppy ears to pull objects towards him. The hamster can create a solid chunk of ice out of thin air, and the mouse can swap his position with that of another object at will.
Each of these powers is useful, but no one power can solve the puzzles alone. In order to progress through the mad scientist's diabolical laboratory, all four critters must work together. This means a lot of shouting, a lot of communication, a lot of chaos, and a hell of a lot of fun.
Of course, you don't have to have three friends and four controllers to get in on the action. With the power of PS4, an indie like Tiny Brains can still feature online drop-in/drop-out multiplayer, and even a single-player mode in which the levels adapt to become solvable by one player. But to experience the game at its best, we highly encourage you to rally your friends, hop on the couch, and dive in together. We think you'll like the way this old school gaming-inspired indie leverages the capabilities of the PS4.
I'm stoked for the launch of Tiny Brains, and can't wait to see if anyone can beat our developer high scores in the challenge modes. Have you been practicing your multiplayer skills? What PS4 game have you been playing the most with friends at home or online?