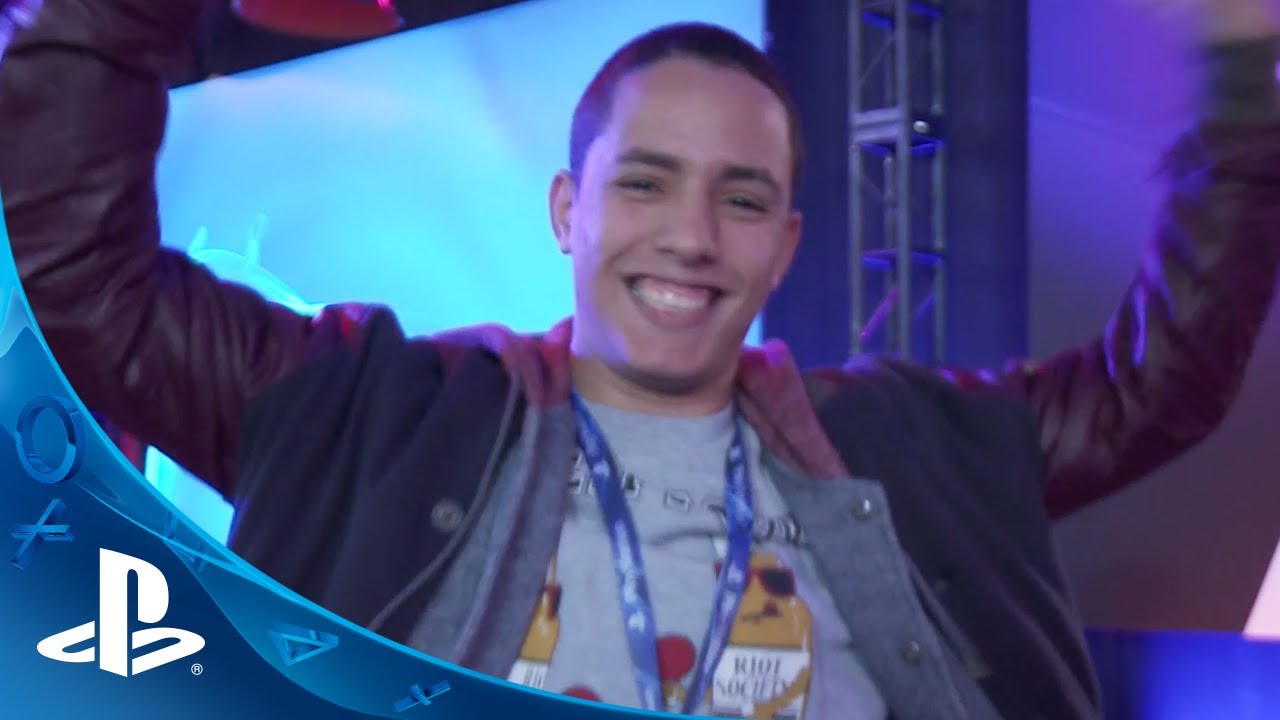 So it isn't likely that you'll recognize my name in the byline, as this is my first post for the PlayStation.Blog, but I'm a gamer much like everyone who frequents this site, and a member of the PlayStation MVP program.
A couple of weeks ago, I was presented with a chance to attend the NYC PlayStation launch event due to my involvement in the MVP program, and of course jumped at the opportunity — seriously, who wouldn't? So on Wednesday, I traveled by train from Boston down to NYC, and what followed was honestly an experience of a lifetime.
My first night in NYC was somewhat low-key and involved meeting up with Paul Sullivan (one of the PlayStation Digital Platforms Community Managers who made my trip possible) and two other PlayStation MVPs. We checked out the venue where various PS4 games were being broadcast onto the sides of rental trucks and buildings, and stumbled upon Shuhei Yoshida, President of Sony's Worldwide Studios, interacting with a real-time art installation that made use of The Standard, High Line Hotel.
Thursday, to borrow a phrase from Sony's marketing, really was the "Perfect Day." Sony had a mini-E3 set up in the Bier Garten venue that would later transform into the set for Spike TV's PS4: All Access launch special. This was my first time experiencing PS4 in person, and the gameplay and graphics looked stunning for every game they had on display. I particularly loved getting the opportunity to play the various unreleased games, such as Thief and Octodad.
At around 4:00 PM, the other two MVPs and I were given complimentary PS4s, an array of games, and other gear to take back to our hotel and play. Before heading back, we got to meet Shuhei Yoshida and Adam Boyes and had them sign our consoles. Then, once back at the hotel, I fired up the PS4, and — after a short mesmerization with the new user interface — I quickly jumped into Resogun. I followed that up with Knack, tried out the social features using the Share button, and spent the next few hours entirely immersed in gameplay.
Later that night, I headed over to Spike TV's PS4: All Access launch event with the other two MVPs and our PS4s. We were fortunate enough to watch the live broadcast from the media pit, and while the announcements were great and I particularly can't wait to get my hands on Destiny, the highlight of my night was meeting Guy Longworth, Jack Tretton, and Andrew House, and getting them to sign my PS4.
After midnight arrived, it was back to the hotel to pack everything up in preparation for the journey home. While I very much enjoyed NYC, I ended up catching an early train back to Boston, because three fewer hours spent in Penn Station meant three more with my console at home.
In the end, I got more out of this trip than I ever expected. It was great meeting some of my fellow PlayStation gamers, such as the two PlayStation MVPs who I got to share the experience with, and the many others willing to wait it out to be among the first to buy PS4 at launch. It was also great to see how passionate everyone at PlayStation is about what they do — not just their jobs and how the products they make influence others, but the games as well, because at their core they're gamers too.
I realize that my PS4 launch experience is about as glitzy as they get, but a couple of weeks ago I was planning on staring down a clock and waiting for an Amazon shipment to arrive, so I would love for you to share your launch experiences in the comments, below.
If you'd like to join Charles in the PlayStation MVP Program, apply here.