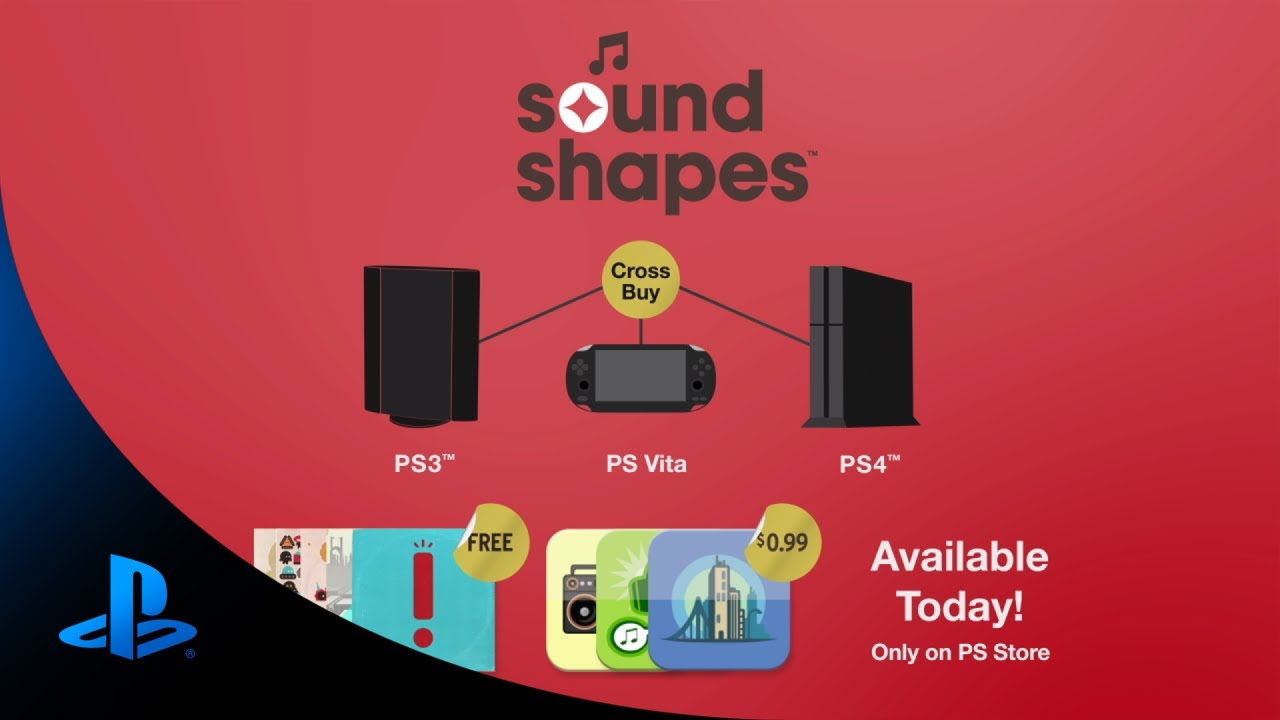 Okay, this is a big one. Are you ready? Here we go.
So you probably saw the PS4 launch last week – pretty exciting, right!? Did you get one? Lucky lucky if you did.
We've been playing with the PlayStation 4 for a while, because we've been preparing Sound Shapes for this screaming fast new machine. Sound Shapes doesn't exactly push the hardware, but it sure looks sweet! We've also added new functionality with DualShock 4's touchpad, light bar, and speakers. It also takes advantage of PS4's social features, like the new Share button that allows you to easily livestream your game with friends and share vids of your levels.
With all these improvements, this is a great time to pick up Sound Shapes (we're impressed with your monk-like patience if you haven't). If you're already one of our thousands of supporters, we have great news… The PS4 version of Sound Shapes is free for you! That's right, everyone who's already purchased the game from PSN for PS3 or PS Vita also gets it for PS4 (isn't Cross-Buy great?). The flip is also true… if you buy the PS4 version you get both the PS3 and PS Vita versions at no additional cost – three for the price of one.
But wait, there's more! We're also releasing new DLC today. First up is another installment of the Milkcrate with brand-new guest curators including two head honchos at Sony (who also happen to be big fans of the game!) and the folks at Santa Monica Studio (makers of the God of War series, the PixelJunk Series, The Unfinished Swan, as well as Journey.) A total of five new albums.
We're also dropping two brand-new Sound Packs:
The electro funk synthetic voices of the Vocoder Sound Pack, and
The flute loops and jazz bass of the Old School Sound Pack.
We used them in the trailer at the top of this post, so have a listen there.
For the first time ever, we're releasing an Art Pack. The City Art Pack brings buildings, bridges, graffiti, and BBQs to the editor so you can create a beautiful urban utopia in addition to the bombed out, post-apocalyptic, wasteland of the Beck Cities world. It goes very nicely with the Old School Sound Pack!
The Milkcrate albums are available via a free update and the DLC packs are $.99 each. All are available on PSN or through the in-game Music Store.
We're super excited about all of the latest updates to the Sound Shapes world, and there's still more to come in 2014. If you were lucky enough to get a PS4 at launch, we hope you pick up Sound Shapes and / or the DLC; if the new PlayStation is still in your future, no worries, everything is available for all three systems.
As always, share your levels with us on Twitter or Facebook and let us know what you think of the new content. Talk soon!