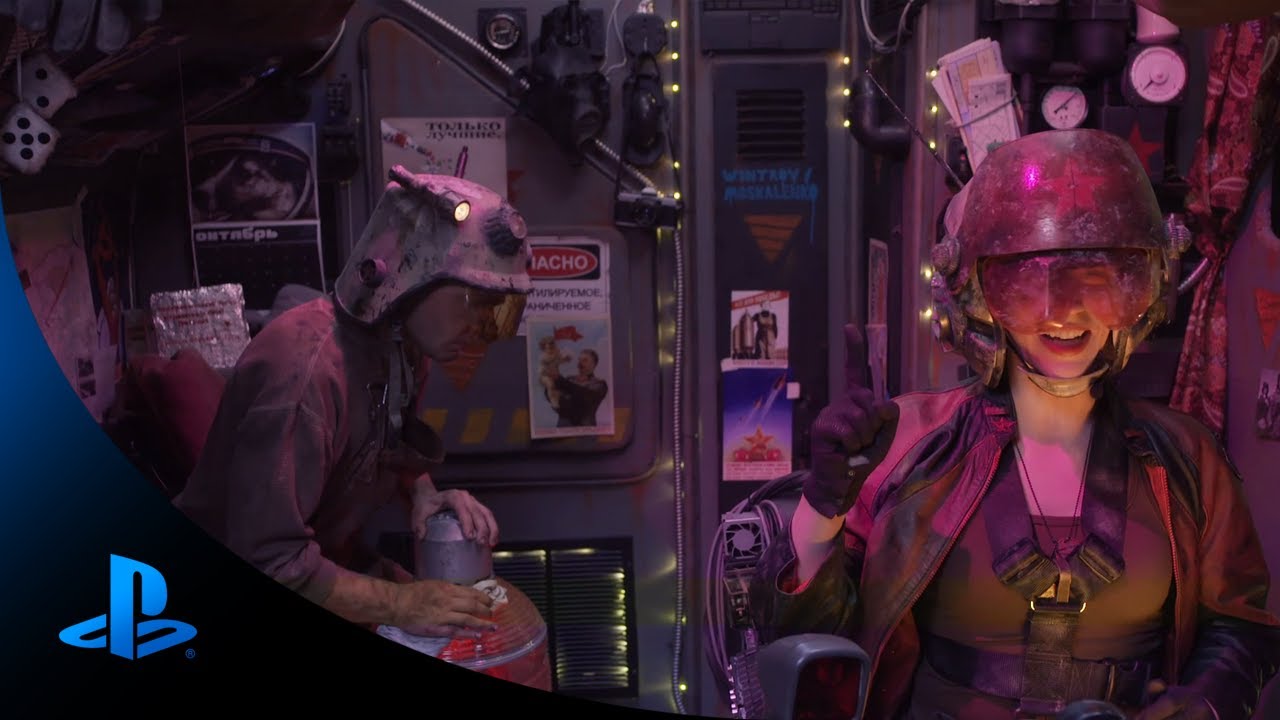 With just one week until Super Motherload launches alongside PS4, I'm eager to share with you PlayStation.Blog readers a bit about what makes Super Motherload tick, as well as show off a brand new video to set the scene.
Super Motherload is an arcade style digging adventure for one to four players, set on Mars in the retro future (And if that's not a mouthful enough, you're welcome to add "Soviet space race," "B movie sci-fi," and "mining puzzler" to the mix!).
Inspired by our original game, Motherload, we wanted to bring Mars mining to consoles and breathe some life back into the four-player, couch co-op style of gameplay that we love and miss so much. Online play can't hold a candle to a good, "reassuring" elbow to the ribs when your buddy goes in the wrong direction with no fuel to spare.
Super Motherload's visual charm is no doubt rooted in some of our favorite movies and tv shows of past decades, including Battlestar Galactica (the original), Buck Rogers, and Moon, to name a few. Those favorites, along with an '80s inspired soundtrack, all lend to Super Motherload's B movie, sci-fi aesthetic — Eric even cited Ferris Bueller's Day Off as inspiration for the soundtrack.
The story is told through fully voiced transmissions, and illustrated cutscenes as written by comic book veteran Kurtis Wiebe, whose experience was a perfect match to write the dialogue-driven storyline.
"Mars.
The near future.
The Solarus Corporation discovered an infinite source of rare and precious minerals deep in the red crust. Resources that will end the energy crisis on Earth and fuel the deep space expeditions planned as population swells beyond capacity.
Constructing magnificent surface bases, Solarus' early mining endeavors resulted in returns of wealth beyond measure. Delving deeper they installed new facilities and recruited more adventurous technicians and operators seeking to expand their empire.
Then, one day, Mars went silent.
Cut off from their people, Solarus sent new recruits to continue operations and restore communications. You are such a recruit and with Mars growing closer by the hour, you sense that all is not right on the Red Planet.
Can you uncover the mysteries of Mars or will her secrets be your undoing? Good luck, employee 1001."
There's a surprising amount of depth in the design behind Super Motherload, with four years of concepting, experimentation, and refinement to the mechanics. Ultimately, the feedback loop remains straightforward; dig around to collect minerals and return to the surface to sell those minerals for cash. That cash allows you to refuel, repair, and — most importantly — buy upgrades so that you can drill deeper into the Red Planet.
The further you dig, the more difficult it is to progress. Your mining pod is upgradable to suit your style of play with various combinations of speed and capacity upgrades, bombs, items, and quest rewards. Eventually you'll find the perfect balance and upgrade progression that allows you to blast through to the core and find out what's happening to your comrades below. There are a number of strategies for efficient digging, and with the aid of co-op players, you'll begin to discover better methods to reach your full potential with each trip.
We're excited to say that Super Motherload runs at a buttery smooth 60 FPS in 1080p on PS4, and the new touch pad on the DualShock 4 provides the most immediate method for using specific bomb shapes to blast through obstacles and solve puzzles. Instead of selecting a bomb type by cycling through your items with the DS4 triggers, gestures are utilized: up, down, left or right for the most basic bomb types, or touch pad click to use an Electron Bomb.
This small addition to Super Motherload really streamlines gameplay; once you've memorized the direction to swipe for the bomb types, it becomes second nature. When we were testing out the feature in the office, it was funny to watch coworkers who hadn't yet broken their L1 and R1 button habits face off against those who had mastered the touch pad — while the button cyclers were doing their thing, the touch pad elite had already busted through the obstacle for the prize.
Considering the combos, multipliers, a crafting system, hundreds of explosive-based puzzles, procedurally generated worlds, B movie villains, unlockable characters, hardcore mode, boss battles, special upgrades, and multiple endings — any real-world aspiring cosmonaut will be well prepared for future colonization of the Red Planet (Mars One 2023?). Just remember the ol' Solarus Corp adage: keep helmet on.
Super Motherload is available on November 15th for $14.99. In the meantime, check out our blog, official website and soundtrack. See you on Mars!